Yorkshire Sikh Forum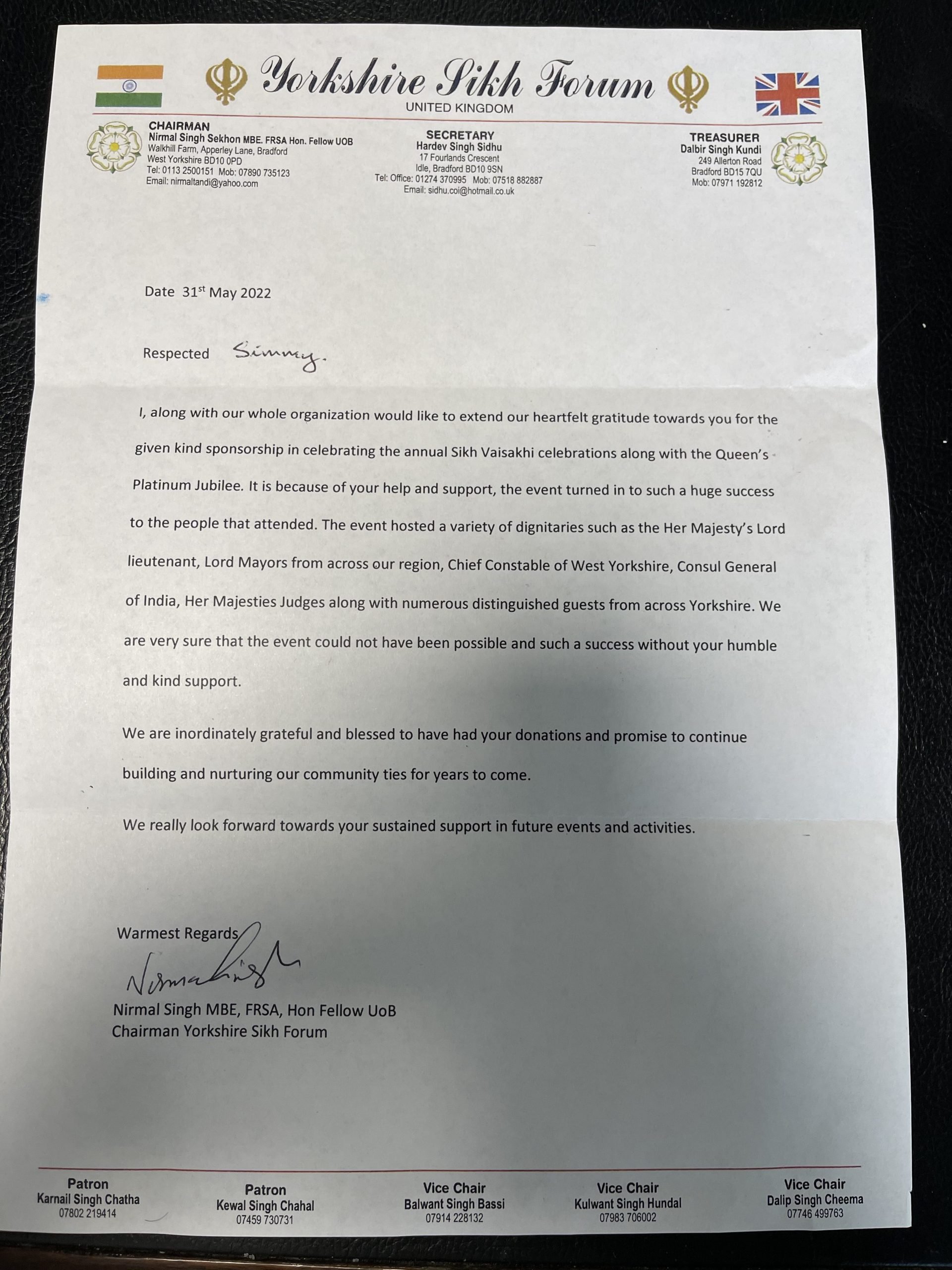 Yorkshire Sikh Forum
I, along with our whole organisation would like to extend our heartfelt gratitude towards you for the
given kind sponsorship in celebrating the annual Sikh Vaisakhi celebrations along with the Queen's
Platinum Jubilee. It is because of your help and support, the event turned in to such a huge success
to the people that attended. The event hosted a variety of dignitaries such as the Her majesty's Lord
lieutenant, Lord Mayors from across our region, Chief Constable of West Yorkshire, Consul General
of India, Her Majesties judges along with numerous distinguished guests from across Yorkshire. We
are very sure that the event could not have been possible and such a success without your humble
and kind support.

We are inordinately grateful and blessed to have had your donations and promise to continue
building and nurturing our community ties for years to come.

We really look forward towards your sustained support in future events and activities.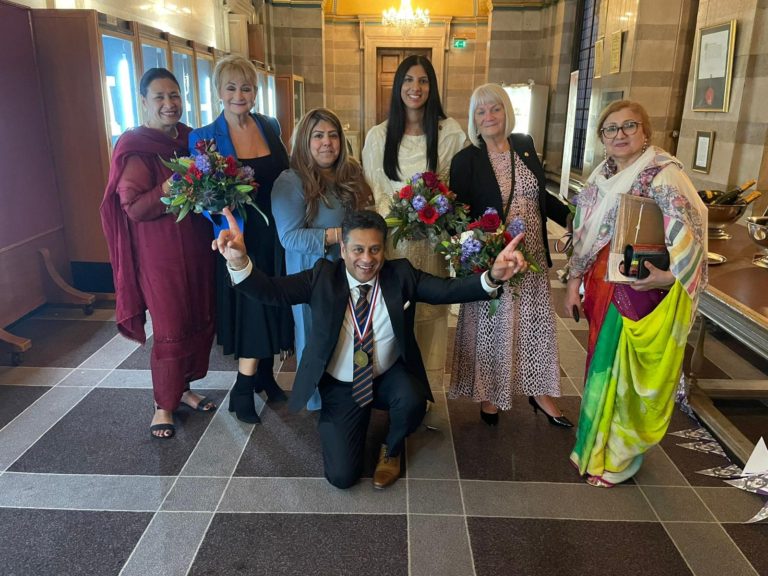 Following the outstanding success of the Platinum Jubilee Dinner organised by the Yorkshire Sikh Forum (YSF), which heralded the start of the Queen's Platinum Jubilee celebrations in Yorkshire, one of the leading lights in the YSF, who was instrumental in organising the dinner, Iqbal Sekhon, more popularly known as Simmy Sekhon, described the dinner as "joyous", and was full of praise for those who had organised the celebration, working to a tight, two-month deadline.

Simmy, CEO of the Sekhon Group, said: "The dinner was a great success, much enjoyed by all our dignitaries, and we realised how important it was to have this event as a reminder of modern day, multi-cultural Britain.

"The day was so joyous."

"But I must also make a special mention on behalf of Ray Brown of the Sekhon Group and Rehana Akbar and Peter Davis of Oikos Family Residential Centres, who were instrumental in the planning and organising of the dinner, which they did in such a short space of time."

Mr Sekhon also extended his gratitude to Dr Manoj Joshi for his contribution to organising the dinner and for giving the vote of thanks, and also the Indian High Commission for over 30 years of support extended to Yorkshire's Sikh community.

The Platinum Jubilee Dinner took place on May 15 at Leeds Civic Hall, and among the dignitaries attending the event were the Lord-Lieutenant of West Yorkshire Ed Anderson, the Lord Mayor of Leeds, Coun Asghar Khan, leader of Bradford council Susan Hinchcliffe and High Sheriff of West Yorkshire, Susan Baker MBE.

There were two hundred leading members of Yorkshire's business community present to enjoy the warm welcome as a bag pipes procession led the dignitaries into the banqueting hall, where they were greeted by a 96-beat drum roll and an outstanding performance of bhangra music and dance from members of Bradford's Punjabi Roots Academy.

Simmy Sekhon said: "I was particularly pleased when Balbir Singh DL requested the YSF to link the Queens Jubilee celebrations to the YSF annual Vaisakhi celebrations and would like to acknowledge and thank our chief guest Lord Lieutenant Ed Anderson for being in attendance."

The Lord Lieutenant for West Yorkshire was delighted to be representing Her Majesty at such a prestigious event.

He said: "I am delighted to extend my greetings for the festival and to share in these celebrations with you.

"We are indeed blessed to have had the Queen serve this country for over 70 years.

"It is worth remembering that famous pledge that she gave all those years ago – 'I declare before you all that my whole life, whether it be long or short, shall be devoted to your service' – Those really are remarkable words, and my goodness, Her Majesty has certainly lived up to that pledge."

There was a warm welcome from the general secretary of the Yorkshire Sikh Forum, Mr Hardev Singh Sidhu, who greeted the guests, saying: "I am delighted to see so many here today for our joint celebration of the Sikh festival of Vaisakhi and the Platinum Jubilee.

"For Sikhs, Vaisakhi is the most important celebration in our calendar."

While the Lord Mayor of Leeds, Coun Asghar Khan, reflected on the difficulties of the past two years, his message was upbeat: "Isn't it wonderful that we are all now back together, in person and enjoying these celebrations."

Everybody in the hall heartly agreed.

The Yorkshire Sikh Forum is a not-for-profit organisation and all the work undertaken by the members is purely voluntary and self-funded and sponsorships raised, and it was thanks to the generosity of a total of 23 sponsors which enabled the Platinum Jubilee/Vaisakhi dinner to take place.