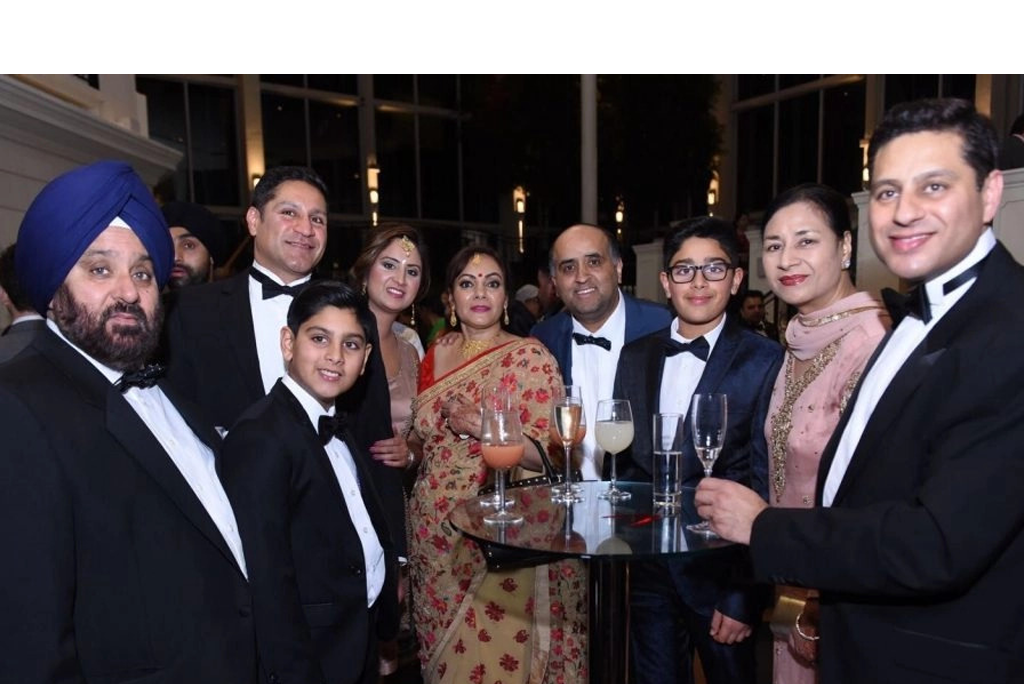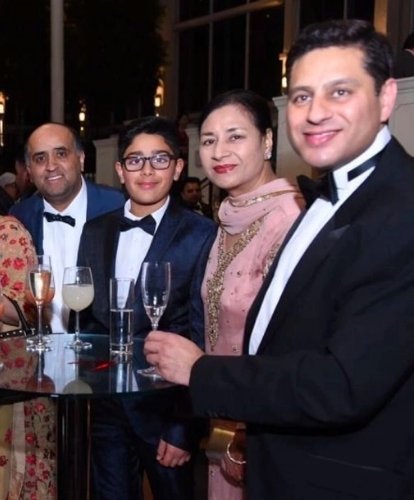 Hotel of the Year award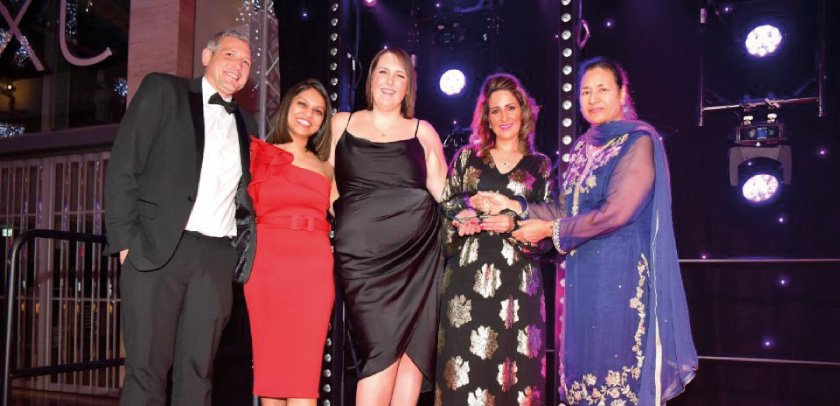 A landmark Bradford hotel which combines Victorian grandeur with contemporary elegance has had its dedication to excellence and customer service recognised with an award.

The Great Victoria Hotel won the Hotel of the Year award, sponsored by The Sekhon Group.

Hotel General Manager Daniel Kirkham said: "Me and the team are delighted to be awarded hotel of the year at the awards. It's humbling to know that the team's hard work, dedication and effort has been recognised and I thank every one of them for it.

"I've been at the hotel for many years and we've had some great successes in that time, increasing occupancy, growing our function and wedding business, and becoming the first accredited 4* hotel in the city centre.

"The team's dedication and strive for customer excellence is at our heart, and I hope we can achieve much more in 2024. I'd also like to thank all those involved in making the awards ceremony such a memorable night, and it's great to see so many local businesses getting together to celebrate what Bradford has to offer."

The hotel's website says that the hotel "represents a city rich in history, heritage and cultural diversity, and its central location reinforces its superior position and the pivotal role it played in the development of the city.

The Great Victoria has been sympathetically refurbished, transforming it into one of the most contemporary and stylish hotels in the city, with arguably the best bedrooms in town."

The hotel has built a strong reputation for hosting weddings, with events run by a dedicated team offering a personal service from start to finish. It offers a choice of an inclusive package or a bespoke wedding.

Earlier this year The Great Victoria Hotel won the Venue of the Year award at Britain's Asian Wedding Awards 2023.
Good Morning,
Hope you are well – you are massive part of Bradford, with not only your property portfolio but also the work you do across the community supporting business and the great people of Bradford.
I would love to have a chat to see if we can work together on all that we are trying to achieve for the city.
Warm regards,
Matthew Dakin - Sponsorship Manager (he/him)
Bradford UK City of Culture 2025 & Sekhon Group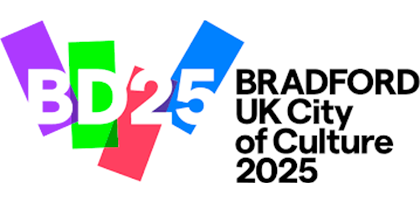 Telegraph & Argus - THE RETAIL, LEISURE & HOSPITALITY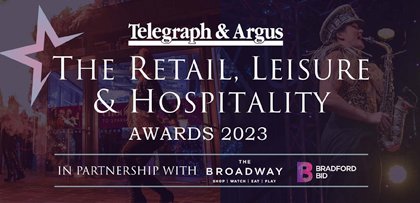 Dear Simmy,

How are you? I hope that this email finds you well.

I was so sorry that you were unable to join us recently for an exclusive dinner at the University of Huddersfield, where we talked about our unique SUDIC service that supports families who tragically lose a child suddenly and unexpectedly. I am sure you would have found it inspiring to listen to Talia, a mum who talked bravely and passionately about what the support she received from Forget Me Not meant to her and her family when her son died. She was very open about the difference this support has made to her life, and it highlighted the need for this vital service.

Here's what another parent told us: "I thank you from the bottom of my heart for the kindness that you have given me throughout the darkest days of my life. I have received no other support from any other services other than Forget Me Not. I dread to think how I would have got through these past months if didn't have the care from them. I will be forever thankful."

Our relationship with West Yorkshire Police, which guests also heard about from the Chief Constable, John Robins, demonstrated the importance and value they place on working with our team here at Forget Me Not so that together, we can deliver our promise; For as long as we're here, no family in West Yorkshire will have to face the loss of their child alone.

I know that Alison will be in touch soon to arrange to get together with you in November, and to hopefully progress previously discussed ideas and initiatives.

I do hope that we are able to catch up again soon, it would be lovely to see you.

Best Wishes,

Gareth Pierce - CEO - Forget Me Not Children's Hospice
Forget Me Not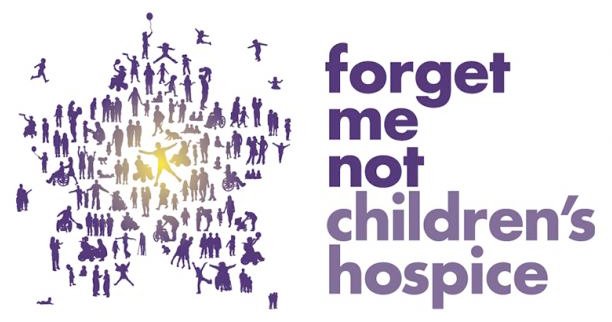 Club Ekta Sponsorship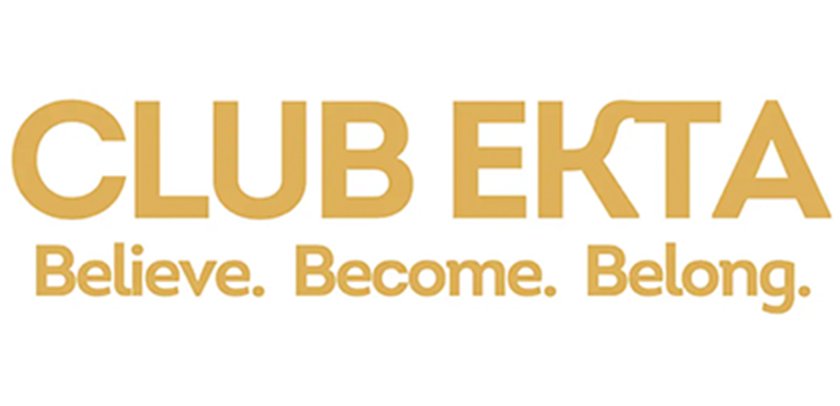 Hi Simmy,

I hope this email finds you well. On behalf of Club Ekta CIC, I want to express our deepest gratitude for your generous sponsorship of our recent charity event. Your support made a significant impact on the success of the event, and we are truly thankful for your contribution.

Your willingness to invest in our cause is helping us make a real difference in the lives of those we serve. The funds raised during the event will go a long way in supporting our mission and the vital programs and services we provide to the women and girls in Jalandhar, India.

We look forward to sharing updates on the impact your support has made and hope to continue our partnership in the future.

Once again, thank you for your kindness and generosity. It is sponsors like you who make our work possible. If you have any questions or would like to learn more about our ongoing initiatives, please feel free to reach out to us.

Wishing you all the best, and looking forward to future collaborations!

regards,
Harleen Kaur
Founder of Club Ekta
Dear Iqbal,

Thank you for giving to The Rotary Foundation!

With your help, we raised over $427 million to fund projects that will make a difference around the world.

Last Rotary year, because of your support and your dedication to Doing Good in the World, together, we funded more than 1,100 global grants, 470 district grants, and 310 disaster response grants. To make this work possible, we rely on donors like you. Your generosity helped us raise more than US$427 million, which will continue to help communities thrive through sustainable, life-changing projects.

Gifts from donors like you are making a big impact in communities around the world. Thanks to your generosity, Rotary members can continue improving people's health, supporting high-quality education, protecting the environment, and aiding communities affected by disasters. Together, we continue to accomplish all of this great work while remaining committed to solving some of the world's most complex problems, including eradicating polio to make sure children are free from its devastating effects. With your support, we can continue to unite and take action to create lasting change.

Your donations make Doing Good in the World possible. Thank you, Iqbal, for strengthening both your own community and communities everywhere.

Sincerely,
The Rotary Foundation

The Rotary Foundation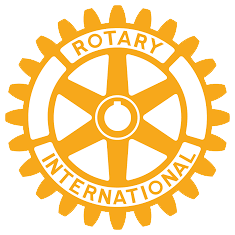 Forget Me Not Golf Day
Dear Simmy

On behalf of everyone at Forget Me Not Children's Hospice, I would like to send our sincere thanks for your lovely gift of £250 to support the Golf Day taking place on Friday 8th September in aid of the services we provide for babies and children with life shortening conditions, and their families throughout West Yorkshire.

Your support will greatly assist us in ensuring that the teams taking part in this event, will have a wonderful day, raise awareness of the work that we do and ultimately raise vital funds for Forget Me Not.

Thank you for your kind generosity that enables us to honour our promise that, for as long as we are here, no family in West Yorkshire will face the loss of their child alone. The wonderful support that we receive from The Sekhon Group helps us to make a lifetime of difference to our families. THANK YOU FROM THE BOTTOM OF OUR HEARTS!

Kindest regards

Alison Parker Philanthropy Manager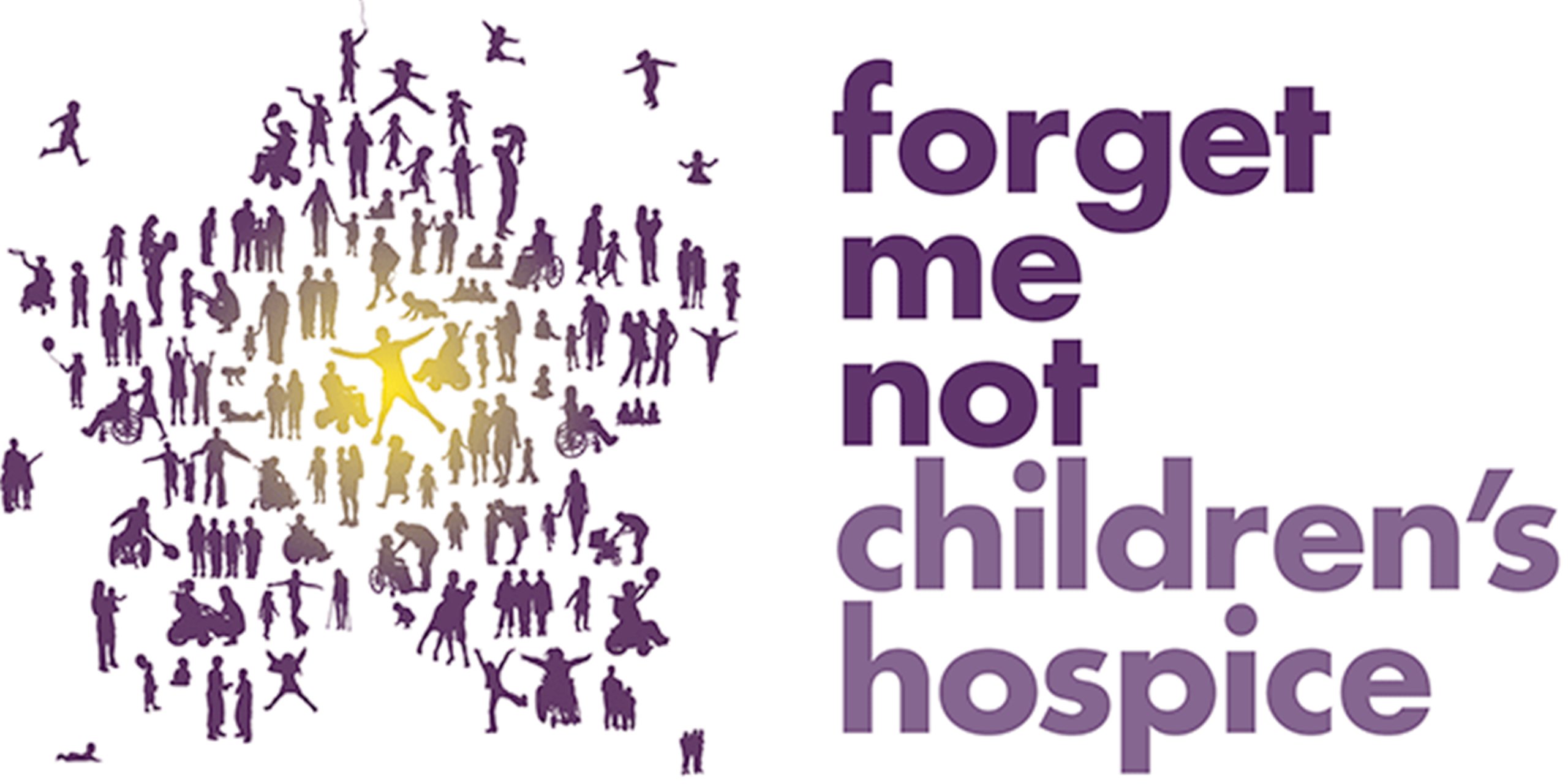 "I am new in role at Bradford Hospitals Charity and would like to take the opportunity to thank you all at Sekhon Group for your support." - Lisa Williams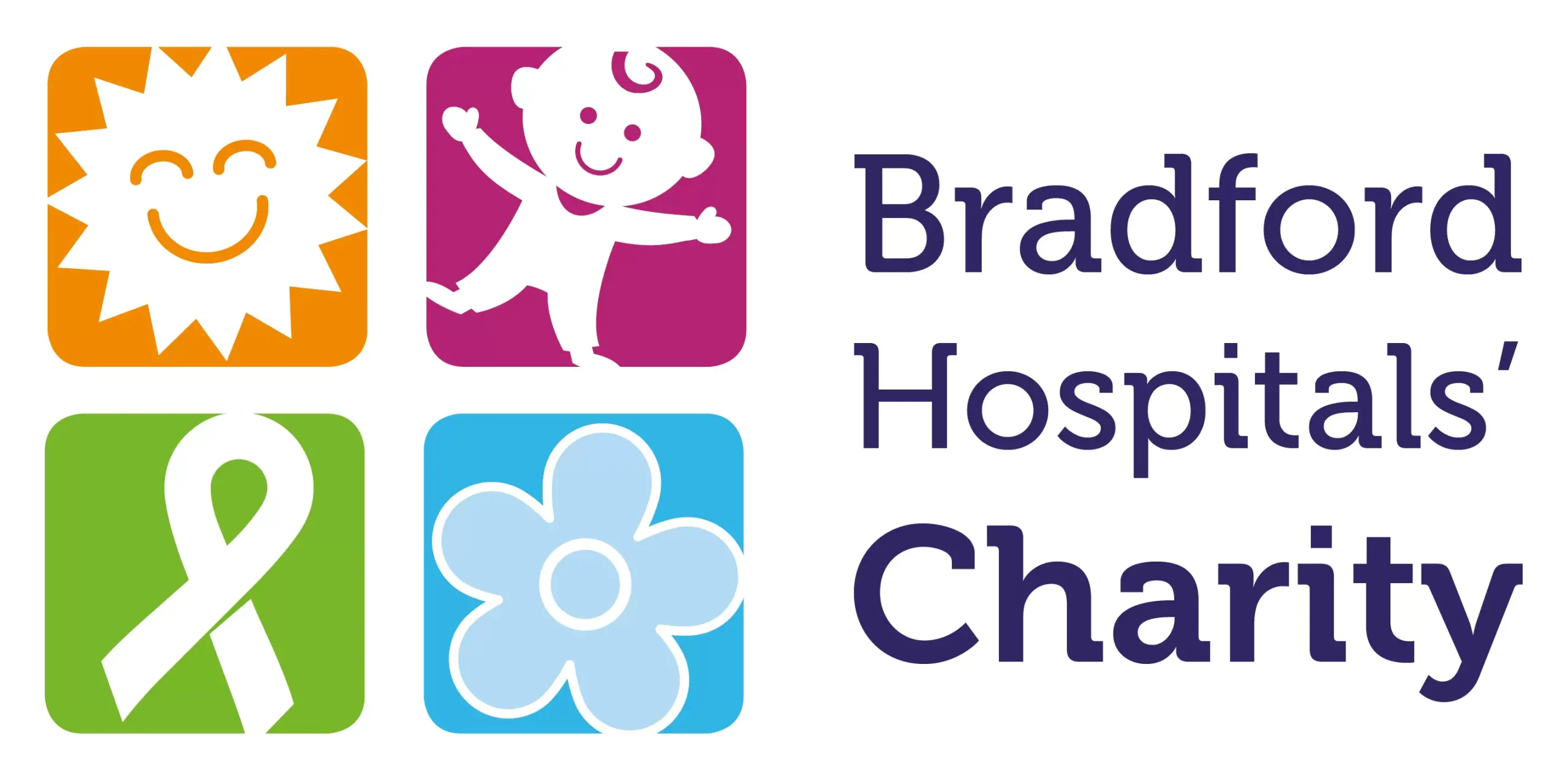 The 100 Club
FA Cup Sponsorship
Amongst others, The Sekhon Group are sponsoring the FA Cup match between Albion Sports and Chadderton.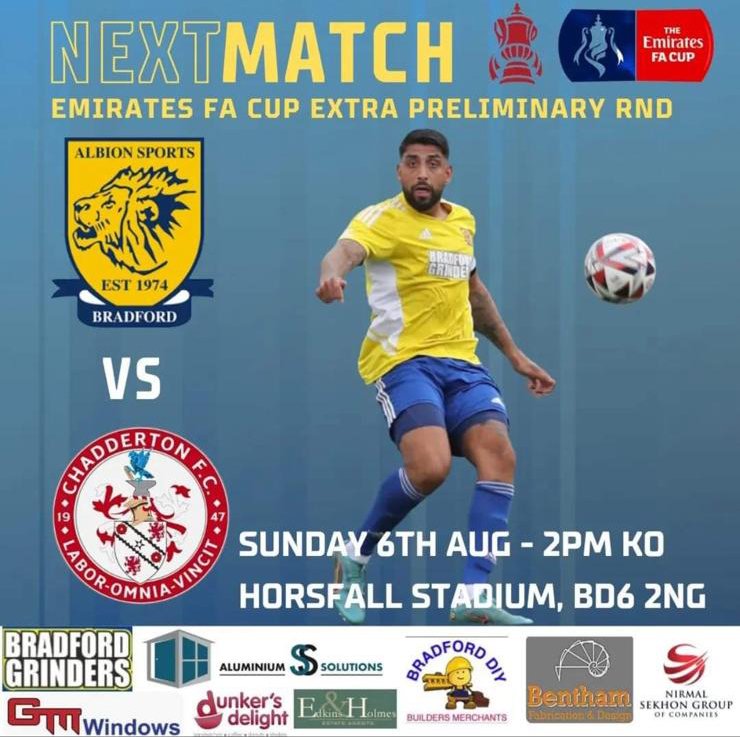 Good Morning all and Happy Friday!

I just wanted to drop you all a note to say a Massive thank you for sponsoring the categories at last nights Business Awards, I hope you all enjoyed the night and not too many sore heads this morning!

Without your support we honestly would not be able to run these events, that are so important to our City and to showcase the great work that all businesses do on a daily basis, I'm sure you would all agree that recognition is key to any successful business and the positivity in the room last night was amazing, so your support is greatly appreciated.

Each year the event has rapidly grown, and we are hoping that next year's event can be held at Bradford Live which will be amazing, we go again from next week to secure all the sponsors for 2024 and this years sponsors are always given first chance to secure their category again. So please do let me know if you would like to support for next year and we can pencil you in.

Once again, a massive thank you from all of us and hope you all have an amazing weekend

Kind Regards
Japinder
Bradford Business Awards 2023

"Dear Simmy and Rehana,
A huge "Thank you" to you both for your fantastic support and sponsorship of our Horsforth Gala.
Our Gala on Saturday proved a great success with an excellent turn-out from our local pre-school and school settings for our walking parade. With St. Margaret's taking First Place this year.
The Sekhon Group was thanked on the day and we displayed your company logo which was clearly visible in our stage and arena areas and featured in our Gala programme.
Our Gala Queen and King were cheered by the crowds and were very well received and thankfully the weather was kind to us all.
I will forward you a selection of photographs and copies of our programme for your company's reference.
Warmest Regards
Tracy Stones"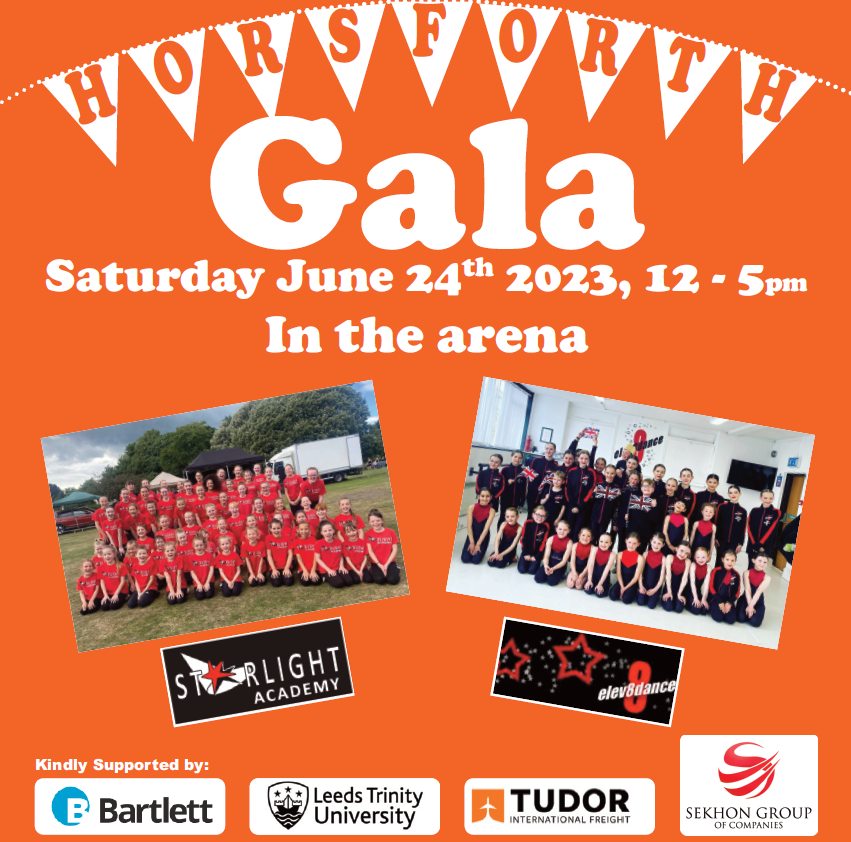 Dear Simmy,
I trust you are well.
I am attaching an acknowledgment from ShelterBox for the £150 you gave in Alan's memory.
I have sent a copy to Marj who is aware that you forwarded this money to the Club.
When we last spoke, I meant to ask after your father. I hope he is doing well, do please pass on my best wishes to him.
Regards
David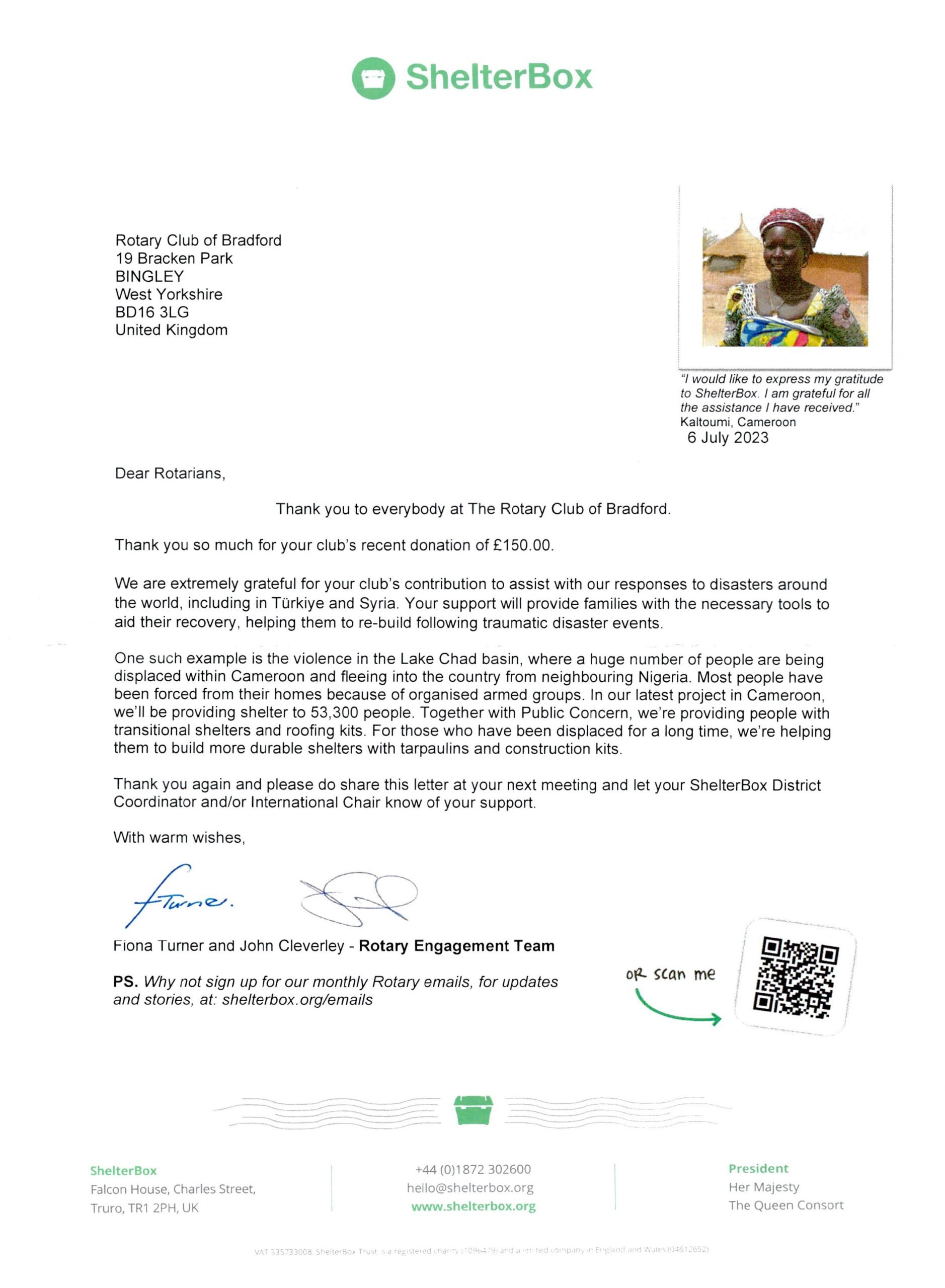 Lunch Boxes For Students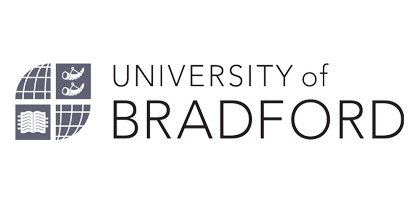 "I can confirm that Nirmal Singh made a very generous donation to support 'free' lunch boxes for our students on Christmas Day as part of his philanthropic donation. This was organised by Faiz Ilyas in the Faculty of Management, Law and Social Sciences. So, I am assuming that the Faculty paid and that it now needs to be refunded – Michele / Faiz, please can you confirm directly with Donna. The students were all made aware of the donar." - Professor Zahir Irani PhD, MPhil, BEng (Hons)
Link to Full Article Here
"A huge thank you to Simmy Sekhon for his kind donation of £500 for the appeal to get some raffle prizes for our cupboard." - Emma Walker
Bradford Cinderella Club
WHAT WE DO
The Cinderella Club has one basic aim.
"To improve life for the underprivileged children of Bradford."

We try to achieve that by enabling them to:
Participate in activities alongside their school friends.
Obtain some of the desirables in life that others take for granted.
Obtain some of the necessities for life within their own area of need.
We cannot wave magic wands to make this happen but we can do it in other ways:
Provide funding that they cannot acquire for themselves.
Provide contacts who can help their situation.
Influence others to get involved.
Browse through the site to see how WE do this and how YOU can help us do it.
For more information click Here
Donation For Raffle Prizes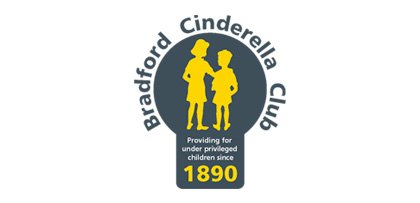 Innovation in Income Generation Award
Winners: South Asian Community Engagement, Forget Me Not Children's Hospice The judges concluded that the winning project was a fantastic example of investing in fundraising for the medium to long term. The fundraising team identified a new but key target audience and worked out that they needed a bespoke and different approach. The introduction of a Community Engagement Officer into the fundraising team was a bold and innovative move and from the outset building trust with key individuals who could influence locally was the key to success. The judges were impressed by the multiple successes this initiative has already seen from a well-attended HNW dinner to increased engagement from trustees from diverse communities. Link to Full Article Here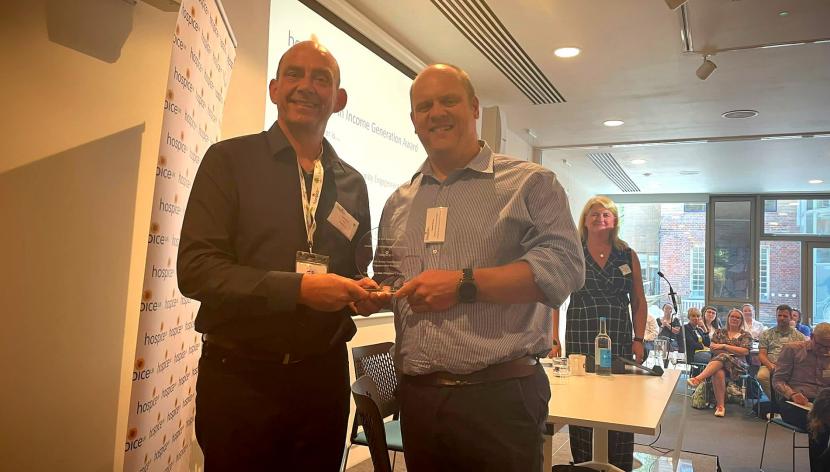 Our sincerest gratitude to you and the Sekhon Group of companies for kindly supporting our Inspirational Women's Charity Cricket Tournament which concluded August 2019.

As a result of your contribution more than 50 women were able to learn and play cricket, who had perhaps never played before. In addition we went on to raise more than £12,000 for charity, which has benefited Cancer Support Yorkshire, Bradford Women's Aid, Mind (Bradford) and Yorkshire Children's Trust.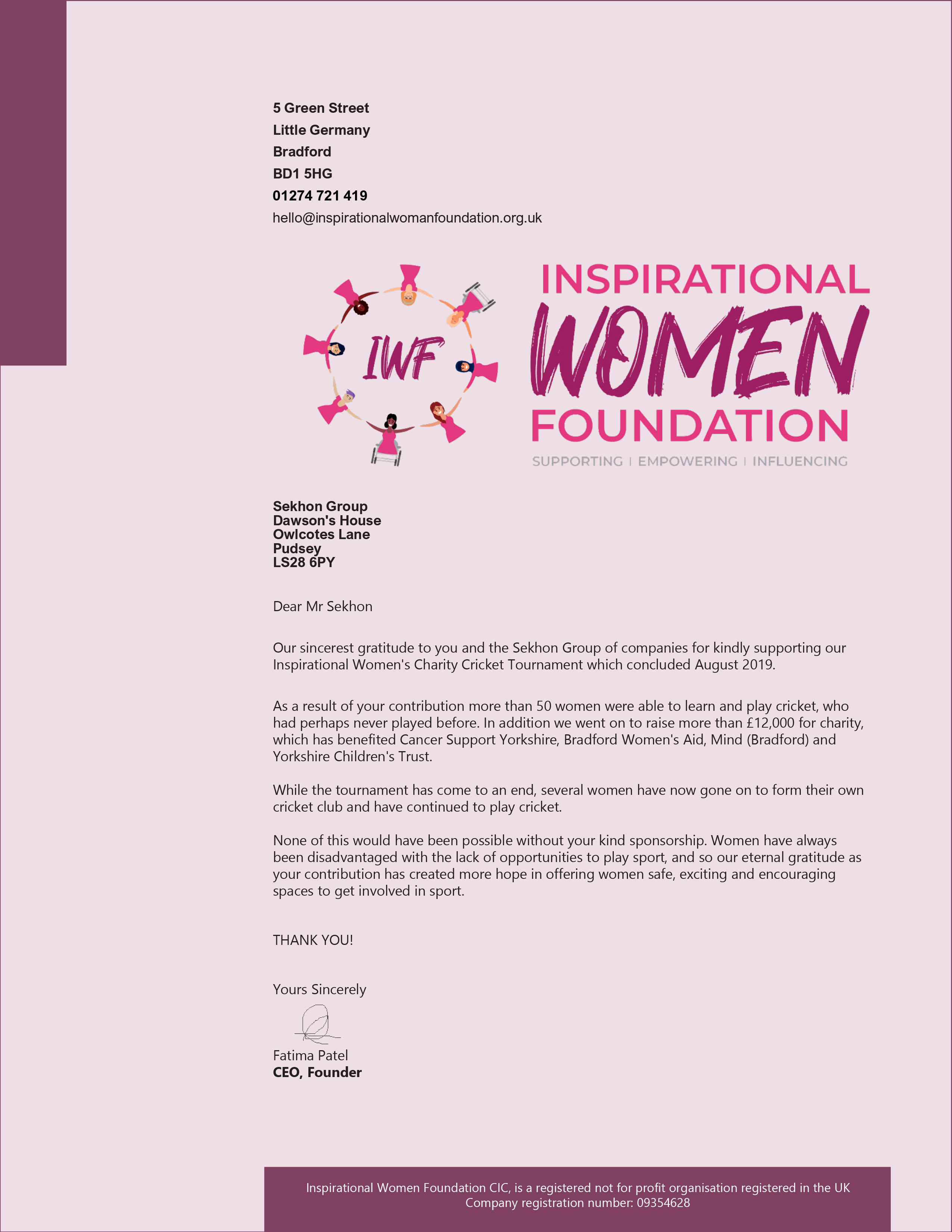 Inspirational Women Foundation
RF Media Publishing
Prepare for an exhilarating announcement! I'm thrilled to share that amidst a pool of exceptional individuals, you have emerged as the epitome of influence and impact in the vibrant Bradford district as Asian Standards most influential South Asians for 2022.

Out of the countless nominations received by Asian Standard, your names shone brilliantly, supported by local insight and meticulous research. Your unwavering dedication to go above and beyond, utilising your position, work, and business to effectuate meaningful change, has propelled you to the forefront of the City of Bradford.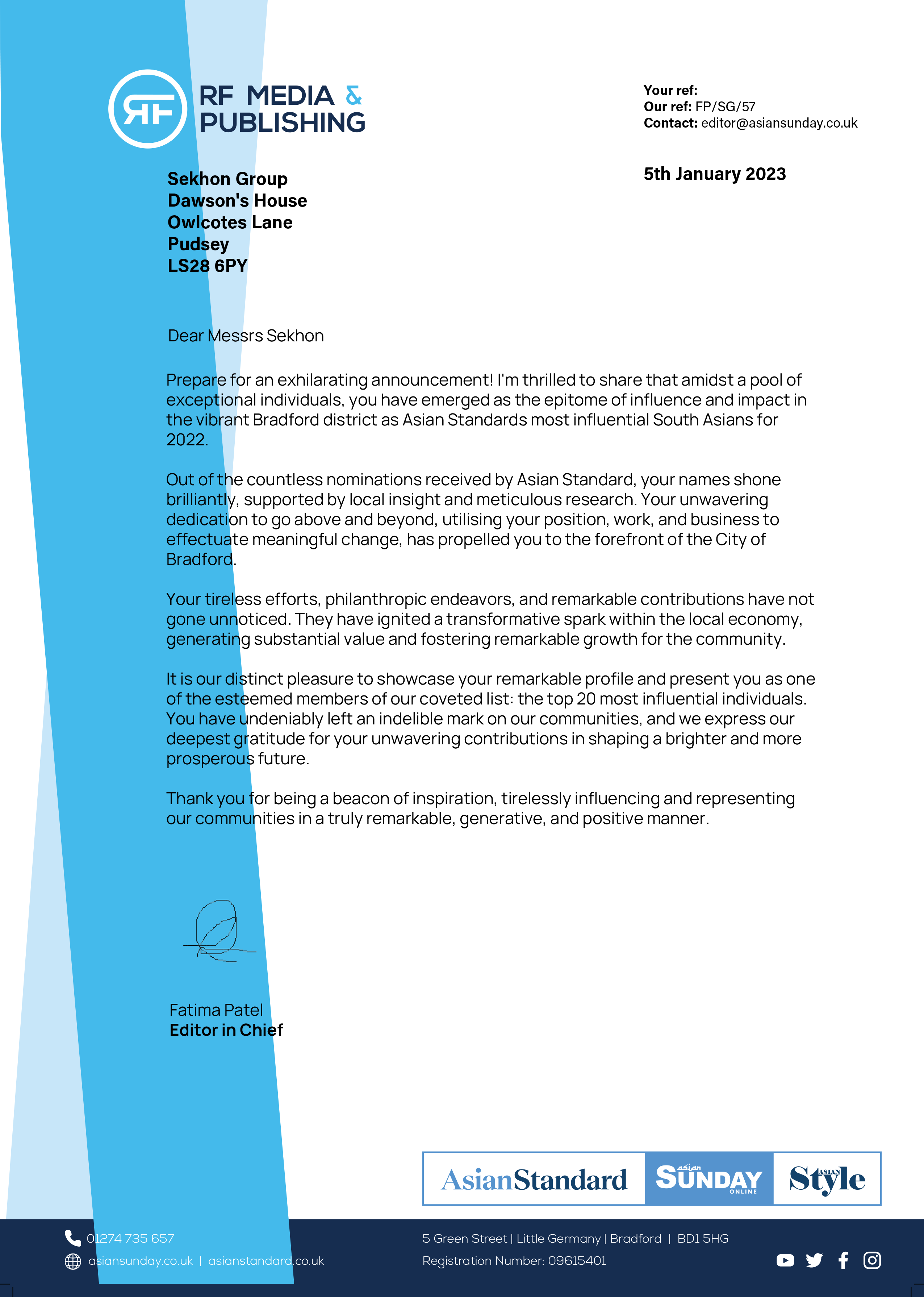 Your sponsorship was invaluable as not only did it help us showcase Bradford's award-winning culinary offering and celebrate the city's curry industry, but significantly impacted on a growth in tourism, directly benefiting the local economy.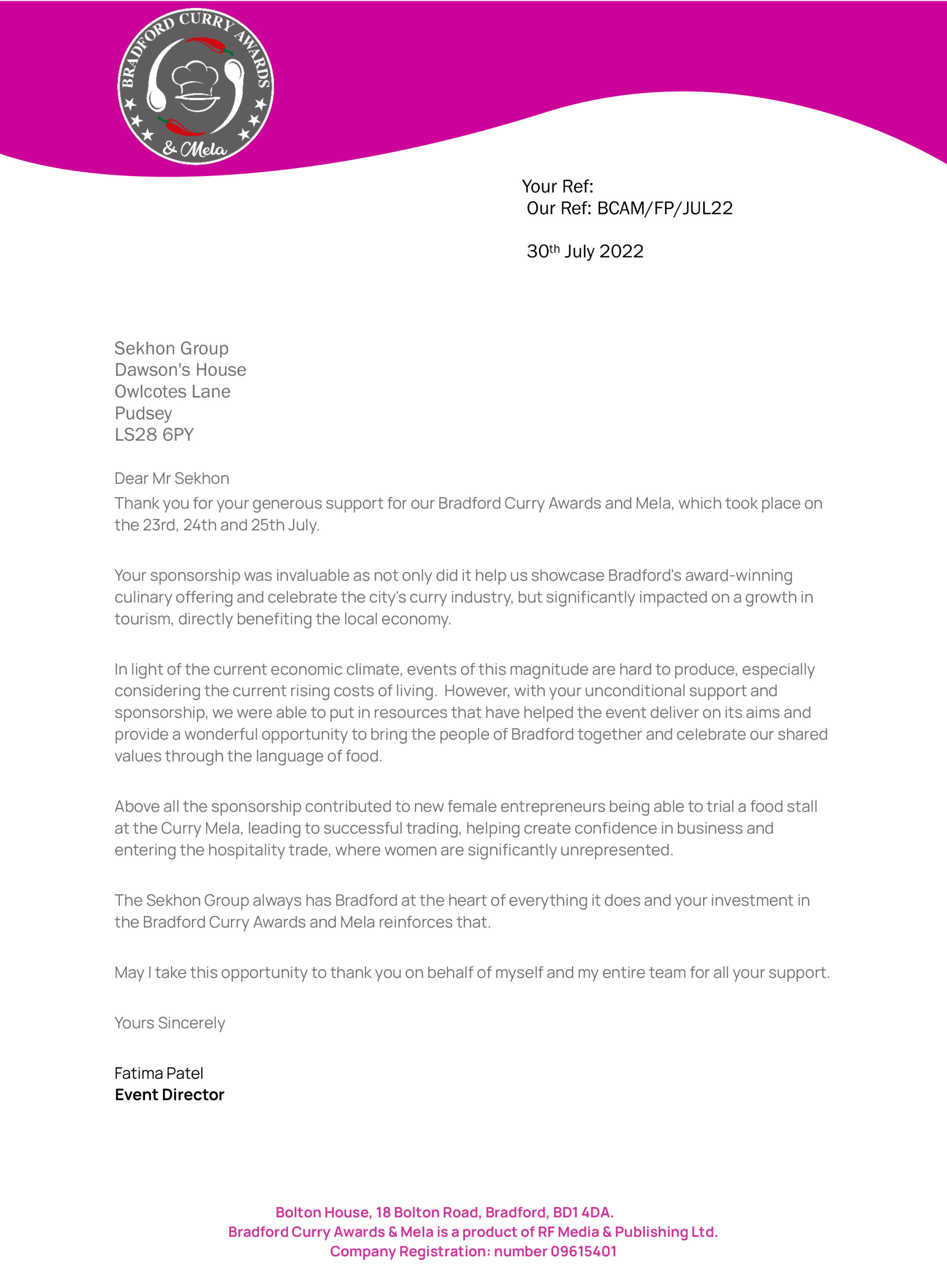 Bradford Curry Awards & Mela
Bradford Bulls Sponsorship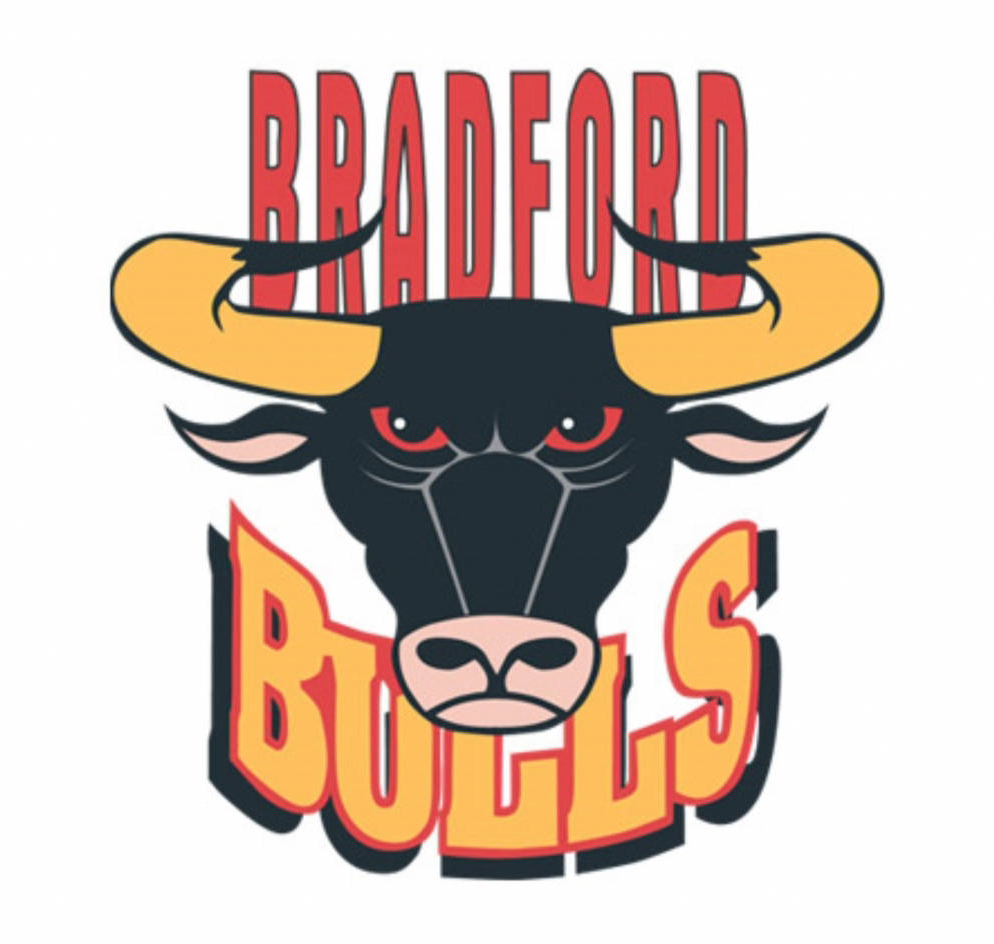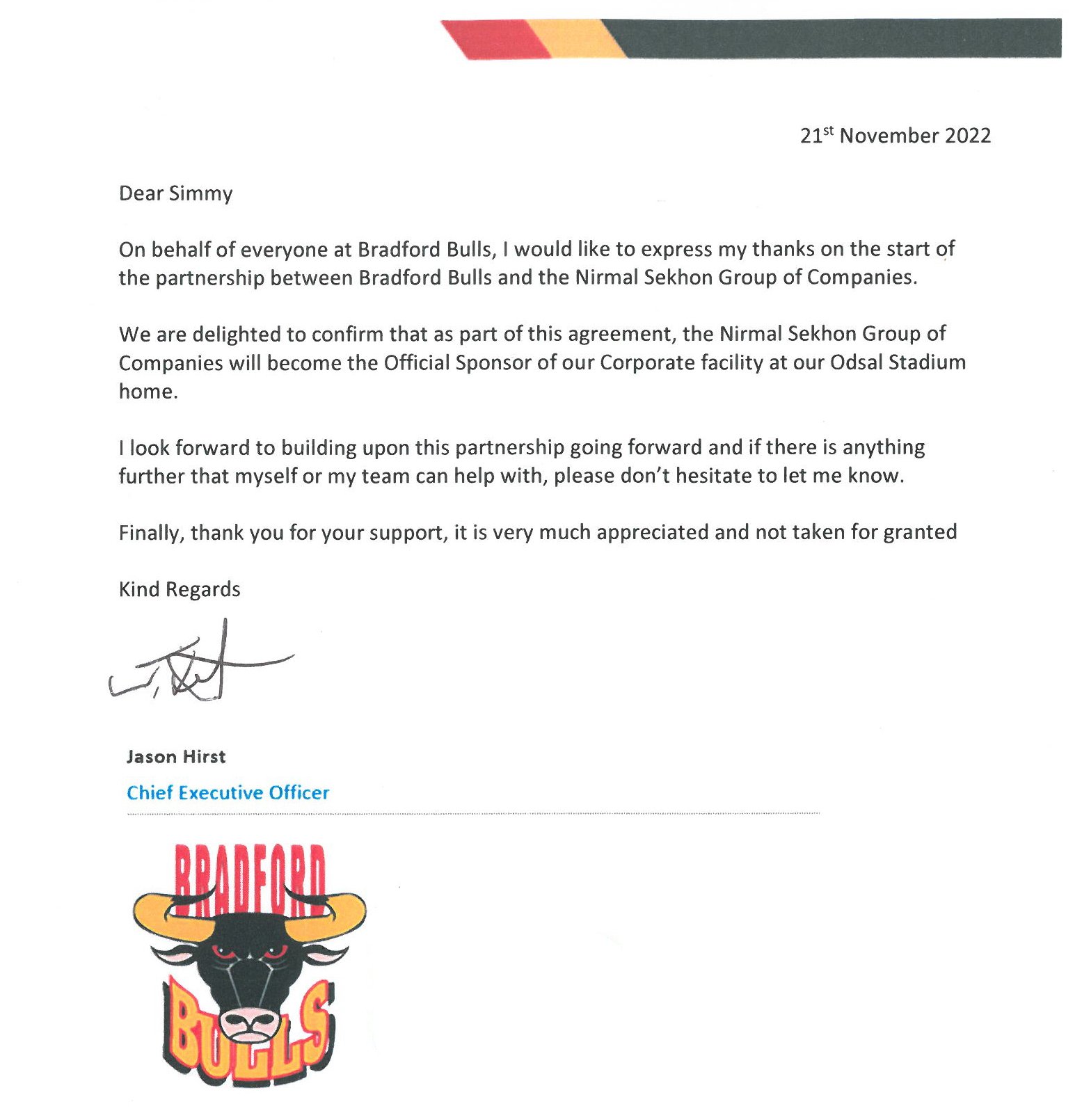 Kind words from Jason Hirst, Chief Executive Officer & Ian Stafford, Commercial Manager
Hi Simmy,
Hope you are well
Further to recent discussions, I am pleased to share with you the branding that is now in place.
The 6 window branding is all visible from the ground and is in the Chairman's Suite
I look forward to seeing you at a game soon
Thank you for your ongoing support, it is very much appreciated and not taken for granted
Thank You and Kind Regards,
Ian Stafford

Hi Simmy,
Just to echo Ian's words;
On behalf of the club and myself, I'd like to take this opportunity to thank Sekhon Group and yourself for your invaluable and much appreciated support.
We look forward to hosting you at a match, soon.
Have a great weekend!
Kind Regards,
Jason Hirst
Bradford Bulls and Sekhon Group Supporting Sandale Community Hub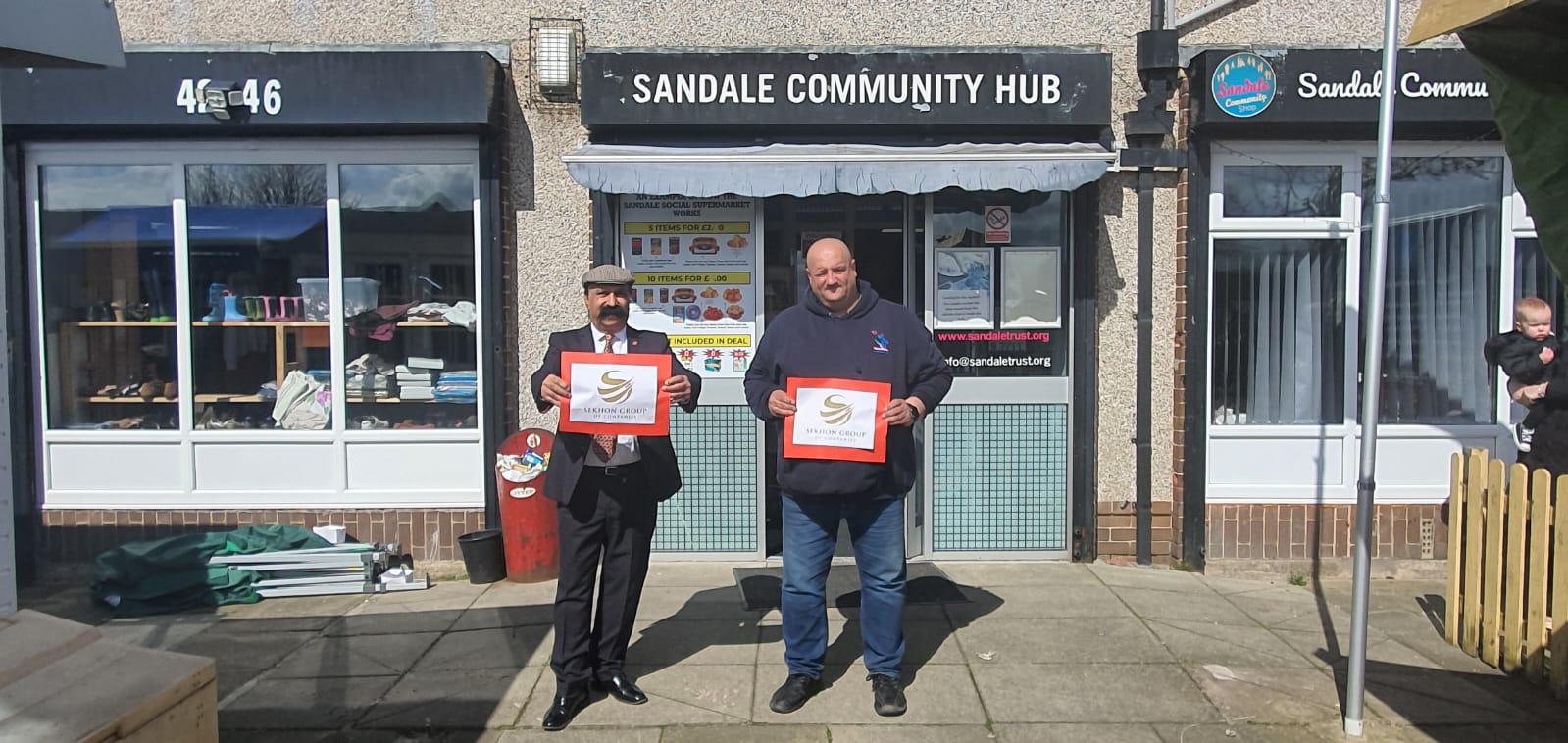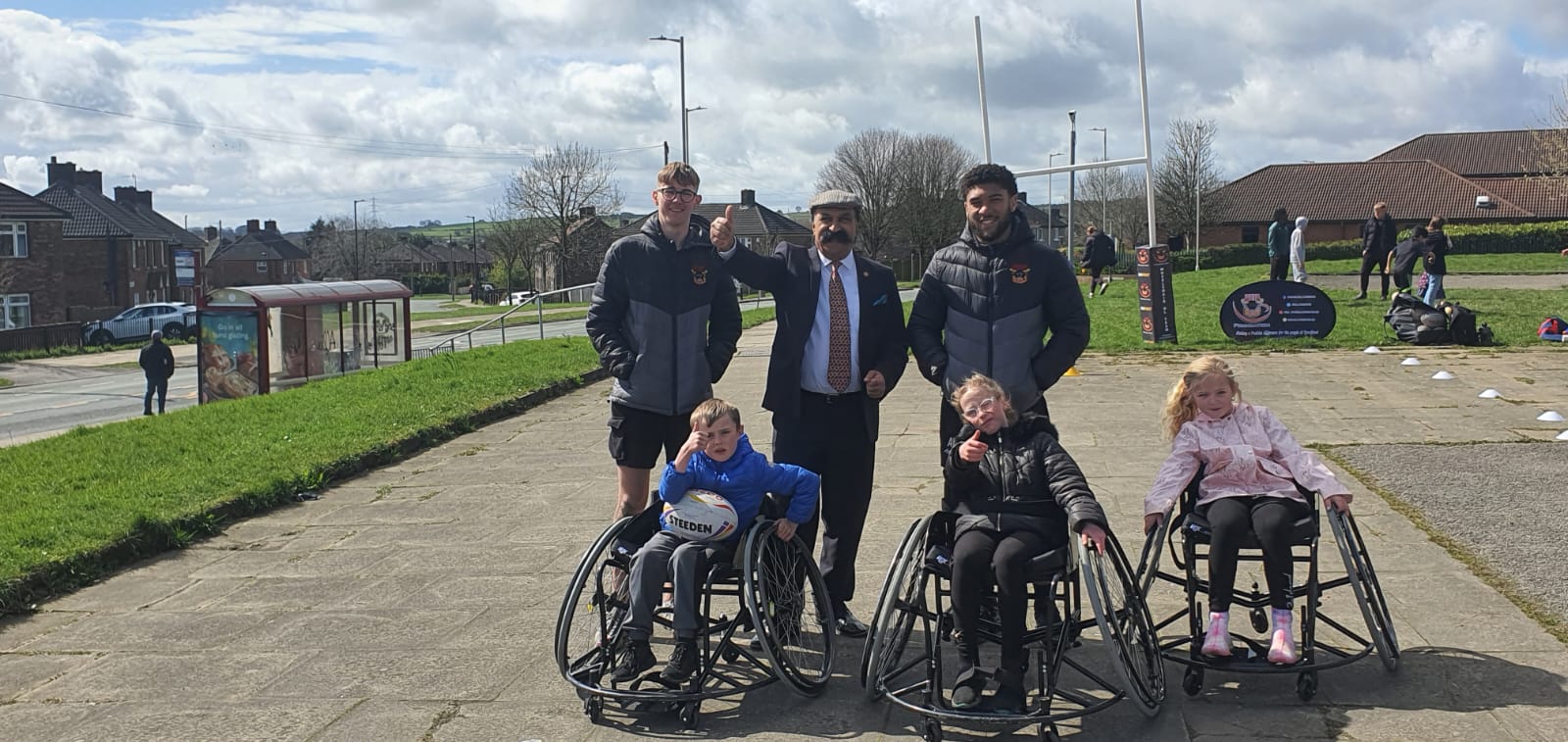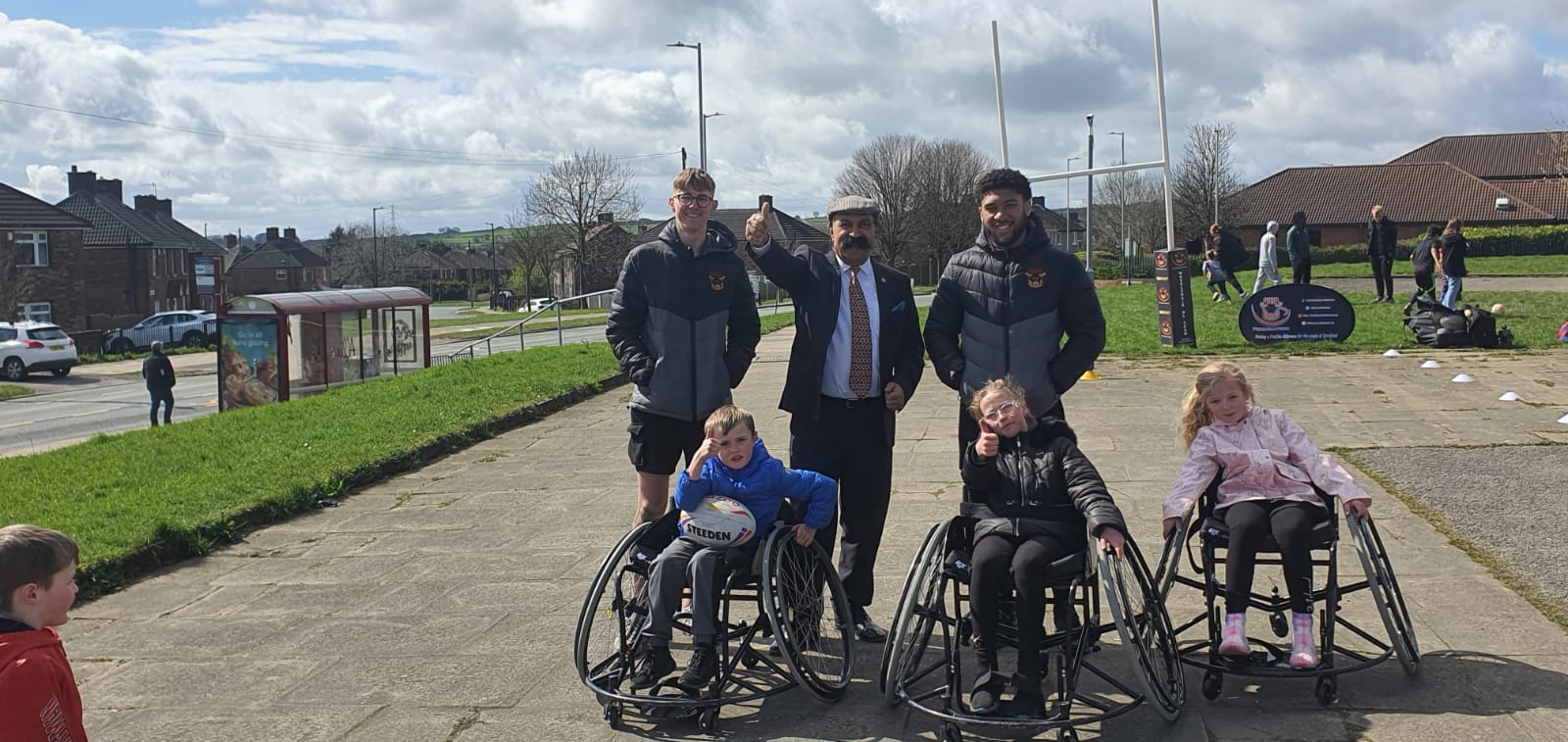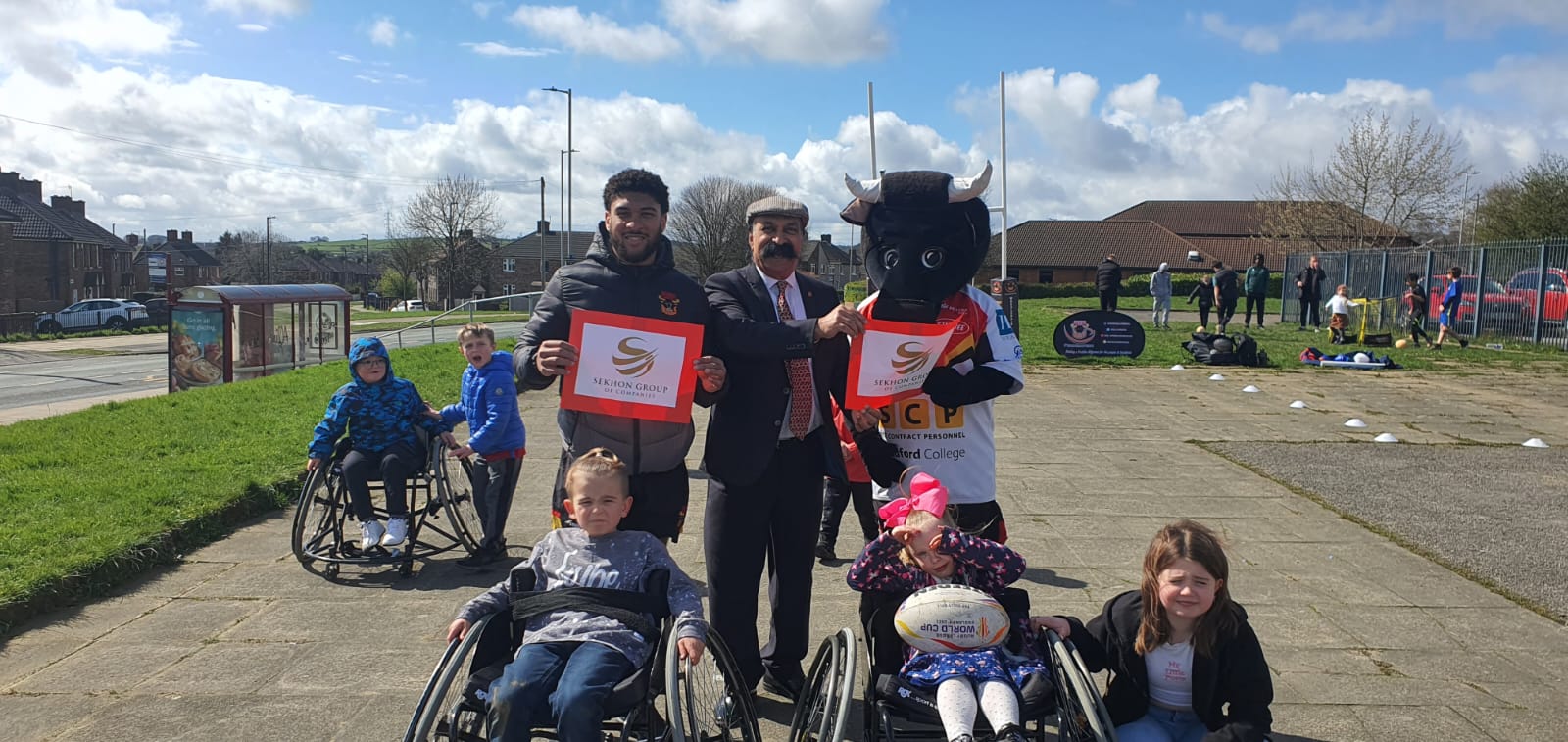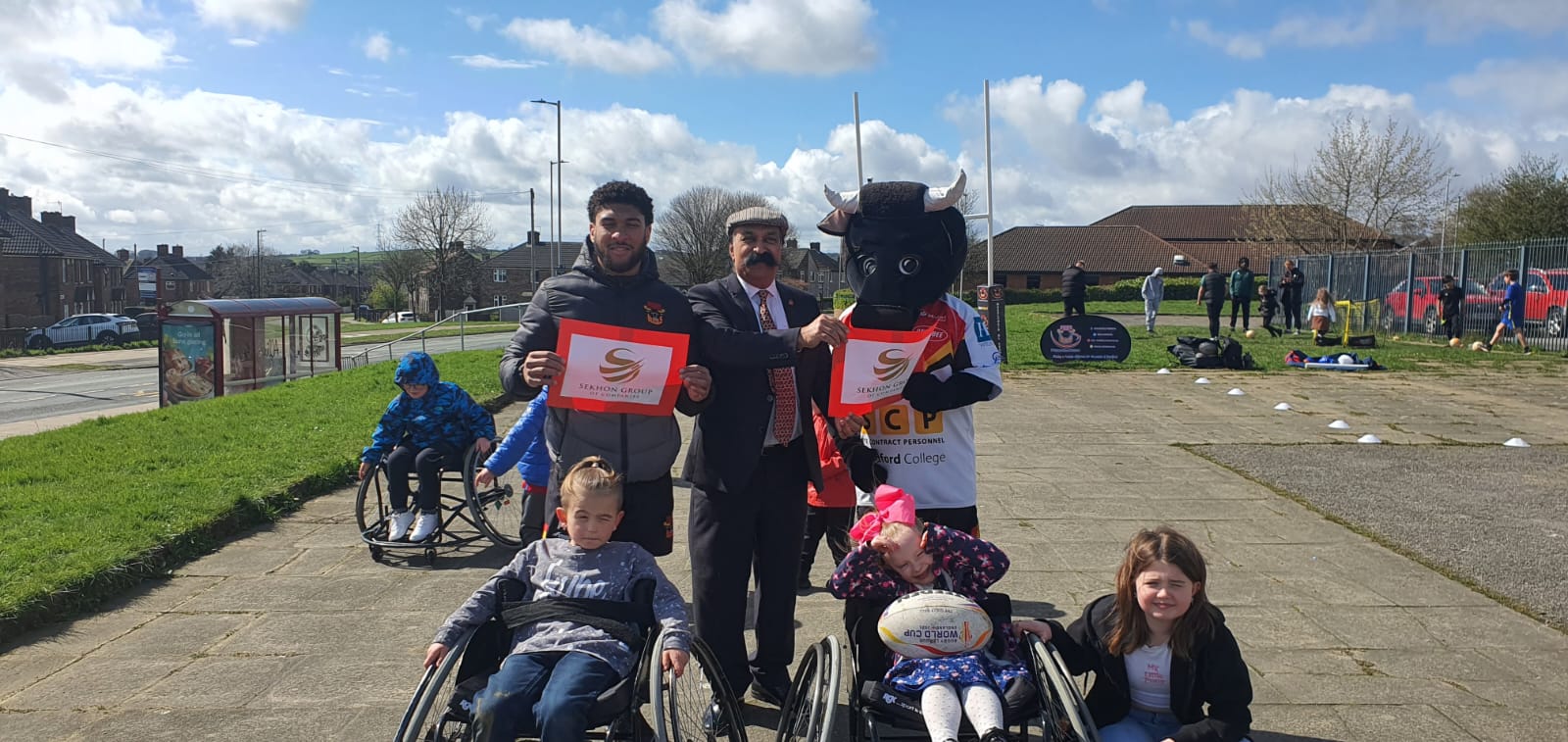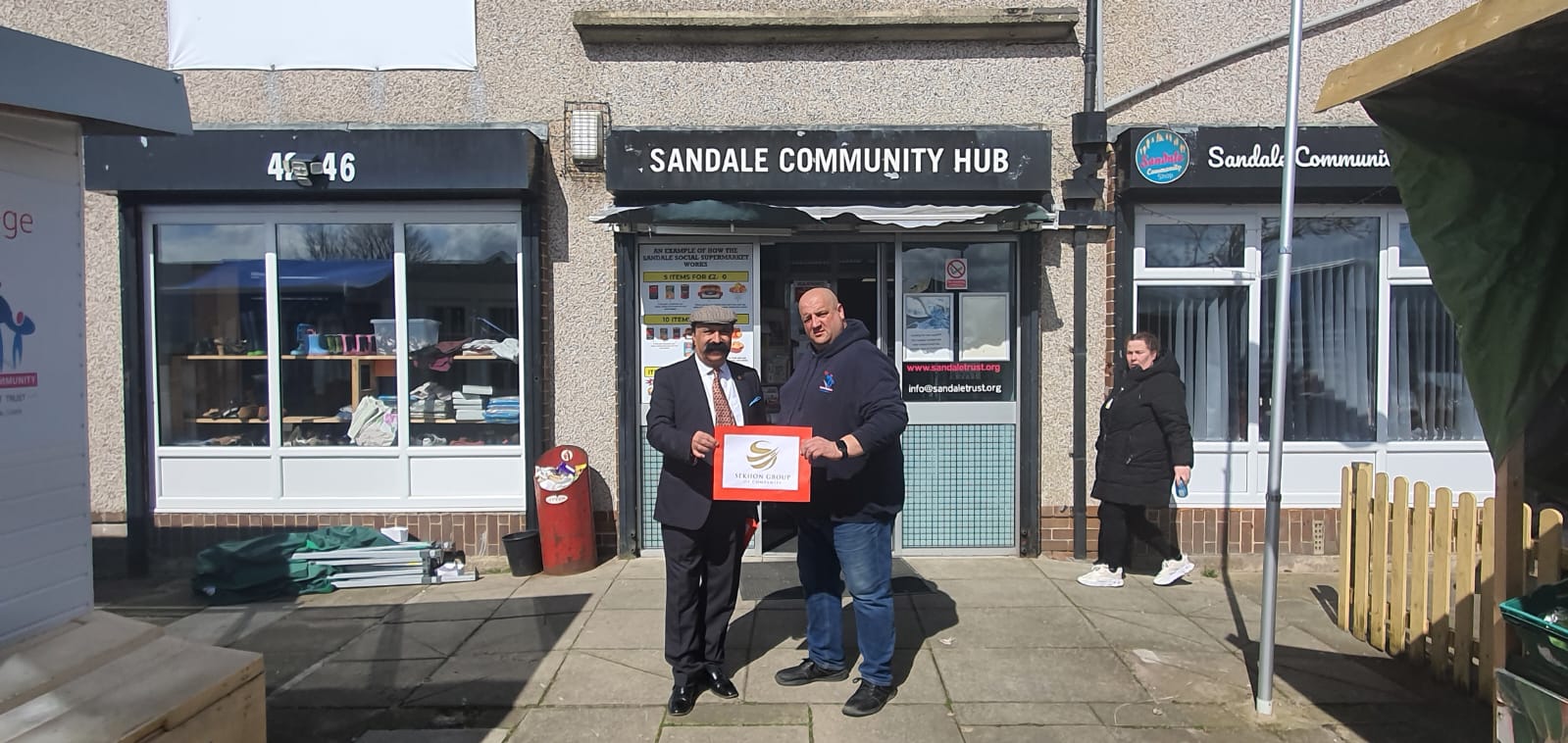 Forget Me Not Childrens Hospice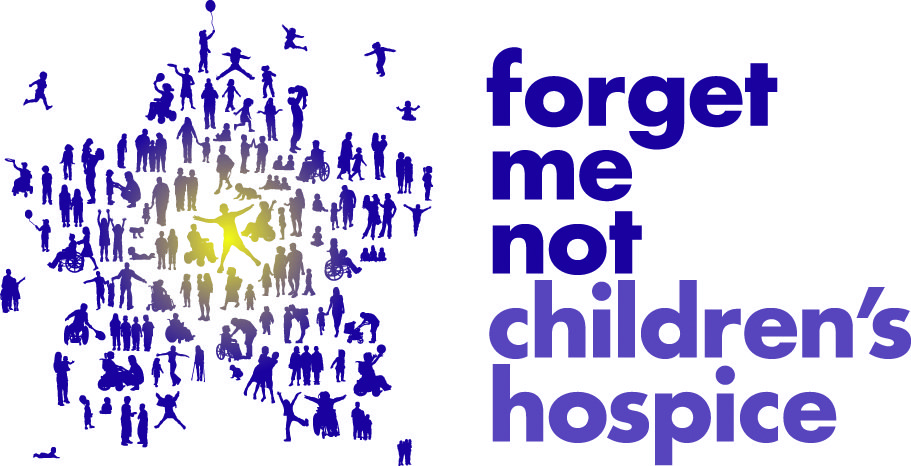 Good Morning Vimal

On behalf of everyone at Forget Me Not Children's Hospice, I'd like to say a heartfelt thank you to The Sekhon Group for this incredibly generous gift for our Every Minute Matters campaign. This kindness will enable us to provide vital support for 100 families next year who will suffer the loss of their precious baby and words cannot express what this support will mean to them. Thank you, thank you, thank you.

With kindest regards

Alison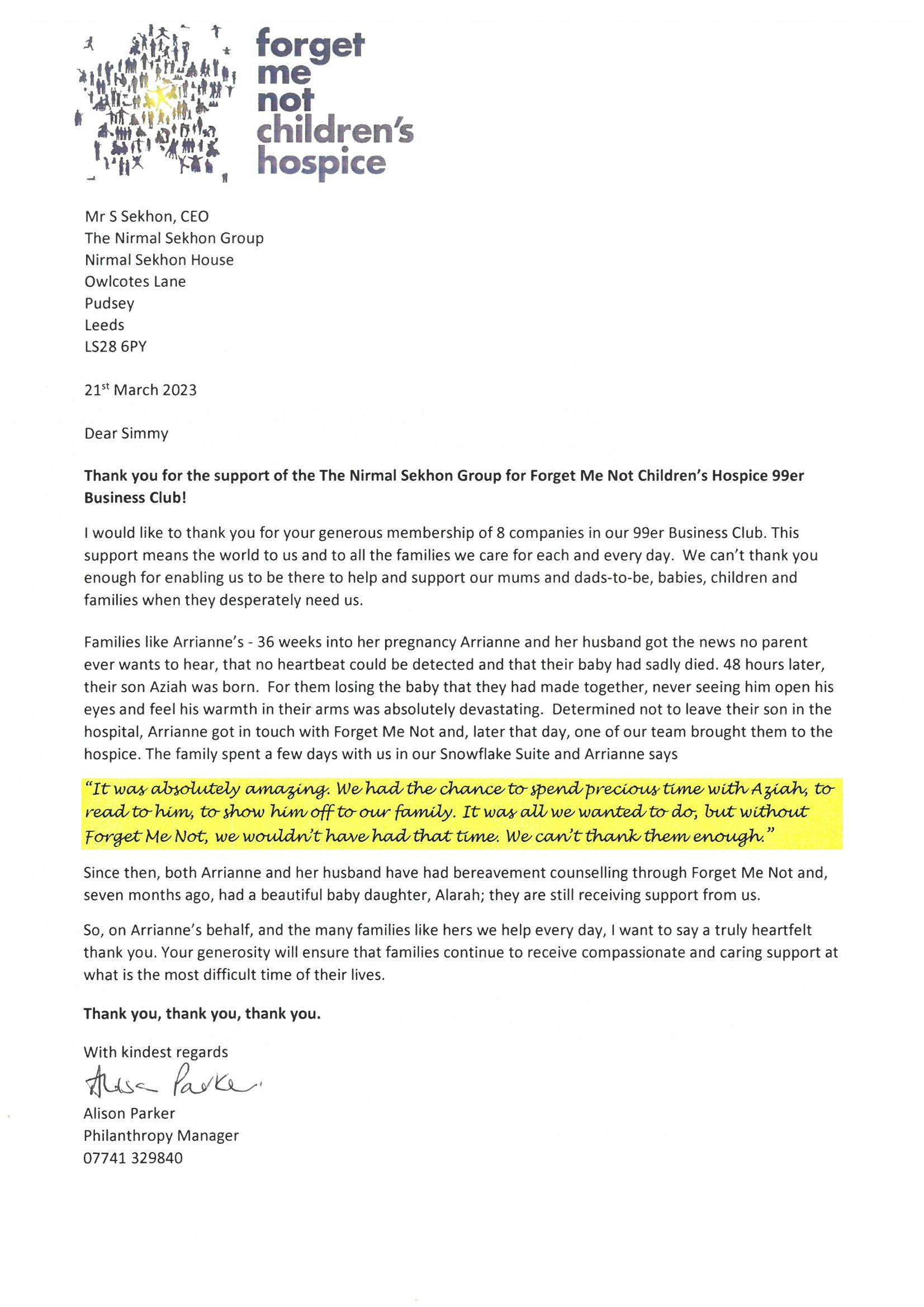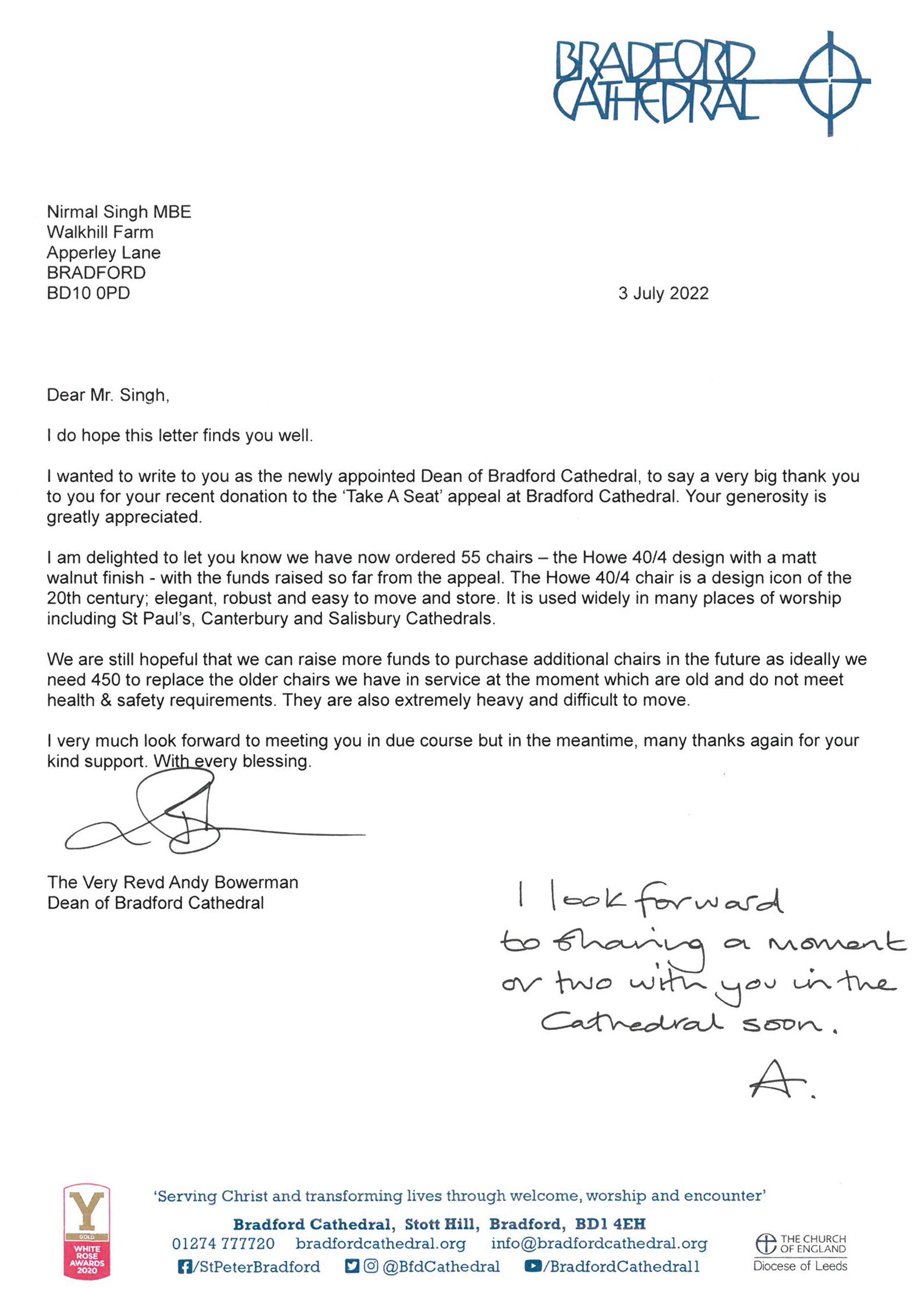 Dear Iqbal

Thank you for becoming a Patron of Bradford Cathedral. Your generous support is helping us to conserve and protect our wonderful building, deliver our inspirational education, music and arts programmes, and support some of the most disadvantaged and vulnerable people in our diverse communities.

With sincere thanks for your generosity and my very best wishes. Blessings The Very Revd Andy Bowerman Dean of Bradford
Thank you, your donation to Bradford Cathedral has been successfully processed.

£500.00
12-Oct-2022
Bradford Cathedral Sponsorship

Yorkshire Champions Group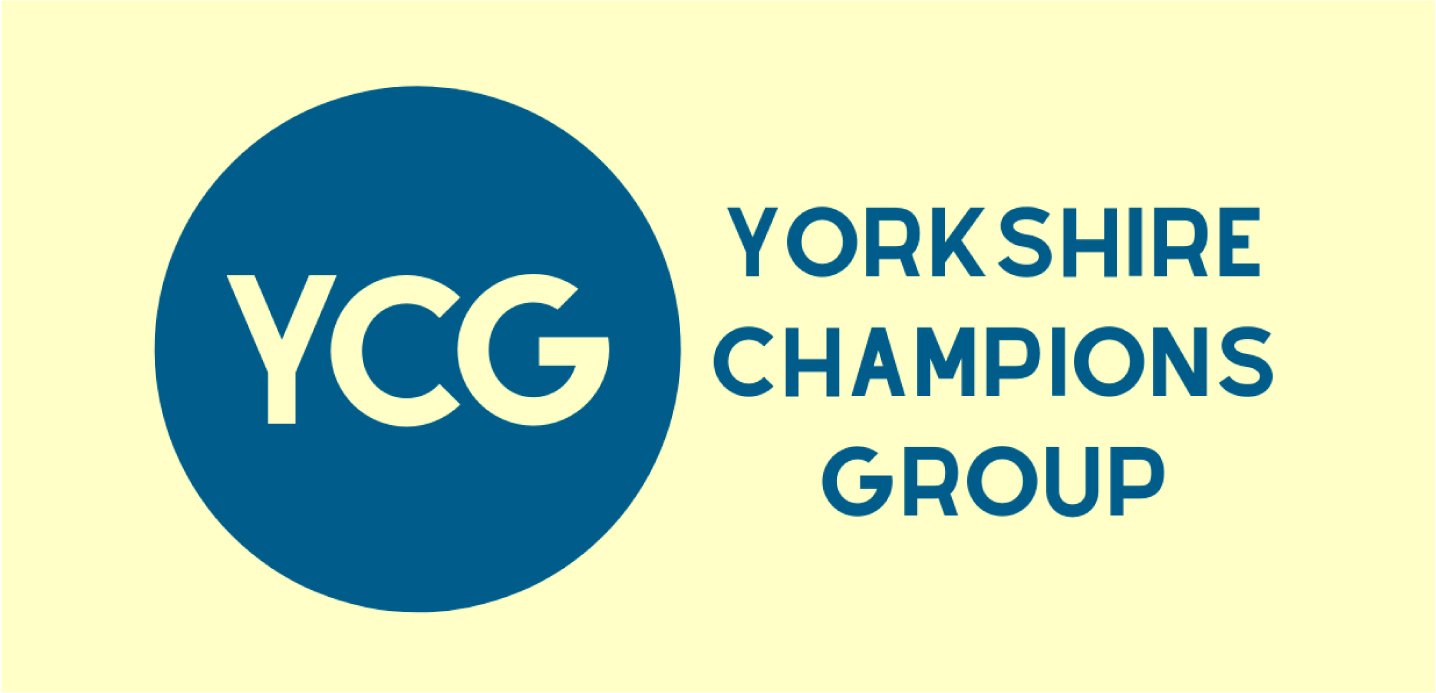 The community champions personal background and situations may be different, but every single child has one thing in common; with the right direction and support, they have the potential to succeed. In our mainstream schools, some pupils seem to breezze through. They turn up, listen, take part, complete homework, pass exams and leave equipped to go onto better things. Then there are those students who struggle and have a very different view of school life altogether; whether it be through immaturity, lack of self-esteem, little or no family support, motivation or just the general inability to grasp the importance of what is on offer.

Often with that kind of attitude comes disruption and disrespect in the classroom, ending in total frustration and hours of wasted time. The teachers who have prepared and planned specific lessons are sometimes almost considered a nuisance or perhaps someone there to spoil their social interaction. instead of teaching, it can end up policing a class, which then has a knock-on effect on those students who do grasp the point of education and want to learn.

Our aim is solely to support the school and the teachers. We all understand and appreciate what a difficult and stressful profession teaching can be. When a community champion is invited into a school they will talk about their own journeys but also endeavour to inspire, encourage and motivate their audience. We would like to try and change the attitude and the way some students feel about education in general.

The community champions help and support the 'Educational Bank Account'. Every bit of effort and knowledge they retain now is almost like banking invisible money, and without realising it, they are already preparing and contributing to this 'Educational Bank Account' which will pay dividends at a later date. This will give them something to offer and enable them to have choices in life. In addition, it will prepare them to stand on their own two feet, take care of their families and feel like a worthwhile member of society.

Furthermore, if our team members can help just some of these young people, to see the connection between, the value, effort and hard work they put in today and the opportunities that will open on leaving school with a full 'Educational Bank Account', our initiative has been a success.
The Business Champions The Business Champions section of the Yorkshire Champions group is in its early stage of development and will be formed as a natural progression and follow on from the community Champions. The Business Champions will be made up of thousands of businesses across the region. We are fully supported by the North West Chamber of commerce (who represent 40 of the city's most important organisations, both private and public sector.)

Our website will create a platform for all our schools, colleges and universities to form a lasting and constructive relationship with businesses across the region. it will open a gateway for businesses/companies to offer a unique service. They can provide an insight both visually and hands on, into the world of work today. This will give our young people a realistic opportunity to understand and appreciate the world of business and its opportunities. It will enable them to understand how the business function on many levels. And now, with the new technology and 'artificial intelligence' many of the career paths, they may have taken, will cease to exist.

The Business Champions, will help to focus their minds, expectations and ambitions. There will be visits to businesses, hands on experience, mentoring, business representatives visiting schools, colleges etc, which will open a whole new and exciting world for the students. Schools will play a full and active part in requesting what they need, as well as embracing offers proposed by businesses. They can base that need on curriculum, interests, age, and the individual strengths if students. And this service is 'free'! Students will meet, and be able to have a rapport with real people in business. And form a safe and continuous relationship if needed, over the school years. Long term mentoring can take place, with a view to possible apprenticeships, work placements, and future employers. The Businesses can offer sound guidance, experience and the opportunity, to see first-hand, what they produce, or what services they provide.

Through our website, and its facilitator's, our schools and businesses can reach each other through a simple format. It will also allow us to take on board their individual needs, suggestions and feedback, which we will be constantly monitoring, and striving to improve as we go along.
Our aim is for this new, amazing and exciting initiative, to benefit both the young people in the region and the business world. In addition to that, the businesses will not only fulfil their 'corporate Social Responsibility' which is hugely important, especially in today's current economic climate. They will without doubt, be contributing to the successful future of our next generation.

The Sports Champions

The Yorkshire Sports Champions will motivate and inspire children and young people focusing on their sporting achievements, they will relate their personal sporting journey to resilience, mental and physical health and well-being and the importance of leaving education with a full 'Educational Bank Account'.

Chardi Kala Nirmal ji and Simmy

Nirmal Singh MBE FRSA Honorary Fellow University of Bradford, Chairman of Sekhon Group and Founder & Chairman of Yorkshire Sikh Forum, Simmy Sekhon LLB, CEO of Sekhon Group, Dr Manoj Joshi MBE DL, gathered with Gill Arnold JP DL Founder of Yorkshire Champions Group today at City Park, Bradford with fellow Business, Community and sports Champions for a Photo shoot to promote the work of Yorkshire Champions Group.

Nirmal Singh and Simmy Sekhon are leading and driving force of YCG with their continued support and assistance.

For Further information, please contact Nirmal Singh MBE FRSA Hon Fellow UoB Mobile 0780735123
Parklane Foundation's Golf-a-thon
Thanks for taking the time to visit my JustGiving page. On Wednesday 22nd June six men will be taking up the challenge of playing 4 rounds of golf in a day in aid of Young Lives vs Cancer, yes that's right 72 holes in a day!
Naveen Ahmed along with five fellow golfers will be taking on the incredibly hard challenge of tackling four rounds of golf in one single day!
Tackling 72 holes in one day will really test your golfing prowess but with a bunch of mates by your side and the knowledge that it's all for a great cause it should be a fantastic day!
Thank you for your support
Donating through JustGiving is simple, fast and totally secure. Your details are safe with JustGiving - they'll never sell them on or send unwanted emails. Once you donate, they'll send your money directly to the charity. So it's the most efficient way to donate - saving time and cutting costs for the charity.
COMPASSION UK
Mr Sekhon is proud to be acknowledged for his very generous financial support to the charity, which to date totals £178,372 and the donation growing rate of £27k per tax year.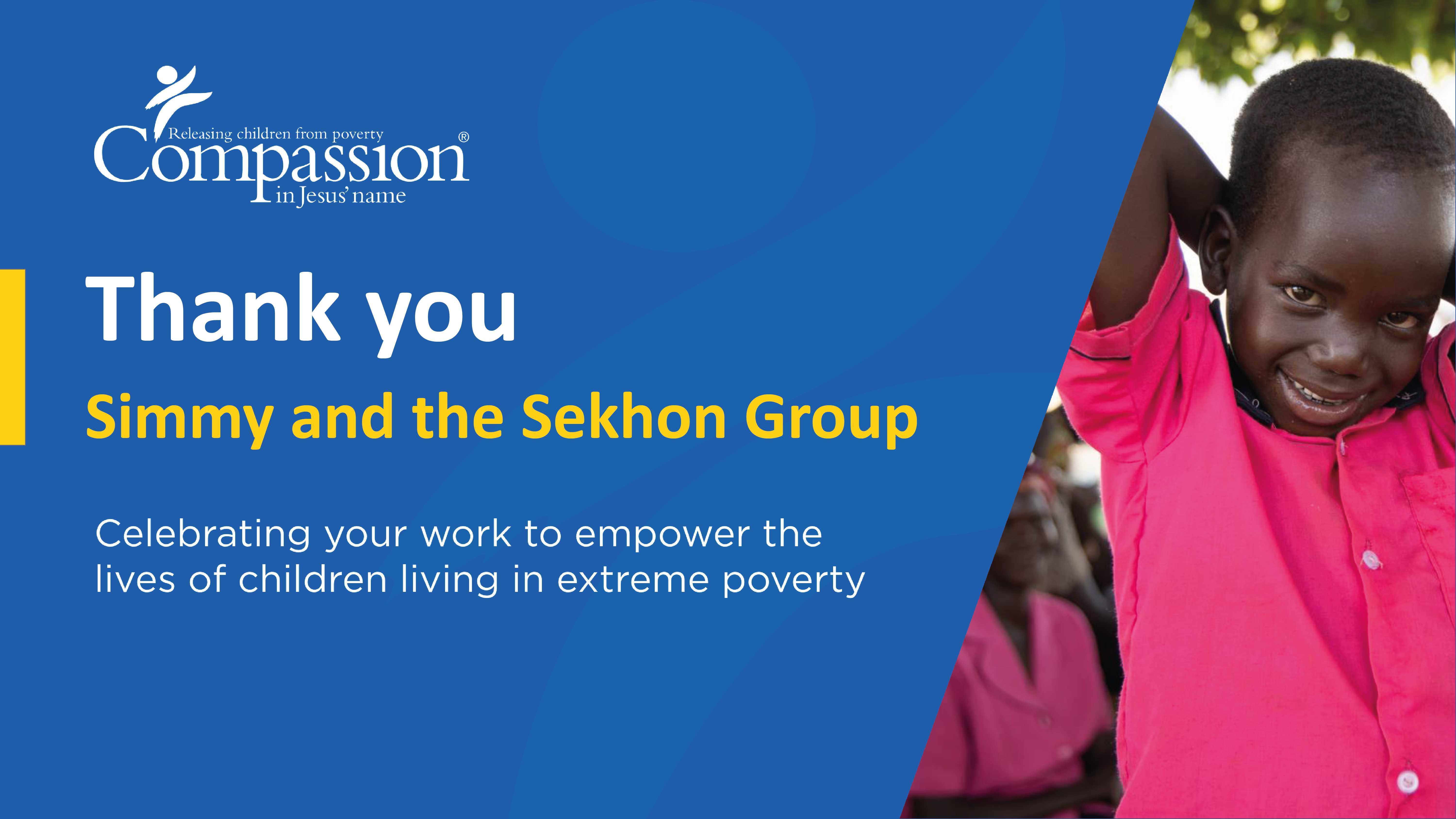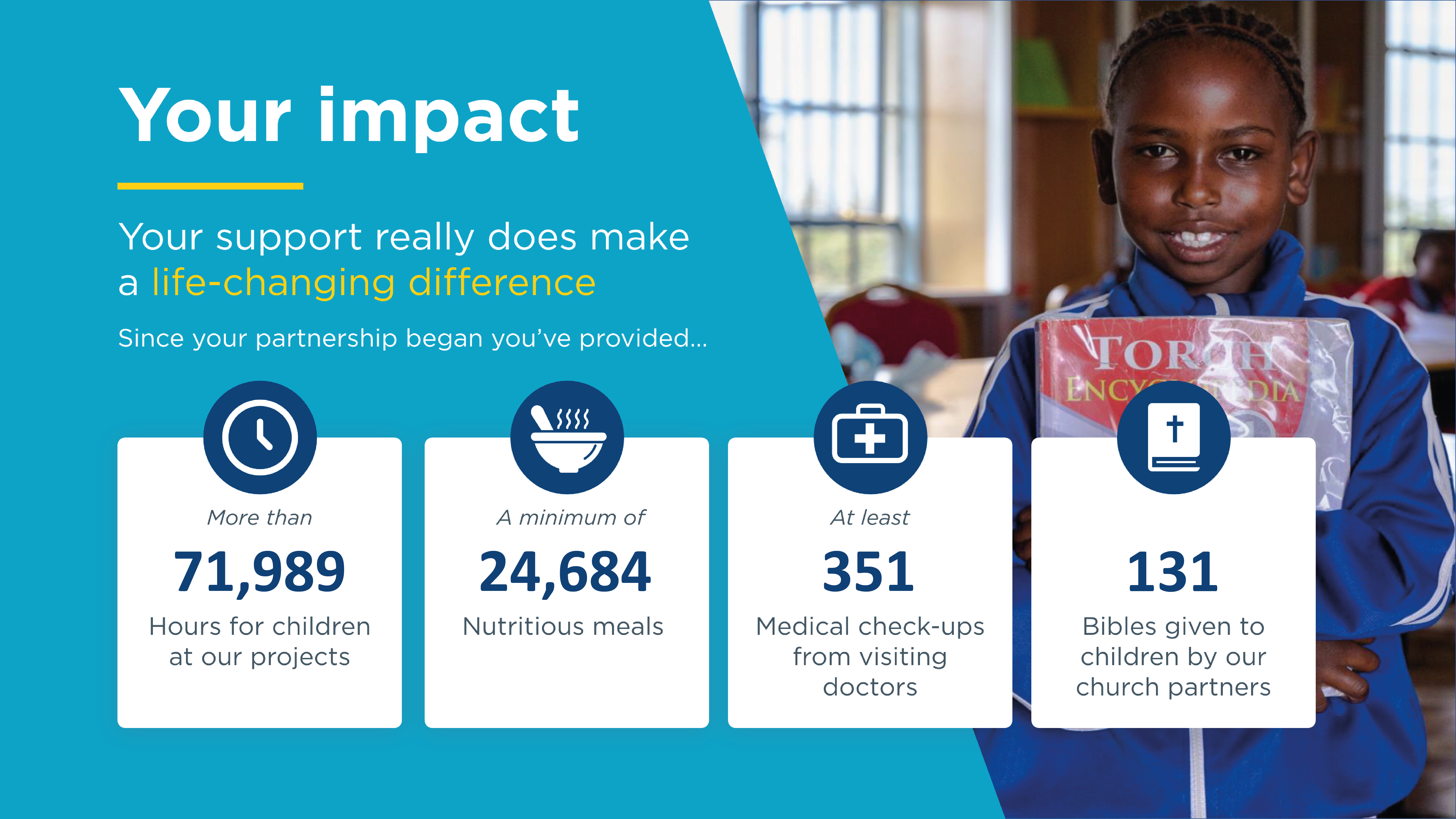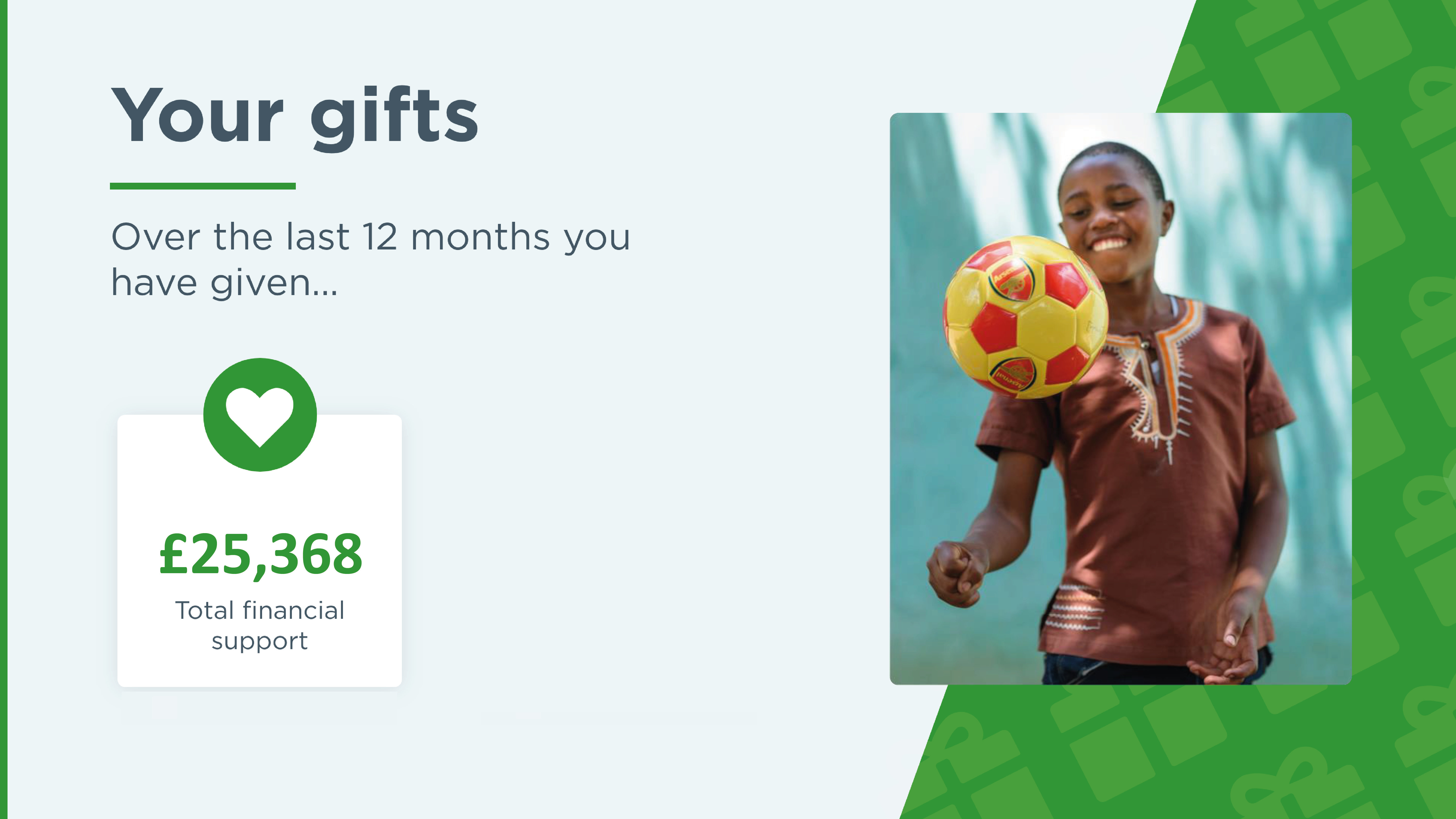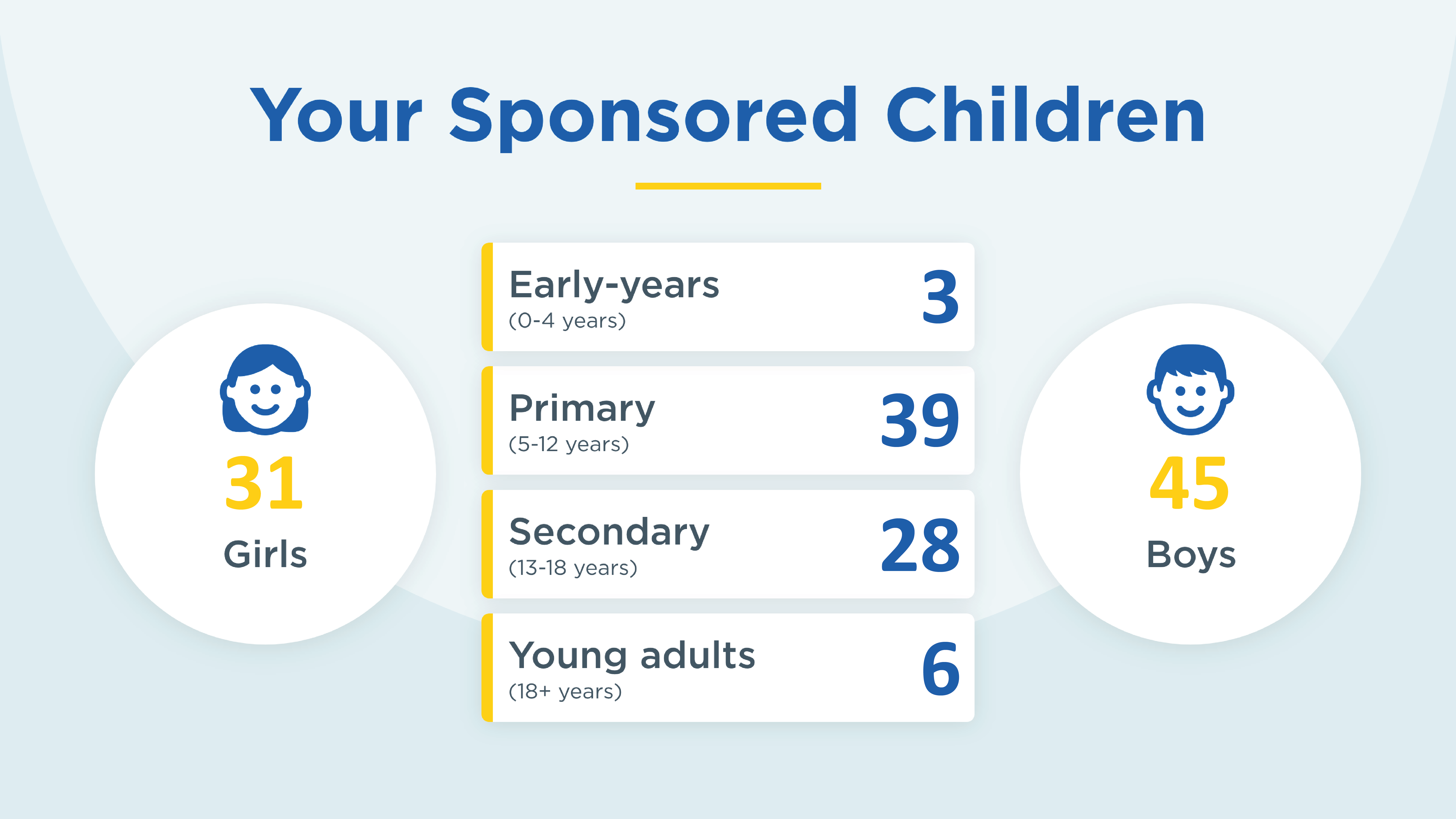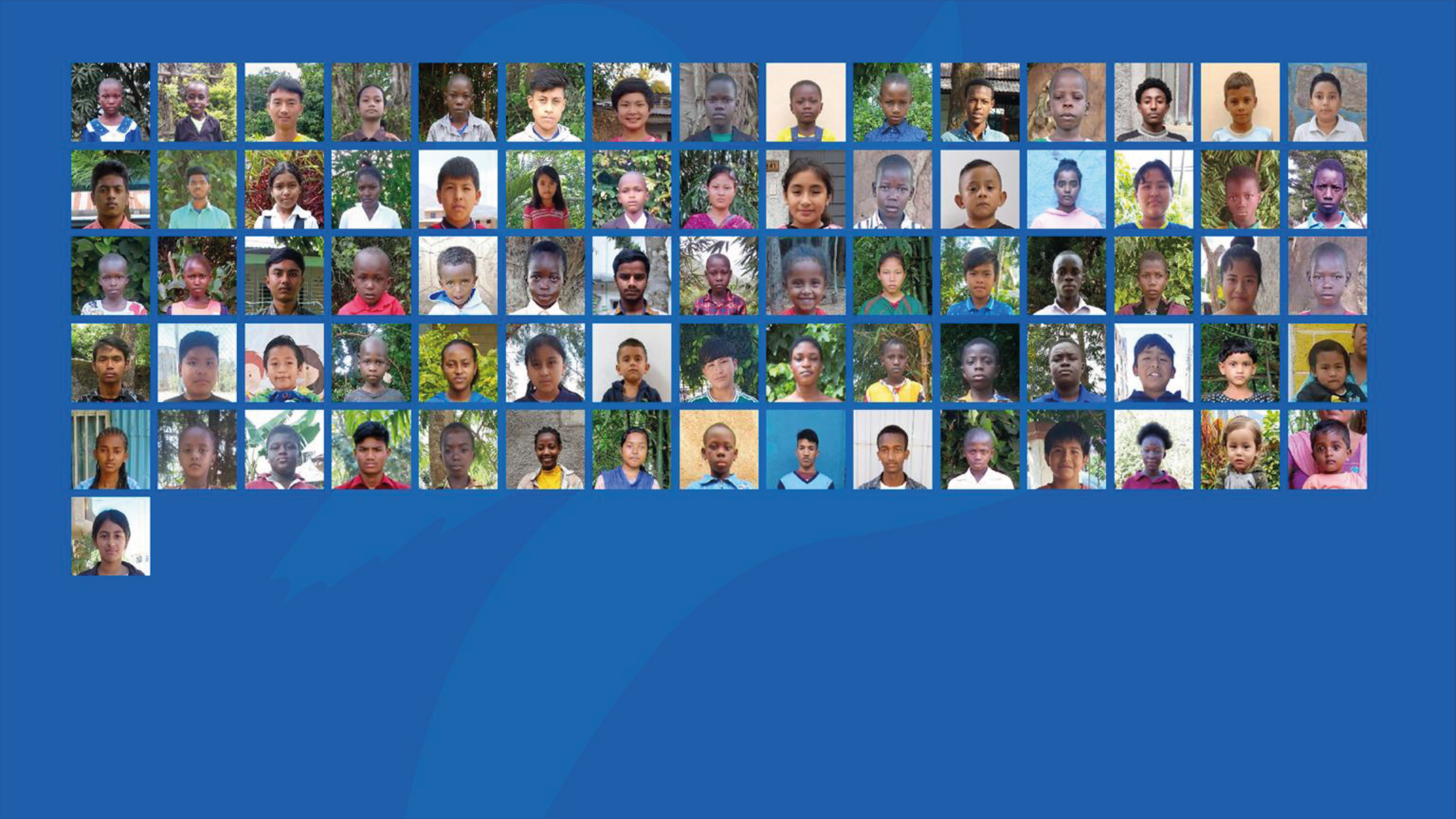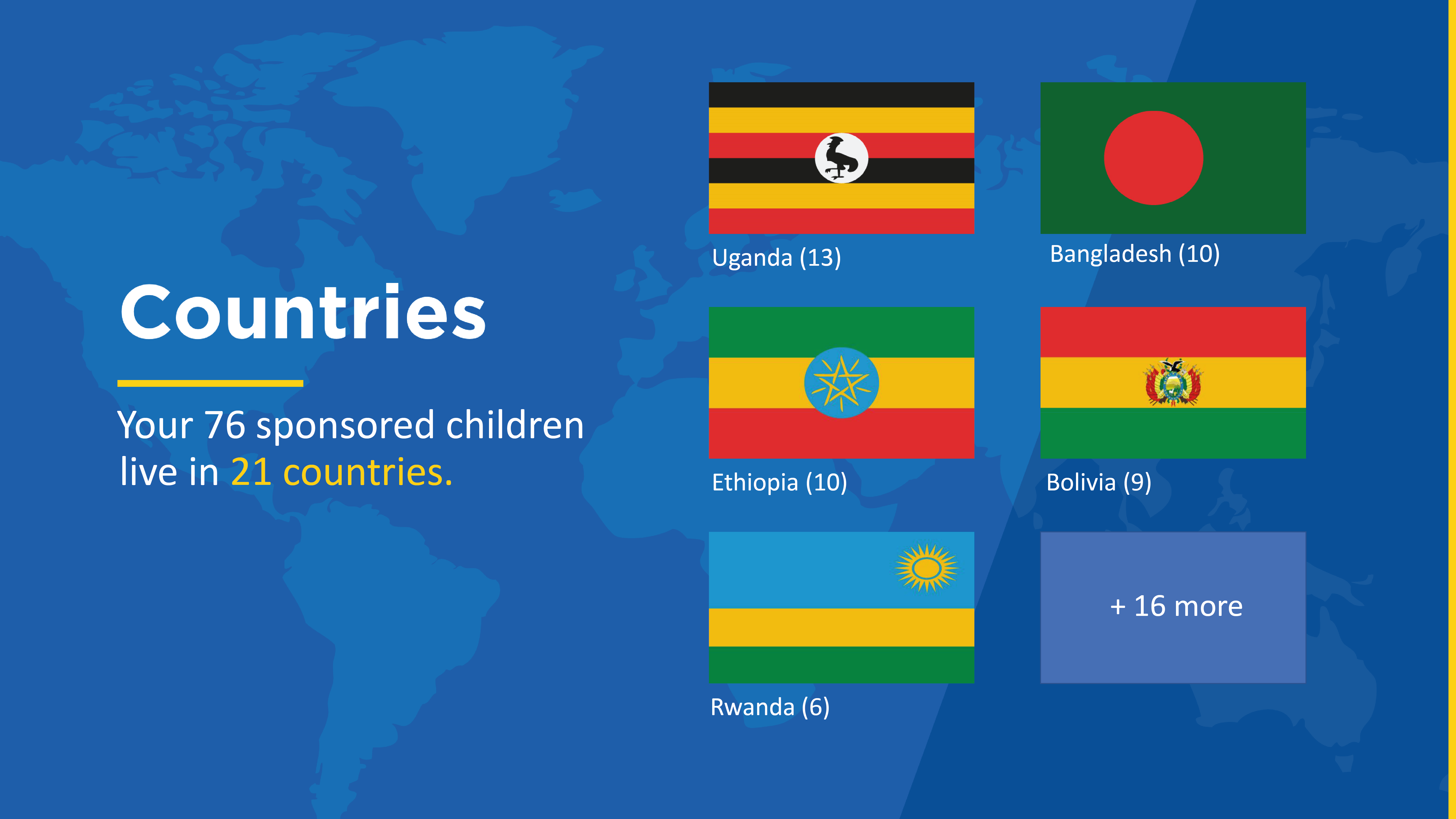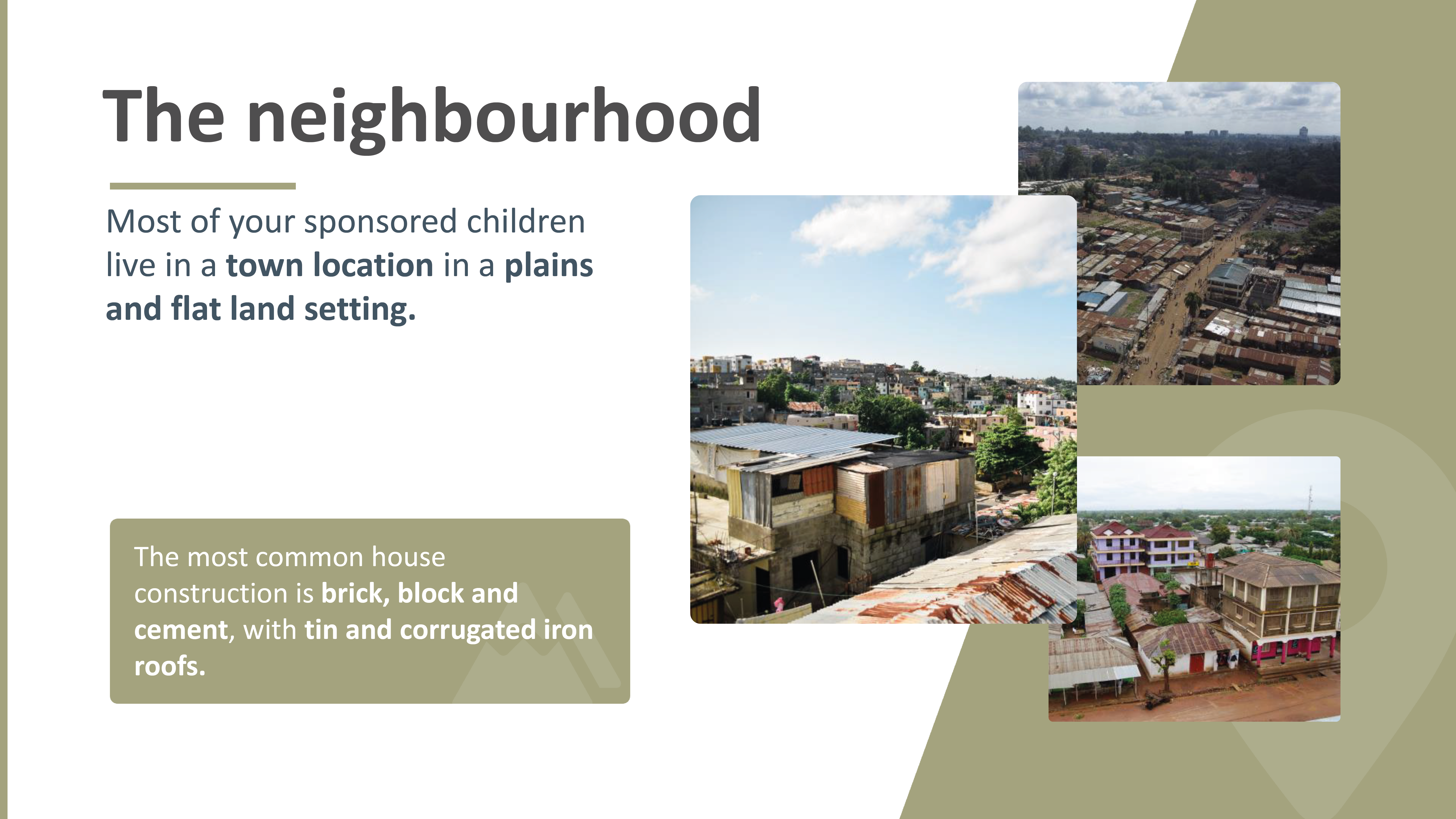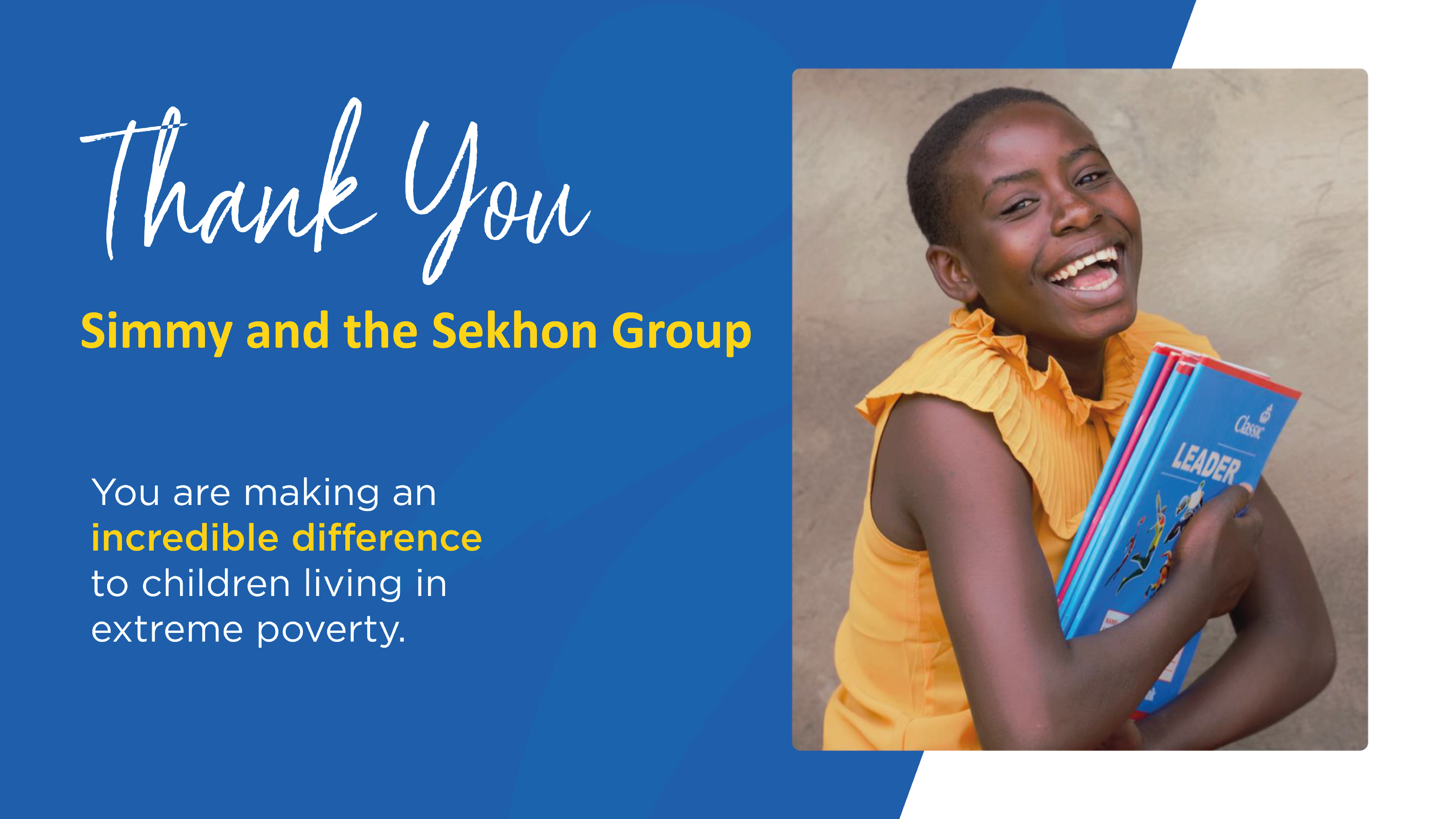 Hi Simmy and Sam,

It was a great pleasure to meet you both a few days ago- and thank you so much for your kind gift of wine. We are so grateful for your amazing support to date – thank you again for your current support of 76 sponsorships through Compassion UK. Simmy, we would love to claim the gift aid on around 3 of these sponsorships that you fund personally – to do that I just need your home address details and authorisation to claim gift aid on any personal donations dating back to 2017. Without your home address or your authorisation we cannot claim gift aid and so I'd be most grateful if you could let me know.

Re your future giving thank you so much for considering supporting young entrepreneurs in Kenya- I am attaching a proposal for you and Sam to consider around funding/supporting 200 Kenyan young people who are aged 18-22. The support is vital to enable us to help these most vulnerable young people to have a chance at thriving by starting their own businesses. We have run this once before in 2021 and the success rate of new businesses started is very high. We would be honoured if you would consider channelling your future philanthropy into an impact programme like this as it can make a huge difference in people's lives. We can report regularly on the impact and you can publish the results on your website etc.

Please let me know what you think.

With best wishes, and thanks again.

Andy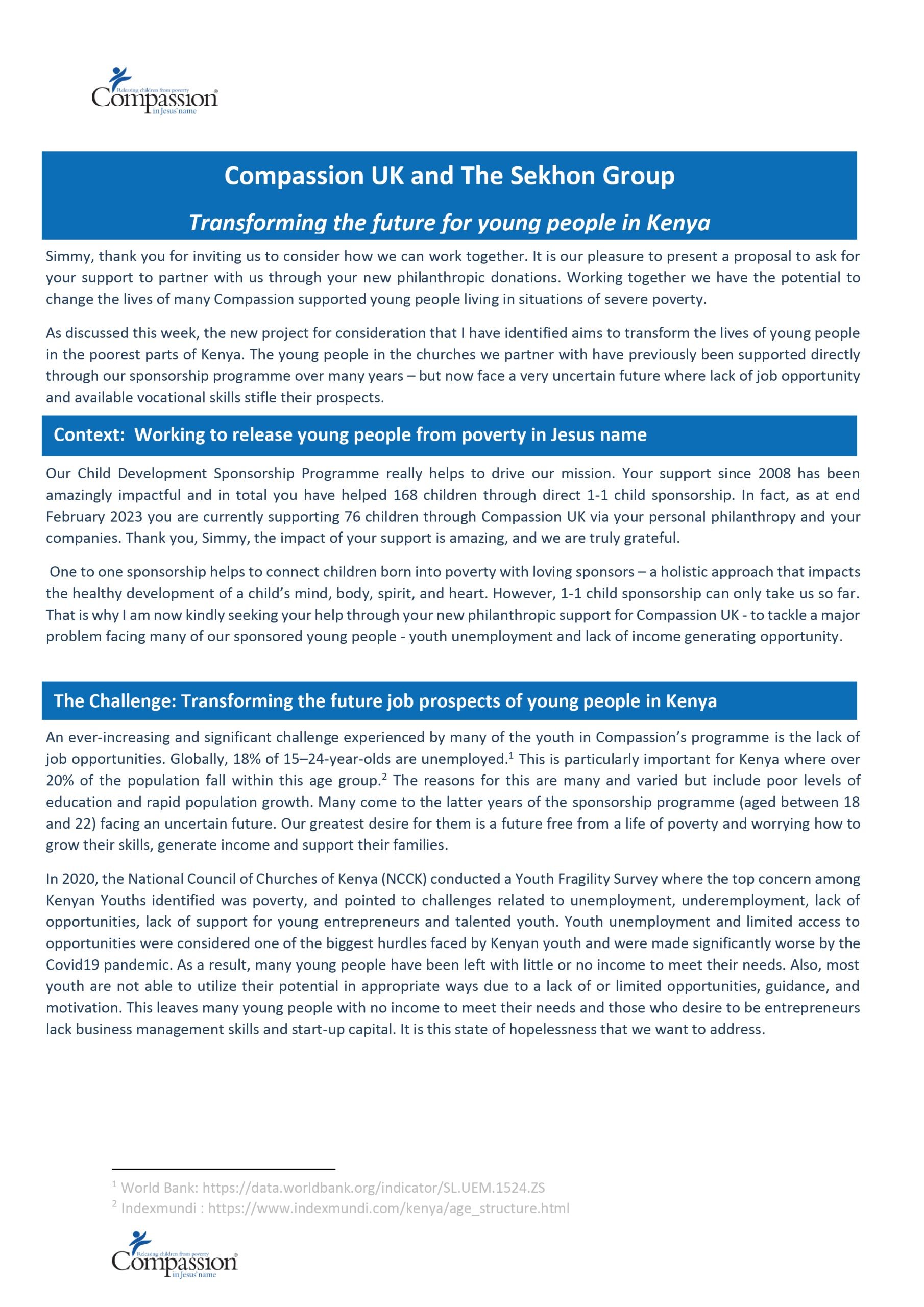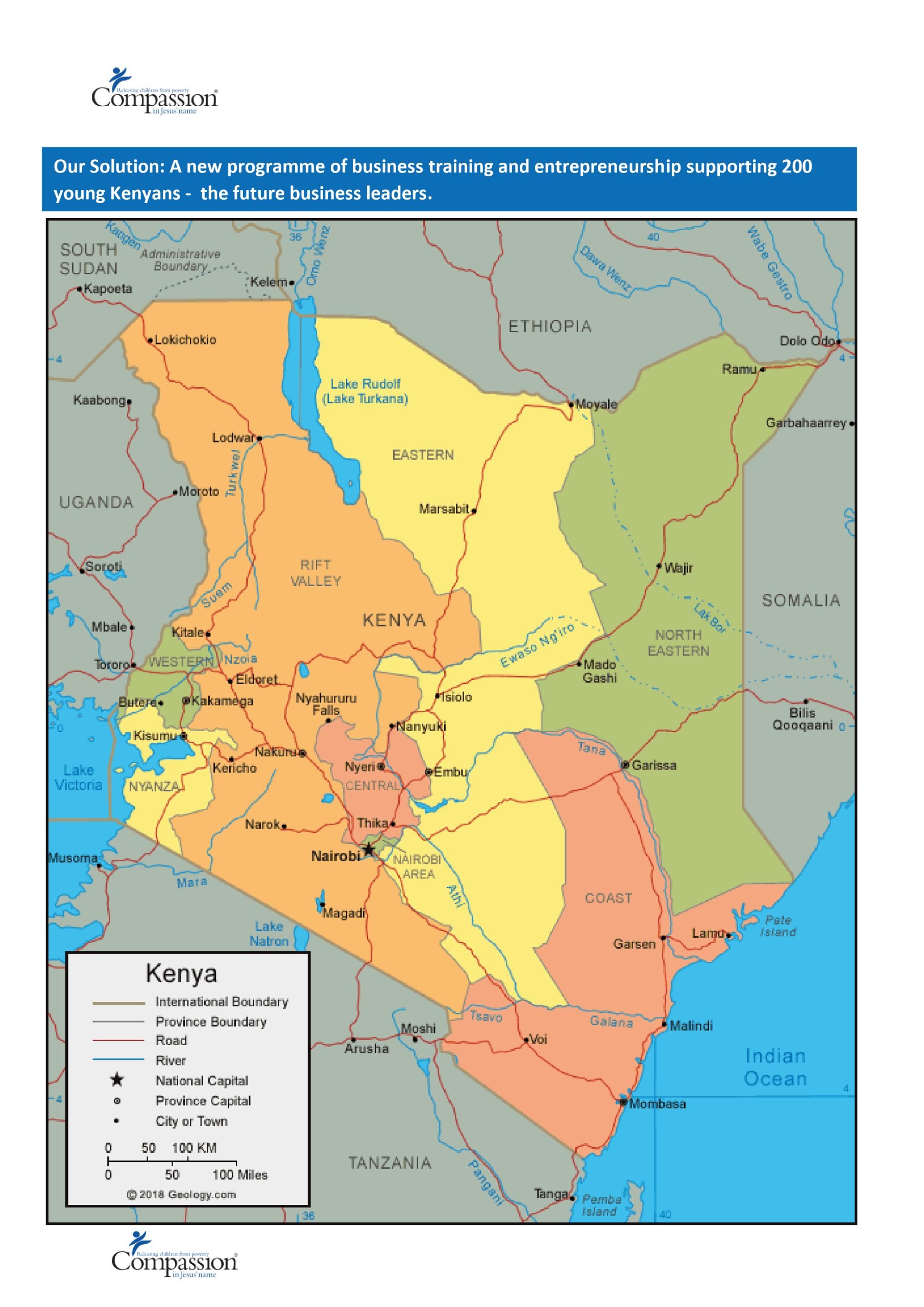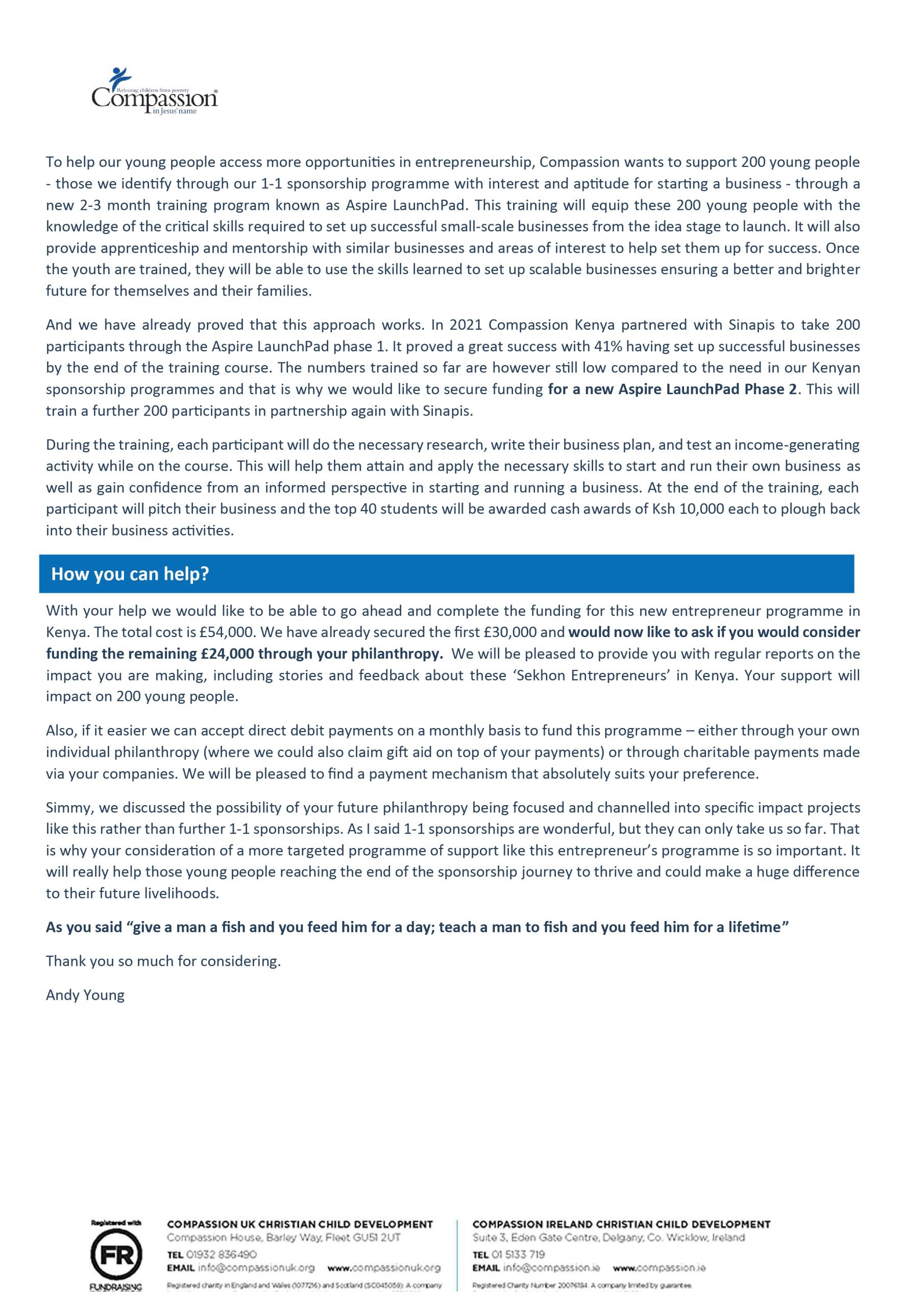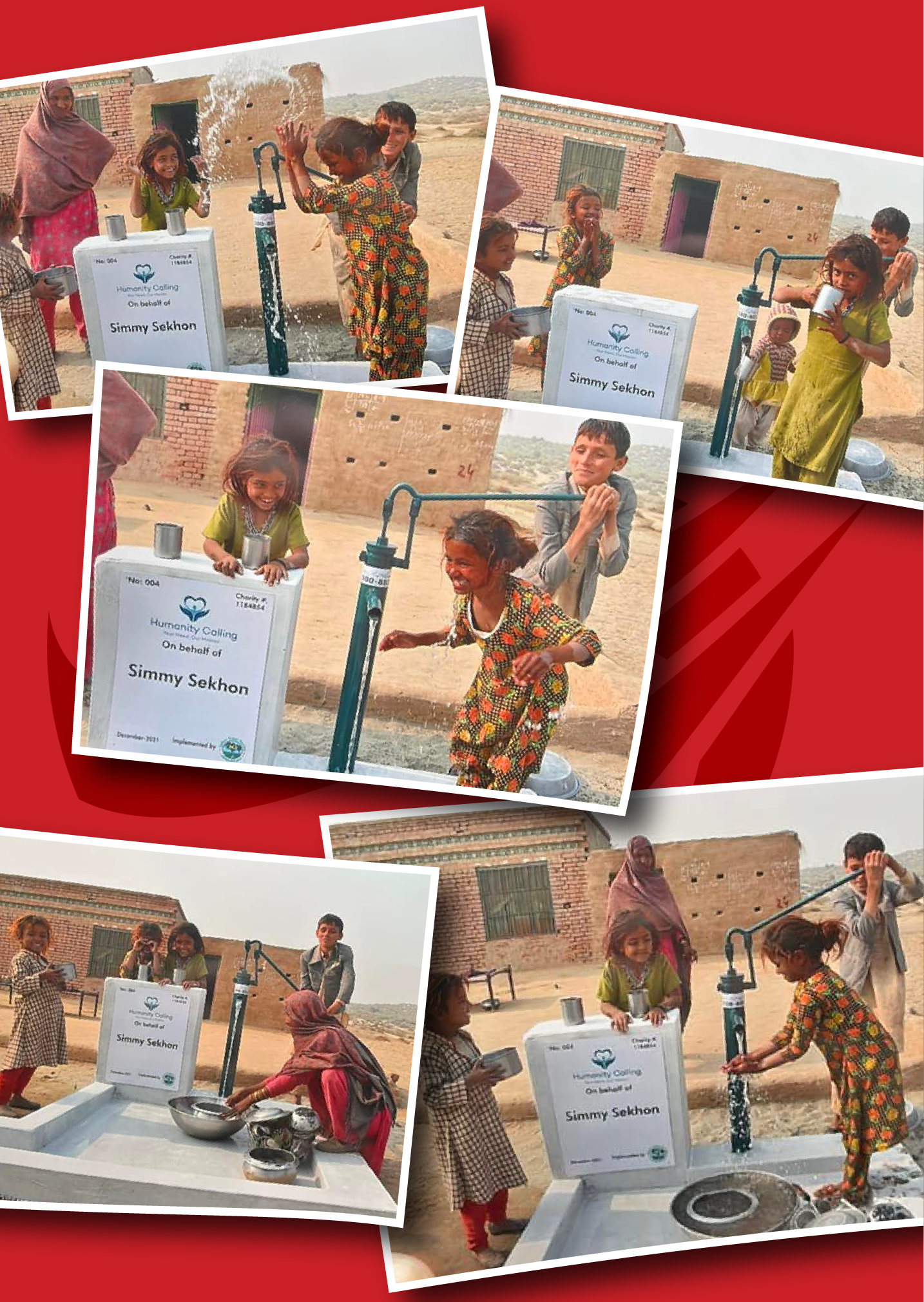 A MESSAGE FROM SIMMY SEKHON
"Thank you, thank you, thank you to the universe that we have an opportunity to give something back to people less fortunate to ourselves. Thank you, thank you, thank you for lovely business partners call to so many nice things on our special day. Do something great for someone else today, next week, next month and all through the year… Please feel rewarded… This is giving gratitude to the universe for all that we have… Stay on the positive frequency… This is the secret to manifest your dreams and your visualisations.... Love Simmy Sekhon ❤️❤️❤️❤️ thank you, thank you, thank you to my mum and dad who have inspired me from foundations to the present day. Best wishes and blessings from parents are always a successful formula. ❤️❤️❤️"
THE RISING
Mr Simmy Sekhon is proud to sponsor The Rising with a £2000 annual contribution. Founded by Mr. Tarun Sharma, with the support of a group of dedicated individuals, The Rising reaches out to children by conducting Life Skill programs, to save them from Suicides and Stress-related problems.

The Rising, primarily focuses on addressing the Emotional health needs of the community and provides Counseling. Seminars and support to people in crisis. We also started working for underprivileged children in 2008, with the aim to educated them and make them feel confident enough to live their life positively. We started with 2 special schools to provide them primary level education and vocational training to girls. Now we have 4 special Schools under the banner of "National Child labour Project" (Indian Labour Ministry) in Faridabad with app. 200 children.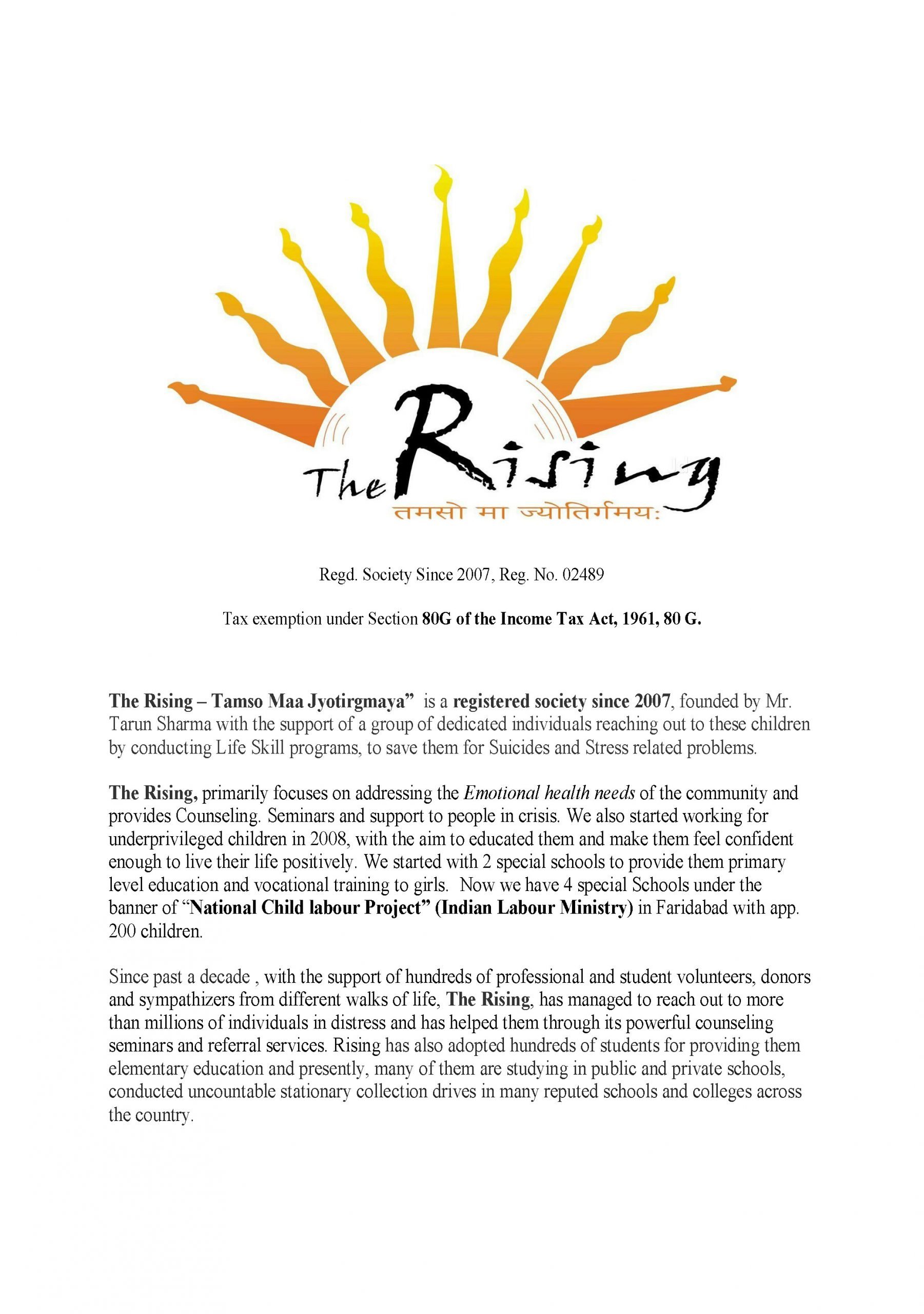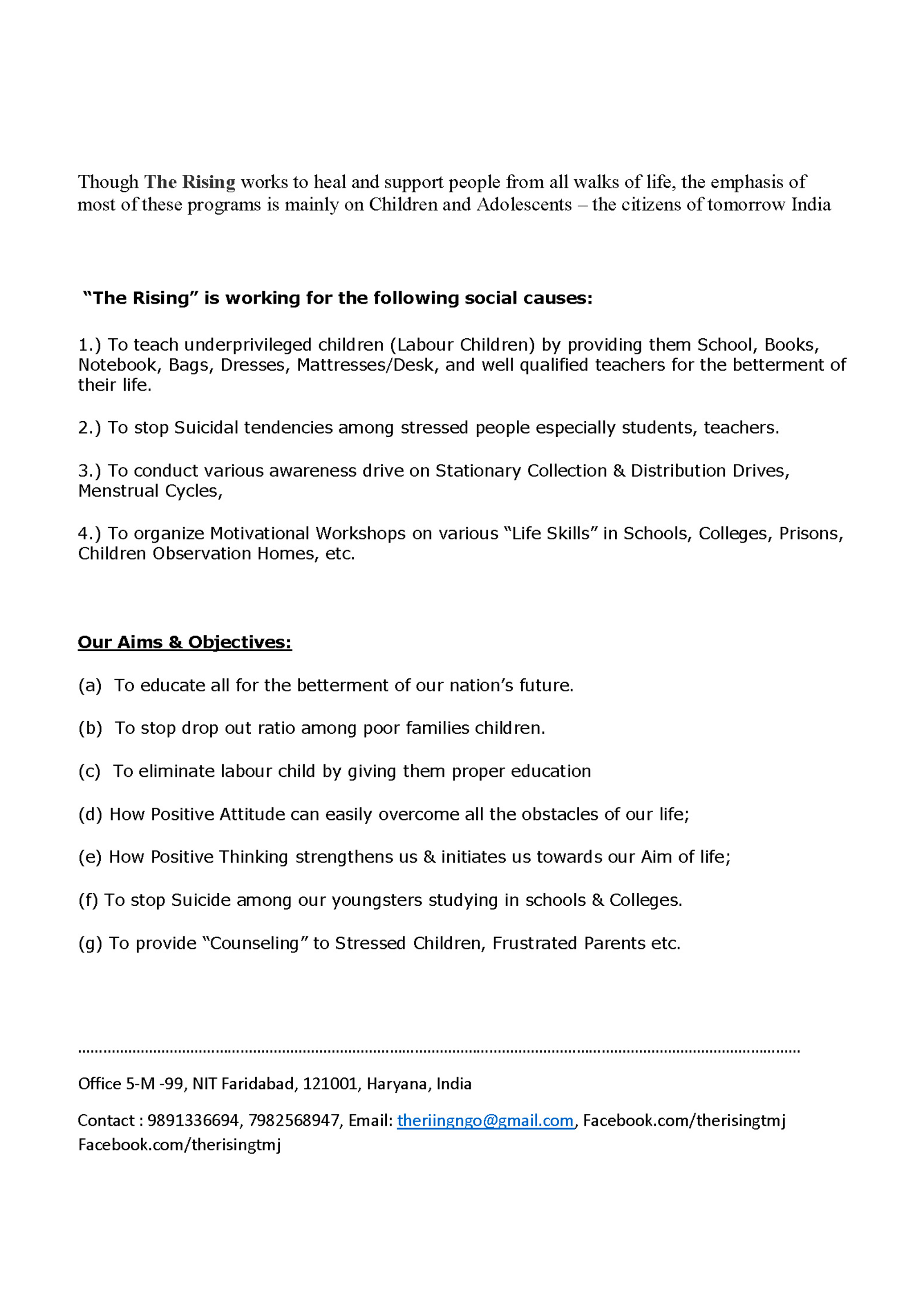 CHARITABLE
HUMANITARIAN
SERVICES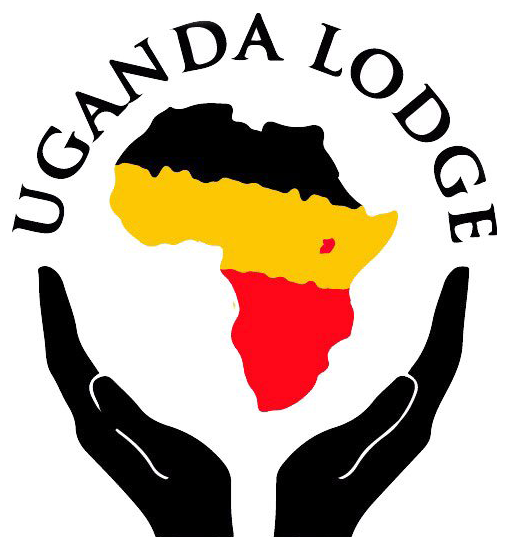 Mr Simmy Sekhon has significantly sponsored the Uganda Lodge & Ruhanga Resource Centre nursery and primary school since 2015 which provides education food and other resources for 80 children in association with Ann McCarthy being the founder of the Uganda Lodge & Ruhanga Resource Centre nursery and primary school.

This support has been particularly vital during the Covid period where education for about 18 months has been almost non-existent and has adversely affected families of the region.
Mr Simmy Sekhon was instrumental in assisting SACAR charity supporting people with autism and Asperger Syndrome disorders. It has assisted people with Asperger's syndrome and autism to lead near normal and independent lives and assisted them to integrate into normal society.At the time of their inception, they would not have been able to commence the charity without the support of Mr Sekhon as offices were given without any cost to them including utilities until they were able to function independently.

During the journey Mr Sekhon was instrumental in persuading Asquith Properties, a property development company to donate £15,000.00 to the charity which was the initial lifeline and gateway to future funding. this provided the essential platform to develop and support their services for children with Autism and Asperger Syndrome.

Mr Sekhon provided offices for this charitable organisation for over 14 years and has been proud to have been instrumental in assisting so many youngsters to once again live as normal life as possible. In or around 2017, the charity had over 100 employees and support workers and were encouraged to proceed to purchase their own premises without being reliant on any third-party landlord.
SACAR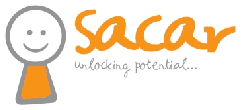 THE SCHOOL OF ROCK AND MEDIA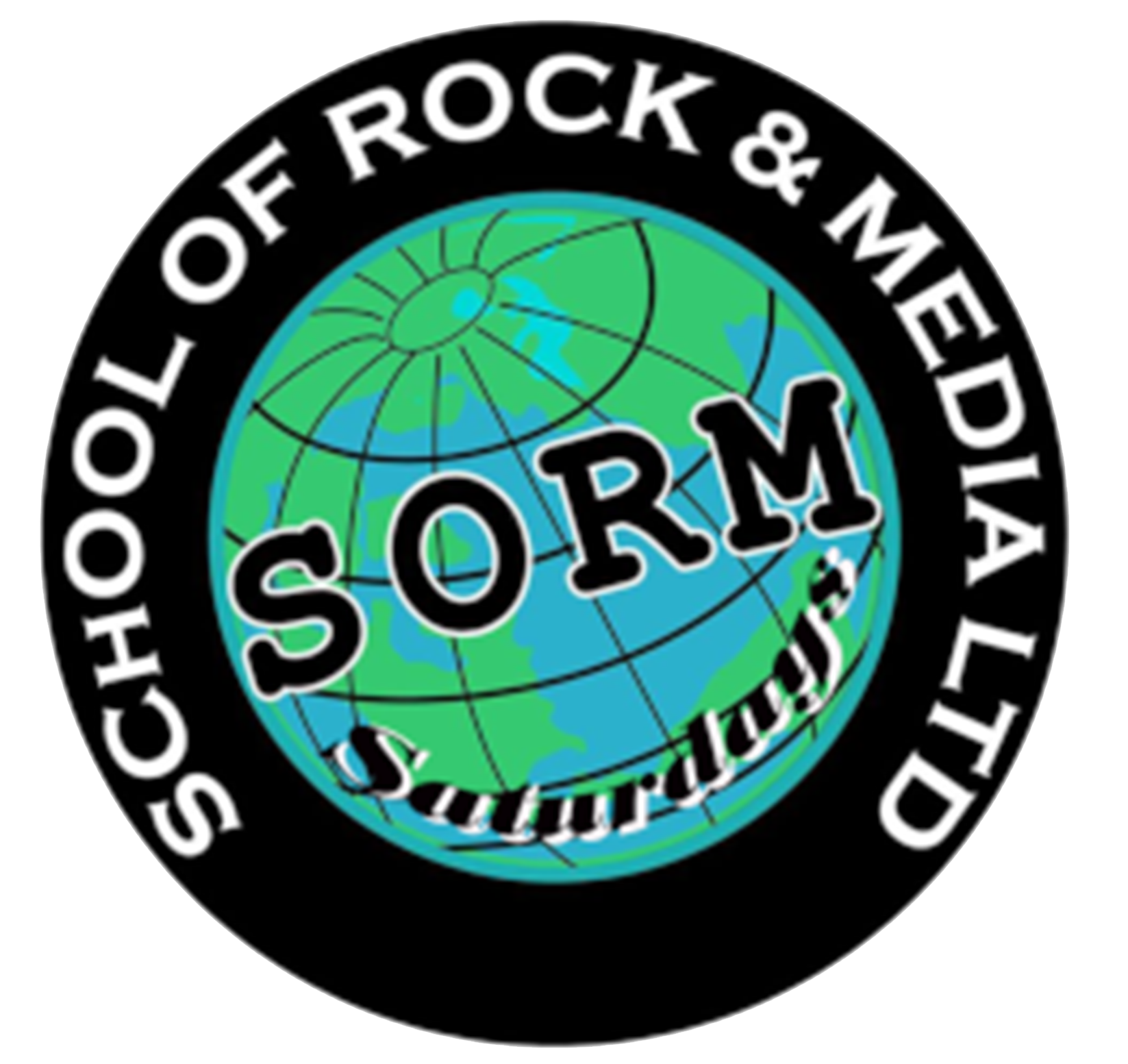 Once again in 2016, Mr Sekhon was instrumental in assisting The School of Rock and Media now situated at 5 Cater Street Bradford BD1 5AS. Together with the founder directors Tony Saunders, John Bolton and Michelle Bolton. Mr Sekhon assisted the organisation during its infancy providing offices and a building to facilitate the charity by providing a substantial rent free period making this organisation possible. The organisation specialises in having a unique approach to music delivery using a unique blend of social enterprise and "play it forward ideology" to bring people together from all walks of life and abilities.

The organisation has caught the attention of the Local Authority and achieved significant funding to push forward its core values and this would not have been possible, had Mr Sekhon not stepped in to assist the organisation which has provided such an excellent facility for underprivileged autistic children in their lives. In fact, the organisation is so grateful that they have named one of the studios after the family.
Mr Sekhon has assisted countless charities and made countless donations to charities of worth however a noteworthy charitable donation which is close to his heart is the Prince of Wales Hospice Pontefract where a substantial donation running in to thousands was made. He was greatly thanked by the charity and the hospice wanted to thank him publicly but due to hi many commitments he was unable to do so but is a supporter and continues to support cancer charities.
PRINCE OF WALES HOSPICE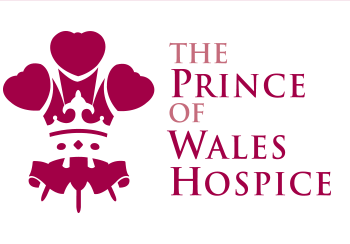 FUND RAISING FOR BOMBING VICTIMS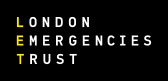 Mr Sekhon raised £28,000 for the benefit of the injured during the 7th July 2015 London bombings when four suicide bombers with rucksacks full of explosives attack central London where 56 people were killed and a further 748 were injured whilst travelling on the public transport system in London These attacks happened on both the underground and on a London Bus in central London.

Mr Sekhon felt pain for those killed and injured and took it upon himself to raise those monies to help the victims of this horrific event which was reported on local media. Similarly, Mr Sekhon felt the same pain and reacted in a similar manner following yet another horrific bombing attack which took place after a concert at the Manchester Arena on the 22nd of May 2017 when an Islamist extremist suicide bomber detonated a shrapnel laden home-made bomb whilst concert goers were leaving the Manchester arena following the concert by American singer Ariana Grande. 23 people died including the attacker and more than 800 people were injured.
In 2005, Mr Sekhon, along with his family donated £20,000 worth of clothing, blankets and other essential textiles to the victims of the 8th October 2005 Kashmir earthquake which was described as the deadly deadliest earthquake to hit South Asia surpassing the 1935 Quetta earthquake. He sees no difference between colour and creed though he is from India and a Sikh. His cross-cultural humanitarian Support for all faiths is admirable.
KASHMIR EARHQUAKE APEAL

ROTARY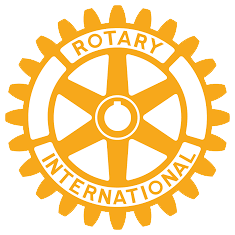 Mr Sekhon has participated as a member of the Rotary Club of Bradford and has participated significantly in charitable donations since and during his membership which has been since 2005. More recently the Rotary Club of Bradford has been instrumental and organise itself to eradicate polio and Mr Sekhon together with his family have generously donated and supported the cause during the Governorship of Manoj Joshi Deputy Lord-Lieutenant of West Yorkshire.
DEC TSUNAMI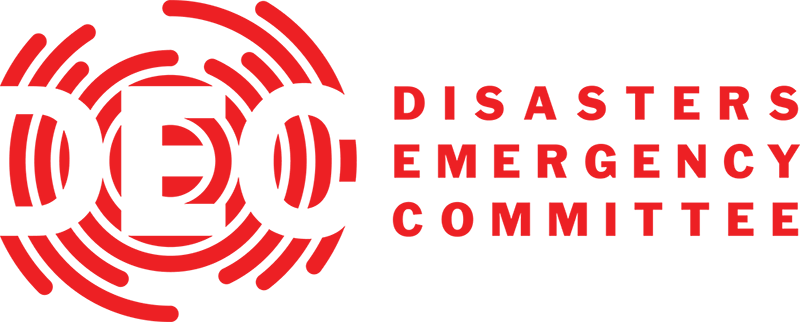 In addition, Mr Sekhon has supported the Disasters Emergency Committee on several occasions where there have been natural disasters affecting millions of people who have died been made homeless and missing as a result of cyclones, earthquakes and other natural disasters. The donations have been used to provide vital shelter clean water life-saving food and water purification tablets, blankets and clothing.

Mr Sekhon has become a board member and director of Oriental Arts (Bradford) Limited together with his colleague Mr Raymond Brown and Champak Limbachi, A 40 year old charity which has specialised in providing arts entertainment and culture to the South Asian community in England which has promoted and facilitated racial integration and cross-cultural harmony.
STUDENT ACCOMODATION
Mr Sekhon was a student of the award-winning University of Huddersfield and following his Graduation, became involved in acquiring and converting property within the Huddersfield HD1 area specialising in providing accommodation for the students of the Huddersfield University. Mr Sekhon, being a former student of the University felt that students living away from home could benefit from his knowledge, experience and legal qualification and provided a surgery one hour per week between 2009 and 2012. This pro bono activity was well received by international students who had a variety of problems including social and legal. He found this rewarding but due to his personal commitments could not continue after 2012.

Mr Sekhon has led in improving student accommodation in the town in which he has raised the standards of student accommodation unlike some other competitor organisations. Whilst he became involved in this area of business, he wanted to add value to students and to the accommodation life in which students lived as he remembered as a student himself the terrible accommodation that was available during his student days which was between 1994 and 1998.

He promised himself that if he could ever change the situation then he would. He made it his passion to improve the standard of accommodation within the town for the benefit of successor students, in particular those from the international community to make them feel more welcome and increase and enhance the reputation of Huddersfield which is consistent with the efforts of the award-winning University "the University of Huddersfield".

Mr Sekhon is now one of the largest independent student residential providers in Huddersfield town and is extremely proud of his achievements and says that he only achieve this as a result of his academic attainment gained at the University. His achievements have recently been reported in the Examiner newspaper where it states that his assets which benefit the student population of Huddersfield are worth £20 million. Mr Sekhon wishes to invest more money in the town and has no intention of selling anything.
Mr Sekhon has become involved with the Bradford Community Champions over the last few years and has himself provided much needed encouragement and inspiration to students from non-privilege backgrounds. Over the years he has seen children and young adults in every situation, and he feels that every child should have the same opportunities as he has had. From humble beginnings when his father was a bus conductor and then subsequently became a textile manufacturer, he has recognised the importance of helping those who are less fortunate in society.

He is delighted to attend the schools and give inspirational talks to students who have taken on board Mr Sekhon's experience and improve themselves in their academic ability and have gone on to improve their social standing. Having spoken to some of the teachers who have witnessed the interaction, I am so pleased that the encouragement has motivated them to higher levels.
Mr Simmy Sekhon was recently privileged to deliver a presentation to the students at St Beads School in Bradford. He was proud to share both his life experiences, expertise and values with Bradfords next generation of entrepreneurial young minds.
BRADFORD COMMUNITY CHAMPIONS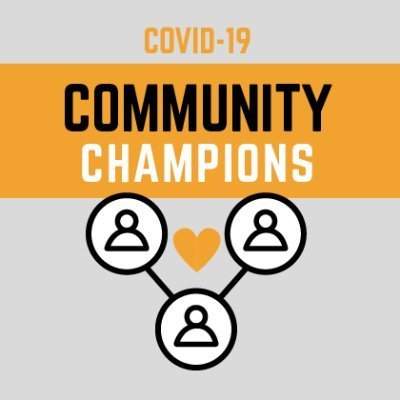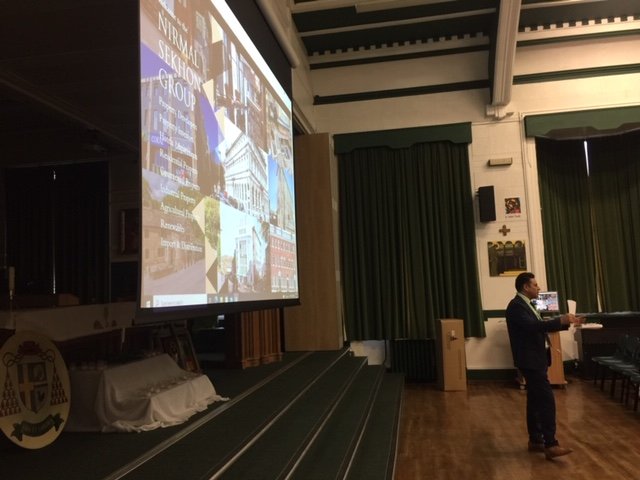 MULTICULTURAL SOCIETY
Mr Sekhon, during his university academic education, became involved in the Multicultural Society and the Asian Society of the University of Huddersfield. He states that his commencement of education at the University was the first year when it became the Huddersfield University at the same time when the polytechnics were abolished.

It was difficult for British Asian students to persuade their parents for them to study at University and furthermore to live away from home. Mr Sekhon encouraged many parents to allow their children to stay at university to learn the important life skills which would form the basis for success in their future careers.

During this difficult period, sex grooming was a big issue, and it was suggested that Islamic gangs were grooming Indian girls. Mr Sekhon persuaded the parents that fear was not the way forward and that they should open their mind and educate their children and give trust to their young adult children.

Mr Sekhon states that whilst he was not able to overcome everyone's doubts approximately 11 students were allowed to study at the university and live away from home to acquire the important life skills which has benefited them for future life who would otherwise have been deprived of the opportunity.
Mr Sekhon has become one of the largest independent student residential providers in the town of Huddersfield and possibly West Yorkshire.

Mr Sekhon recalls a time when he had to live in dingy accommodation with unscrupulous landlords who would take advantage of students who did not understand the law or their rights.

Mr Sekhon took it upon himself to ensure that he wished to raise the standard of accommodation in the town he loved so much and the town which gave him his academic education.

It has recently reported in the local media that Mr Sekhon owns £20 million worth of assets around the University of Huddersfield providing quality student accommodation, attracting international attention from students

The accommodation coupled with the excellent academic opportunities offered by the Huddersfield University, has had particular attention from international students which is the envy of other West Yorkshire Universities.

Mr Sekhon's Business interests take him around the world and he has promoted the University of Huddersfield as he is proud of being an Alumni of the University of Huddersfield and has been able to offer Accommodation to match the excellent academic opportunities and facilities afforded by the University.
BUSINESS & PROFESSIONAL ACHIEVEMENTS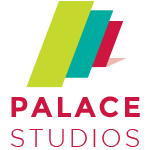 NATIONAL AWARD

In 2005, at the age of 31, Mr Sekhon brought back an award to his home city. Educated at Bradford grammar school and at the University of Huddersfield both of which he is proud of, he received at the National Business Enterprise Awards ceremony the awarded for the Entrepreneur of the year where he was assessed by high-ranking officials from HMRC, Institute of directors, Institute of Chartered Accountants.
Mr Sekhon between the years of 2002 and 2010 established a law practice employing over 140 people in the county of West Yorkshire over five branch offices and three Law Firms (Sekhon Firth Solicitors LLP, Runhams Solicitors LLP, Burtons Law LLP).

He rose to meteoric success due to his ability to provide an excellent quality legal service with honesty and integrity. He says that he was passionate about setting up a Law Firm as he wanted to serve the local community with legal services as a local solicitor.

He has always prided himself in being people's person and a people's person of West Yorkshire. He says that his work ethic, discipline, his family teaching from his father, and ability to work hard was learnt from his schooling and his university academic life.

Subsequently, he became property developer and has employs a regular team of over 100 construction staff & labourers and has maintained that level of employment over the last 10 years. He has confirmed that he will have added more than 1000 apartments to the portfolio which is exclusive of the rest of his family and their achievements.
EMPLOYMENT TO 140 EMPLOYEES FACILITATED 180 STARTUP BUSINESSES

Through Mr Sekhon's business acumen and interest in business centres which he has established under the name of Enterprise Hub, he has facilitated 180 start-up businesses which have either remained with the Hub or gone onto larger premises as they have outgrown the incubation units that Mr Sekhon provided at their inception.

He has always been pleased to create opportunities for new businesses and has always encourage them to move on, providing space for new businesses for which Mr Sekhon's business centres have had waiting lists.

Mr Sekhon states that his secret has been to keep costs of the business rent to low and to pass them on to his prospective tenants so that they can flourish by maximising income over expenditure.

Mr Sekhon became a team member/ambassador in attracting the Indian International film awards IIFA to bring Bollywood to Yorkshire providing a massive boost to tourism and business connectivity. This subsequently led to international Indian films being produced and directed in the city of Bradford (West Yorkshire) with Bollywood Gold and many others.
Mr Sekhon has been instrumental in providing filming locations through his property investment business and portfolio in Bradford in interesting and impressive buildings productions such as Peaky Blinders, Downton Abbey ABC murders ( staring John Malkovich) Gentlemen Jack, Gold, Emmerdale and recently Jay's repair shop which was greatly appreciated by the Bradford Business community and more particular by Bradford city council. Mr Sekhon has demonstrated that he is a true ambassador to our region in attracting inward investment.

Mr Sekhon and his team are currently attempting to attract the Marvel Films Franchise to the City to produce a new instalment. These producers are being attracted into the city and in particular the Little Germany area where Mr Sekhon has been instrumental in converting landmark Grade II listed buildings to host such productions and has enlisted the assistance of Professor David Wilson who is an Ambassador of the UNESCO City of Film which will be a huge boost to the economy of the Bradford City.
ATTRACTING MILLIONS IN FILM REVENUE TO BRADFORD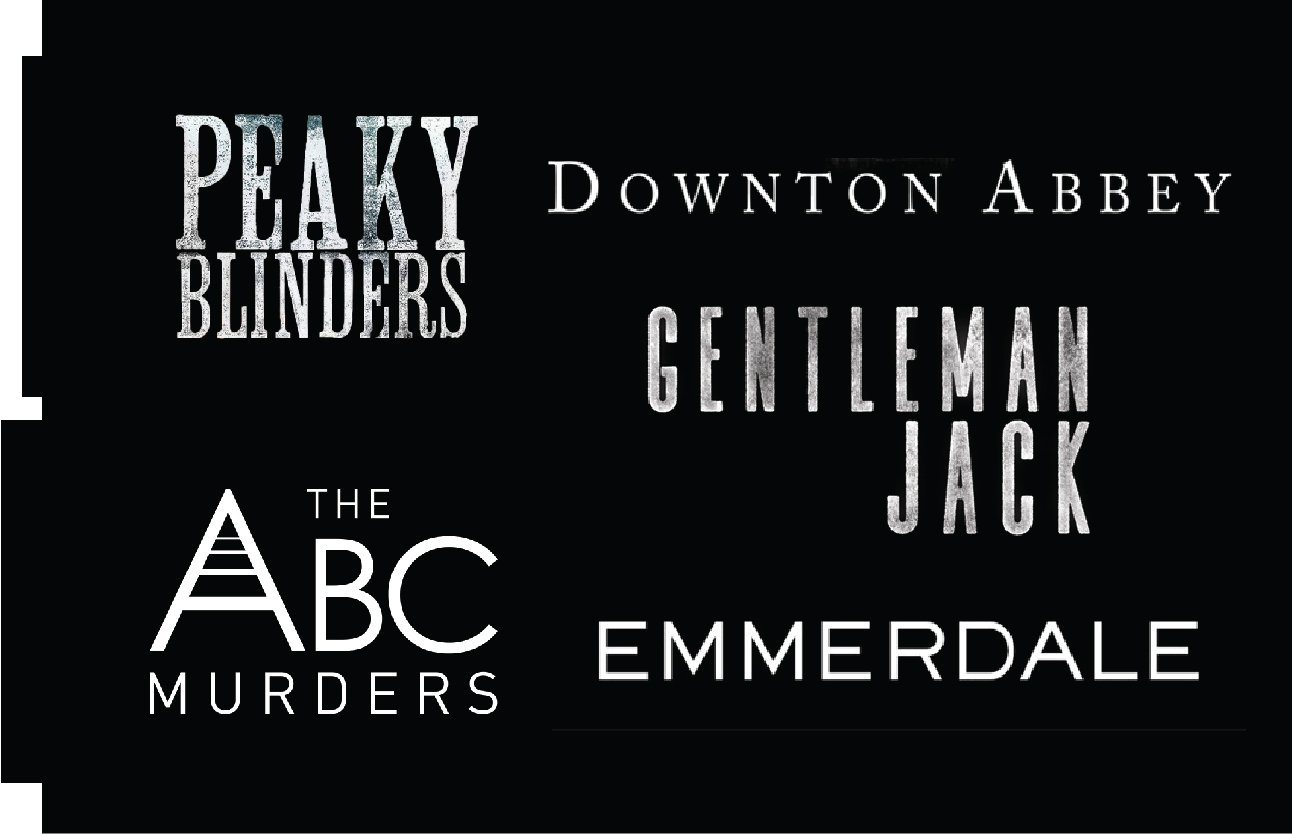 CHAIR BRADFORD ASIAN BUSINESS ASSOCIATION

Between 2002 and 2006 Mr Sekhon became the youngest business entrepreneur Chair for the Bradford Asian Business Association which prided itself to bring the professional business community closer to the South Asian business community and work closely with business Link, Yorkshire Forward and other business organisations including the Chambers of Commerce to facilitate best working practices for Bradford businesses.

This created excellent working relationships between the traditional businesses of Bradford and the new emerging businesses under British Asian ownership. HSBC Bank and the Lloyds banking group recognised and acknowledged these efforts.
Mr Sekhon has served as a Board member for the Yorkshire Asian Business Association and also serves as a member of the Local Enterprise Partnership under the chairmanship of Sir Roger Marsh.
MEMBER YABA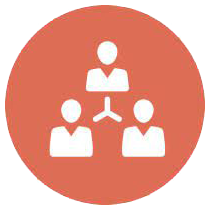 REGENERATION TO LISTED DISUSED BUILDINGS
Mr Sekhon has brought back into use several derelict disused and abandoned buildings in Bradford, Huddersfield and Wakefield. Mostly these buildings are Grade II listed in nature and it is said that if Mr Sekhon did not visualise an end use for them, they still probably would be in the same state i.e. unused, abandoned and derelict

Mr Sekhon has brought these buildings back into use providing much-needed residential accommodation contributing to the reduction of the national housing crisis and other much-needed uses.
Mr Sekhon has a regenerated many of the Grade II listed buildings in the Little Germany area of Bradford when other developers had tried and failed, including the Local Authority. There are listed buildings within the Little Germany area that are imploding due to the neglect and the failure of the Local Authority to take action. Mr Sekhon states that he feels it is his civic duty to ensure that these buildings are being used whether for profit or not.

These beautiful buildings cannot be wasted and furthermore he has worked closely with the Civic Society in various towns and cities but closely with Mr Chris Marsden when he developed the famous Palace Theatre where Harry Houdini performed in his heyday.

Mr Sekhon has managed to secure the ownership and converted an abandoned disused property where the first meeting of the Labour Party took place at 36 Peckover Street. This property is now occupied by 13 residential luxury apartments.
REGENERATION OF LITTLE GERMANY
1011 APARTMENT CONVERSION
Mr Sekhon recently acquired Stanley Mills Britannia Road Milnsbridge Huddersfield in This property will be converted to 42 luxury apartments which immediately adjoins the watercourse.

This property has been neglected for many years and is slowly dilapidating, but Mr Sekhon has rescued this building and in doing so, has also assisted scores of people who recovered their property from an unscrupulous furniture supplier and was held "the man of the people" by the Examiner, a local Huddersfield newspaper.
Mr Sekhon has formed the Sekhon Group of Companies which has 57 companies in total and operates through 21 of them on an active basis. Each of these companies holds a property portfolio and the property portfolio currently service over 850 tenants across the region. Mr Sekhon has built this up from his early days whilst at University of Huddersfield taking a career development loans and investing these in a small commercial properties under the supervision and guidance of his father who was already conversant in property investment.

The Sekhon Group of Companies will have complete more than 1000 residential apartments by December 2021. It already has acquired 435 apartments as pipeline development and already has 850 tenants within the portfolio.

Mr Sekhon states that his legal qualification obtained from the University of Huddersfield has been significantly influential in making most of his business decisions as he studied not only law but also, business and international trade, which gave him the academic foundations to be able to build a solid business future.
£1,000,000 REVENUE TO LOCAL AUTHORITIES ANNUALLY
BRADFORD POLICE MUSEUM

Mr Sekhon was requested by Martin Bains QPM, former Inspector of police to assist in donating and facilitating the inception of the Bradford Police Museum. Mr Sekhon offered his premises to store the historic vehicles and other artefacts of the museum whilst the museum was being set up.

He also provided much-needed start-up funds to set up a legacy for the City of Bradford. Mr Sekhon was grateful to former inspector Martin Bains for his efforts which will be remembered for many years to come by future generations. Mr Sekhon served with former Inspector Martin Bains on the Police Ethnic Minority Liaison Forum which was an institution set up with the Recommendation and guidance from the Home Office following the Bradford riots.

Mr Sekhon donated his valuable business time for the benefit of all of the community to enhance good community relations between the police and the Asian community and to facilitate greater understanding.
Mr Sekhon has donated time effort funds and resources to various homeless charities which serve the poor and needy. Mr Sekhon has donated funds to the Queensbury food bank in association with Saint John's Church Great Horton. The Reverend of the church, Vicar John Bavington was grateful for the donations and personally facilitated the visit to the food bank for which Mr Sekhon was grateful.

Mr Sekhon has developed this consciousness from the early days when he worked with his father in supporting Chas housing (Mr Richard Hughes Roland MBE) in Bradford to assist the homeless when they provided a Land Rover vehicle for the soup run.

Mr Sekhon states that every person in the whole world is entitled to 3 square meals a day and will always fight for this and believes that this starts in school. Mr Sekhon is a proud member of the Sikh faith which prides itself in feeding the hungry with over 6 million meals per day in India without any recourse to public funds just from donations from the community.
FOOD BANKS
LORD MAYORS CHARITIES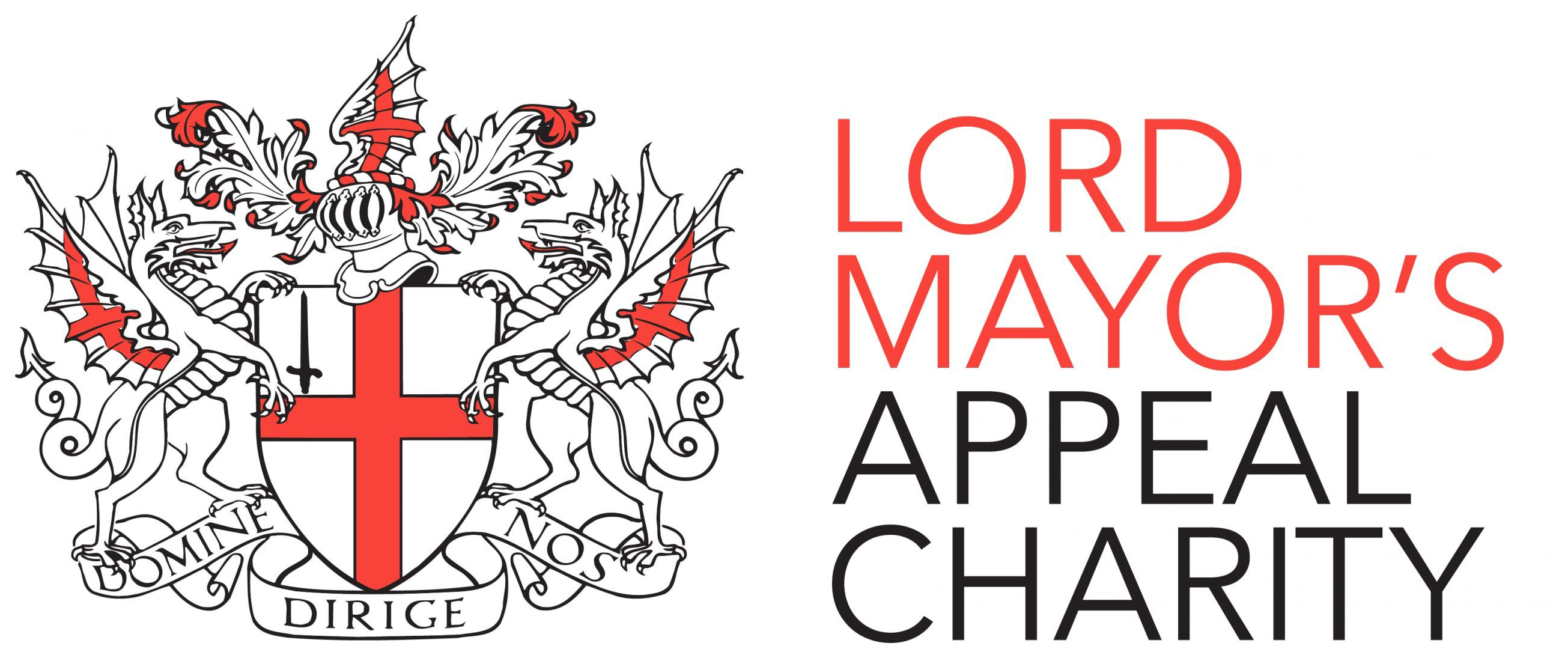 Mr Sekhon has supported various the Lord Mayors Charities and Appeals since 2005 in his personal capacity although his family has done so for many years previously, he continues to support through booking of tables and by making generous charitable donations to worthy causes.
Mr Sekhon has supported his Royal Highness the Duke of York for various charitable initiatives in association and by invitation with the Vice Chancellor of the University of Huddersfield Professor Bob Cryan CBE.
ROYAL SUPPORT
FEMALE CRICKET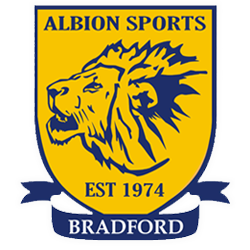 Mr Sekhon sponsored the female cricket tournament pre-Covid with media entrepreneur Fatima Patel. The event was a worthwhile cause to bring Asian female into sport and to become more integrated into British Society and participate in fun loving sporting activities which also provide beneficial health and wellbeing outcomes for those taking part

Mr Sekhon has constantly supported the Albion football club in Bradford which has helped to support up and coming young players. It is Mr Sekhon's desire that football players should feature in international sport from the Asian subcontinent South Asian Community.
EMERGENCY HOUSING
During the pandemic COVID-19, Mr Sekhon has provided emergency shelter in association with local housing associations to Asylum Seekers Pat and the homeless providing over accommodation to over 268 homeless/asylum seekers.
Mr Sekhon has also worked with the local National Health Service to provide emergency accommodation for paramedics ambulance driver who could not go home due to their elderly parents who are vulnerable and did so on a voluntary basis without payment.

Mr Sekhon states that whilst he did not do this for their funds, the NHS decided that it was not fair to have accommodation without payment and made payments for some of the accommodation.
NHS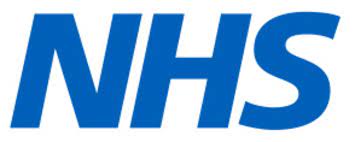 YORKSHIRE SIKH FORUM
The local Sikh Temple donate £42,000 to the Bradford Royal Infirmary to provide essential life-saving machinery to assist in Covid crisis.

The Sekhon Group of Companies under the direction of Mr Sekhon made a significant donation via the Temple, Mr Sekhon wishes to maintain confidentiality on this due to religious reasons.
YORKSHIRE SIKH FORUM
The Yorkshire Sikh Forum was established by the Home Office under the auspice of Mrs Ann Widdecombe and Mr Sekhon has provided pro bono voluntary services to the organisation and participated as a spokesperson for the organisation over the years. He has been the legal advisor for the organisation since 2010.
SIKH TEMPLE
The local Sikh Temple donate £42,000 to the Bradford Royal Infirmary to provide essential life-saving machinery to assist in Covid crisis. The Sekhon Group of Companies under the direction of Mr Sekhon made a significant donation via the Temple, Mr Sekhon wishes to maintain confidentiality on this due to religious reasons.
Mr Sekhon has also acted as a legal advisor for the overseas non-resident Indian Association for the Congress party (UK chapter) which has provide international service to the non-resident Indians. Providing a conduit for communication for those that live in the United Kingdom who have personal and legal issues in India connected with their ancestors and their land.
NRI
FAITH ACTIVITIES
Mr Sekhon has always supported his Temple in Bradford on Leeds Road known as the Guru Gobind Sikh Temple which has been the foundation of his principles to be honest and do his business with integrity.

He is pleased that he could support the Temple in their decisions to fund essential life-saving machinery during the pandemic.
Mr Sekhon has supported the Yorkshire Sikh Forum in interfaith activities including creating excellent relations with the Bradford Synagogue, the Bradford Cathedral and Bradford council of Mosques and he attends regularly interface events to give support to all communities.
YSF
WE
SUPPORT
Peel Park
Primary
EDUCATING
The Nirmal Sekhon Group have assisted over 100 small to medium size businesses during their incubation stages offering quality office accommodation at competitive prices.
Ethnic Minority Police Liason Forum
COMMUNITY
Nirmal Singh Sekhon chairs the Ethnic Minority Police Liason Forum in a bid to end forced marriage issues.
Bradford Royal Infirmary Scanner Appeal
SUPPORTING
Nirmal Singh Sekhon works along with Ken Morrison to raise funds for MRI scanner appeal.
Chas
Housing
DONATION
Nirmal Singh Sekhon makes generous donation of a Land Rover in order to facilitate the Soup run to the homeless in Yorkshire.
Bradford Conservative Association
SUPPORTING
We have supported the Bradford Conservative Association for a number of years with their resident office and pay for all utilities, meeting rooms for the Association and facilitate a platform for electioneering operation of office.
Watford
Conservatives
GIVING
Thank you for kindly agreeing to give a donation to the Watford Conservatives. Linda has asked me to send over an invoice in regard to a donation of £2,000 that you have agreed. This is for the renting of the Association Offices.
ATTENDED THE HINDU MANDIR
SEKHON GROUP INVOLVED IN POLITICS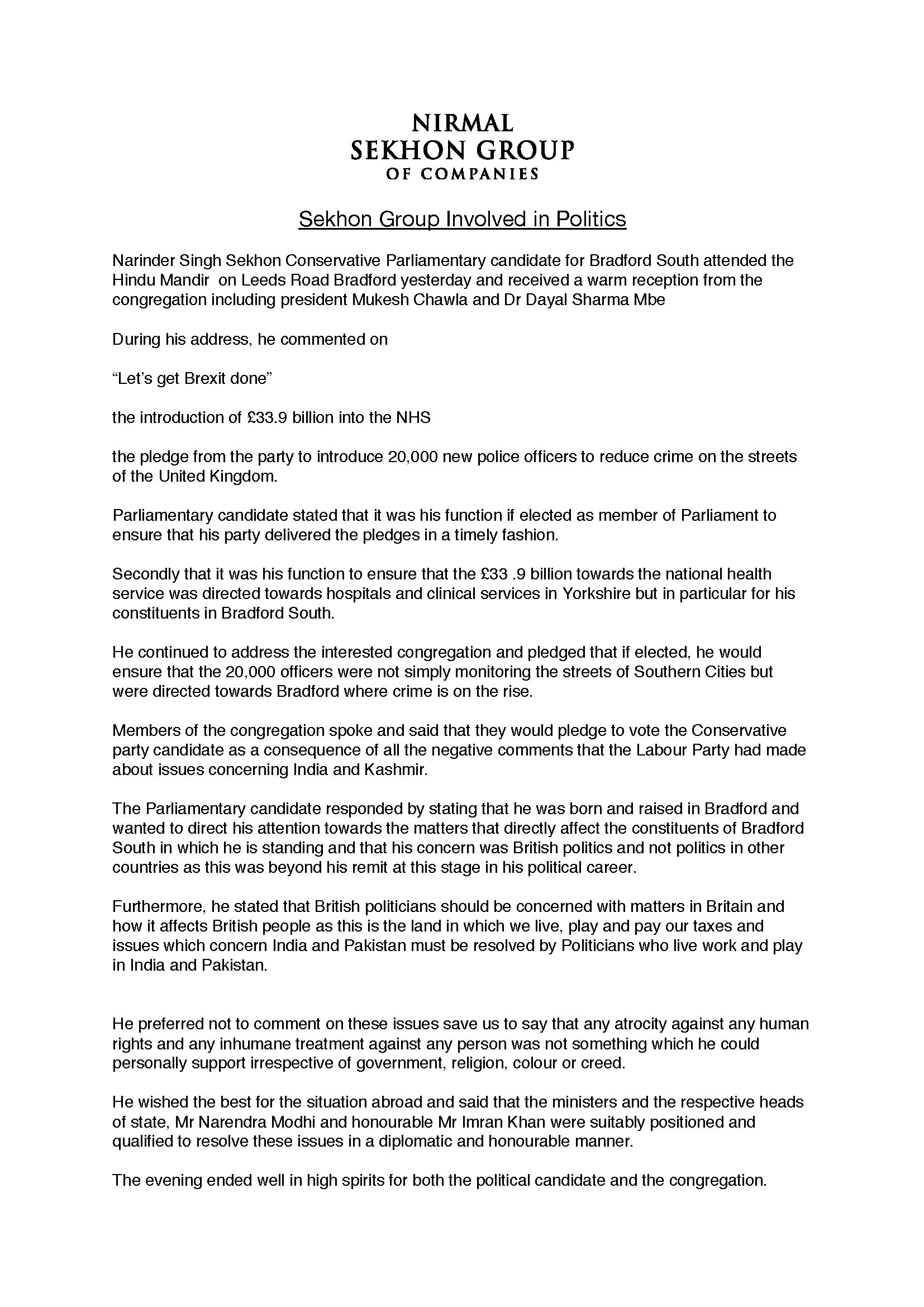 CHILD SPONSORSHIP
PROGRAMME FOR
UGANDA LODGE
My name is Janet and I work with Ann McCarthy on the child sponsorship programme for Uganda Lodge. I would like to thank you for your generosity in sponsoring 84 children for us over the last year, your support has made so much difference to our ability to provide a great education for these underprivileged children.
Janet,
Uganda Lodge
Volunteer Admin
And also a great big "THANKYOU" to yourself as well for continuing to support us. It's only because of people like you and your company that I am able to do what we do for these disadvantaged but adorable children each year. Also Thankyou for reading the newsletter and unlike so many even bothering to reply.
Many Thanks. Kindest Regards,
Ann McCarthy,
Uganda Lodge
Community Projects
BUSINESS AND COMMUNITY
COMMUNITY SUPPORT WORK
Directors of the Sekhon Group of Companies attended a business and community meeting in order to assist the University of Bradford and the Ambassador of the Indian High Commission in Birmingham.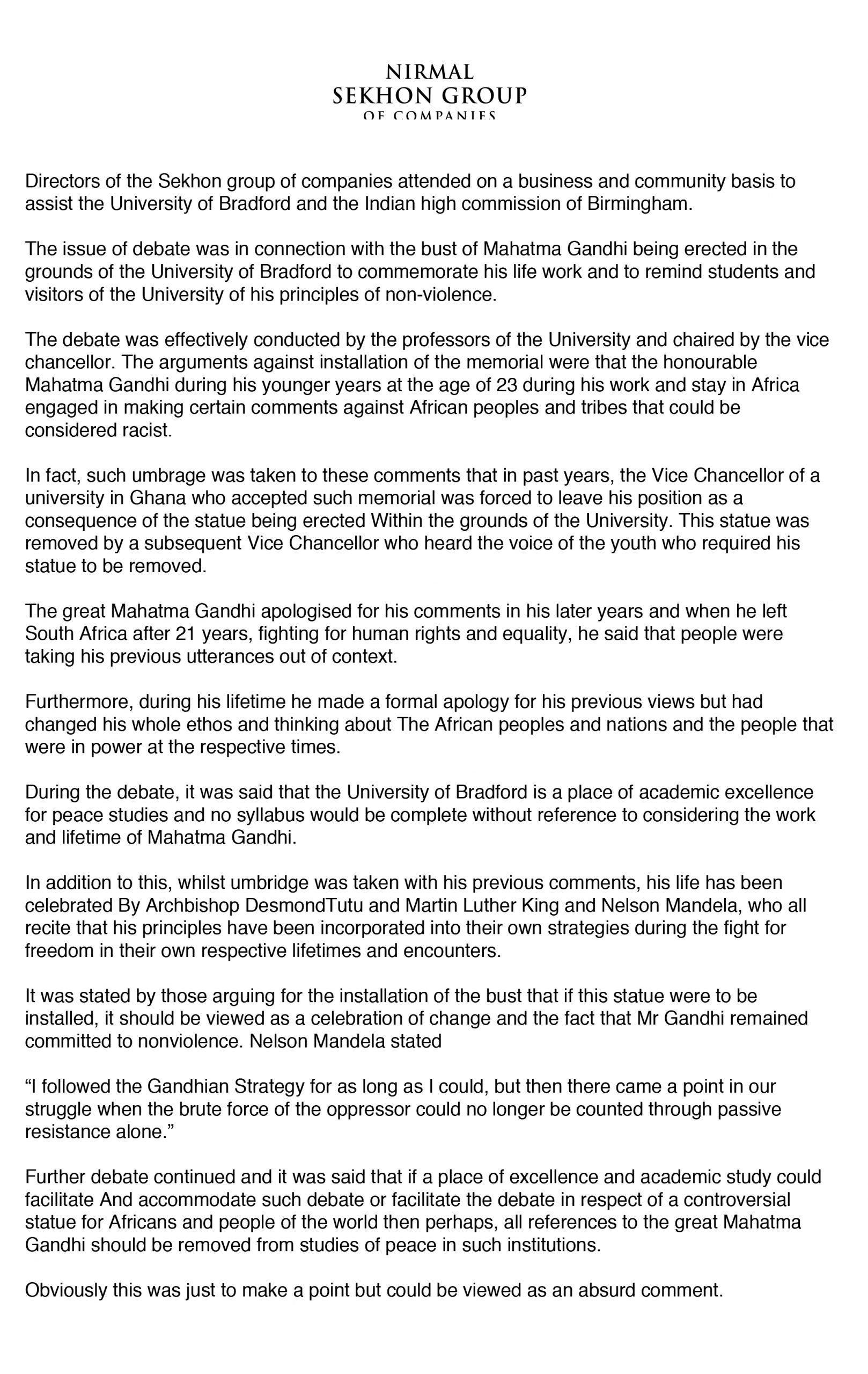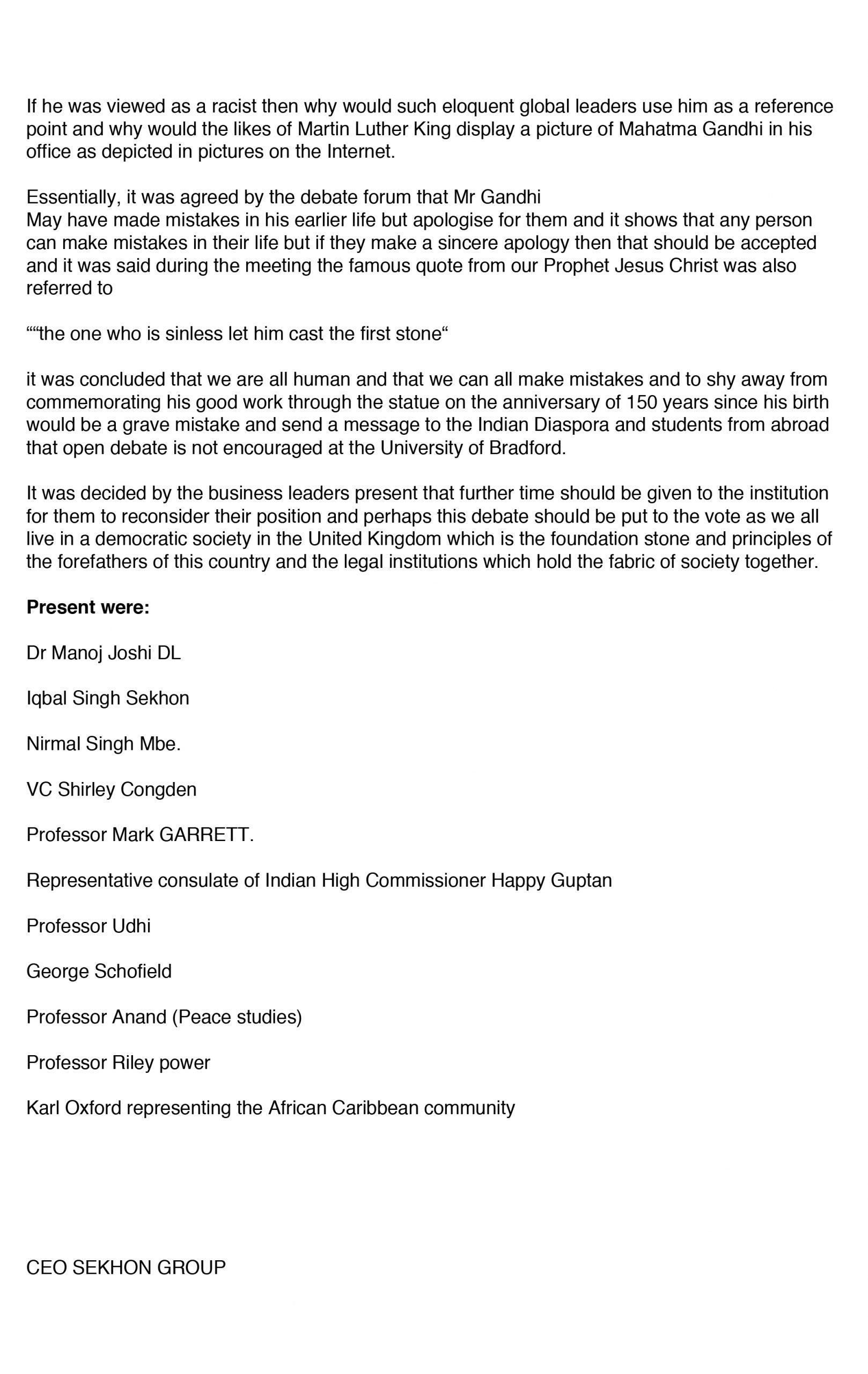 COMMUNITY & CHARITABLE
REMEMBRANCE SERVICE
The Sekhon Group attending a remembrance service for the unveiling of the Sikh Soldier in Huddersfield attended by Ed Anderson The Lord Lieutenant of Yorkshire and other distinguished guests including Vice Chancellor of Huddersfield professor Bob Cryan.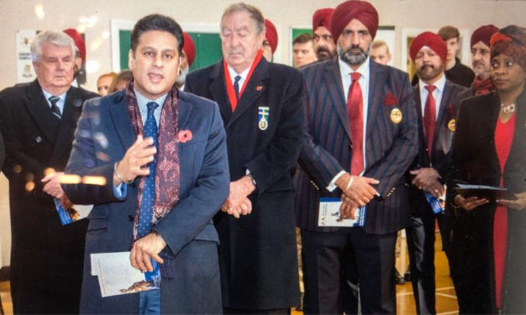 COMMUNITY & Welfare
Children Support
Mr Simmy Sekhon is proud to be involved with the charity 'Humanity Calling' and the installation of fresh running water to those in need.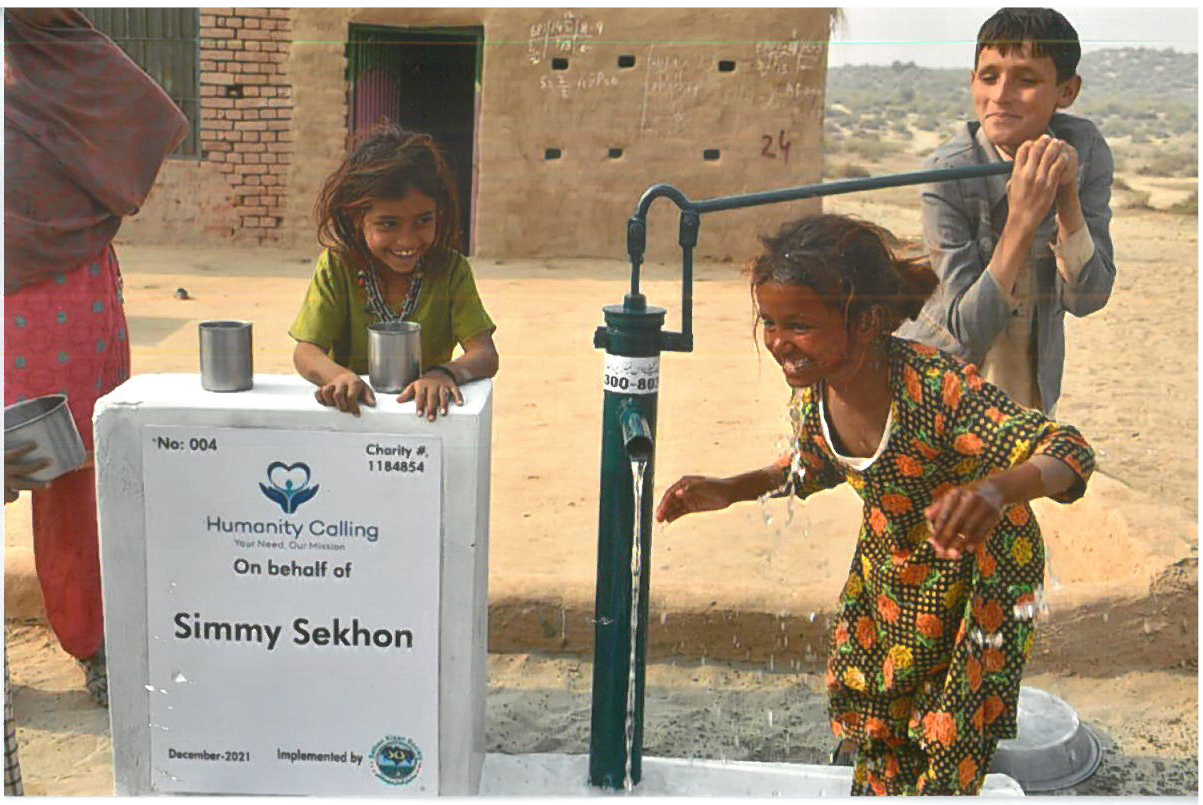 © Copyright 2023 Sekhon Group