Yorkshire Sikh Forum honours Huddersfield's Vice-Chancellor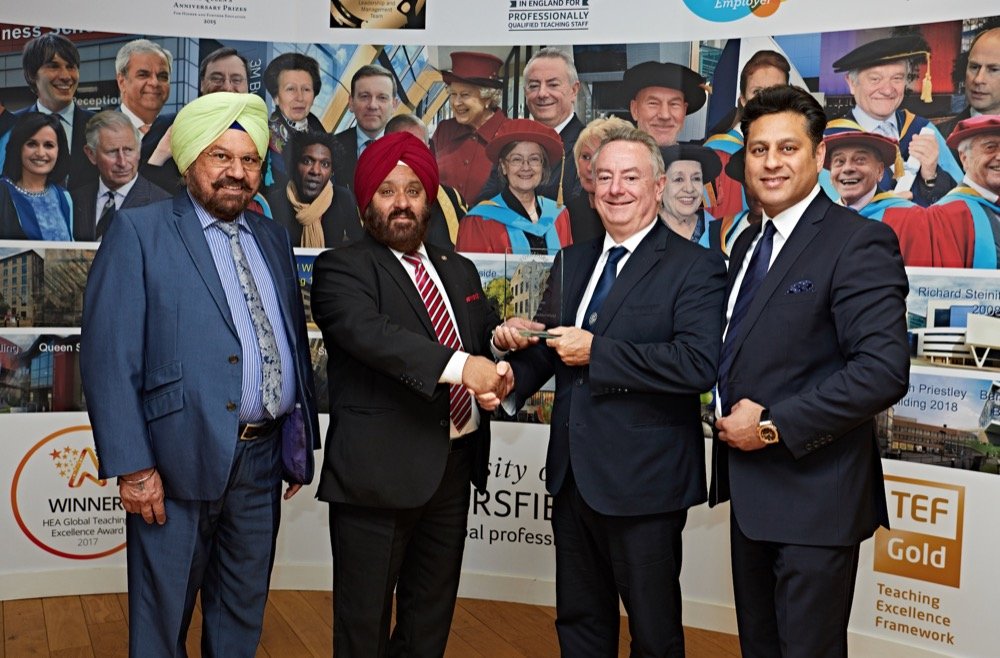 Professor Bob Cryan CBE receives an award from the Yorkshire Sikh Forum for his contribution to business and education in the county
Leading members of Yorkshire's Sikh community bestowed an award that recognise the contribution made to the county by key figures in fields such as business and education.
One of the recipients is the Vice-Chancellor of the University of Huddersfield, Professor Bob Cryan CBE; and when his schedule meant he was unable to attend the function at which the awards were due to be conferred, a party from the Yorkshire Sikh Forum (YSF) paid a special visit to the University to hand over his trophy in person.
For two of the party, it meant a return to familiar territory.
The secretary of the YSF, Simmy Singh Sekhon, a solicitor and chief executive of the family firm of property developers, is a law graduate of the University of Huddersfield. He was accompanied by his father, Nirmal Singh Sekhon MBE, chairman of the company and of the Forum. Another of his sons, Narinder Singh Sekhon – now a leading barrister based in Leeds – is also a Huddersfield graduate.
"I chose for both of my sons to receive their education at Huddersfield, and I always recommend it to others," said Nirmal Singh during his visit to meet Professor Cryan. The YSF visitors also included the Forum's vice-chairman, Balwant Singh Bassi.
Simmy Sekhon explained that the YSF – founded in 1989 – sought to recognise the achievements not only of Sikhs themselves, but also members of the wider community.
"There is a close link between the mainstream community and the Sikh community and we wanted to build those bridges," he said.
"Professor Cryan is recognised not just here in Huddersfield but nationally, throughout the field of education for his achievements at this university.
"They not only help to prosper Huddersfield, but the whole of Yorkshire," continued Mr Sekhon. "We are grateful for that and wanted to show our recognition of Professor Cryan. We are very proud of his leadership of this university."
After receiving the Yorkshire Sikh Forum award, Professor Cryan said how grateful he was. "My only regret is that I was unable to attend the special ceremony," he added.
The function at which the YSF awards were announced was attended by a wide range of dignitaries, including the Lord-Lieutenant and the High Sheriff of West Yorkshire.