Yorkshire Sikh Forum continues good work almost 35 years on
A BRADFORD businessman says he is honoured to continue to represent an organisation he helped set up almost 35 years ago.
Nirmal Singh MBE, of the Sekhon Group of Companies, was one of the founding members of the Yorkshire Sikh Forum, which was set up in 1989 alongside Karnel Singh, Chattah, Balwant Singh Bassi, Hardev Singh, Sidhu.
Mr Singh's role within the Yorkshire Sikh Forum involves networking with figures like MPs and police, and other faith groups, to help bring communities together.
Yorkshire Sikh Forum will also help Bradford celebrate Vaisakhi next month.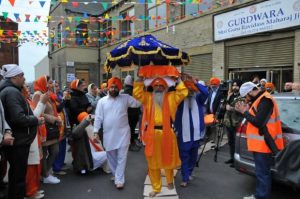 Since 1699, Vaisakhi has commemorated the birth of Sikhism, and marks the formation of the Sikh order, also known as the Khalsa.
Vaisakhi is usually celebrated on April 13 and 14 every year, and sees parades take place across the world
The Yorkshire Sikh Forum was set up following troubled times in Punjab, India, following the 1984 massacre, when the Indian army stormed the golden temple in Amritsar.
The organisation has also received backing from the UK's corridors of power both past and present.
These include former Conservative Party Minister Ann Widdecombe and members of the House of Lords, who praised the Forum for its positive work.
Similar organisations were established in other parts of the country, including the south and The Midlands.
The organisation is non-political and non-religious but feels it has an important part to play in representing the Sikh community at all levels, including regional and local government.
Annual events in Bradford which the Yorkshire Sikh Forum also attend include the city's Remembrance Sunday commemorations.
Representing the Sikh community of Yorkshire, the Sikh Forum is led by chairman Nirmal Singh Sekhon, father of Iqbal Singh Sekhon, also known as Simmy Sekhon.
The Yorkshire Sikh Forum represents both the values of the Sikh religion as well as soldiers of the Sikh faith that have served for the British forces, alongside paying respect to all those who have served.
The Forum's main objectives were to create peace and harmony within the community and build interfaith links.
Mr Singh said it is an honour to represent the organisation.