Sikh and Hindu community leaders honour fallen war heroes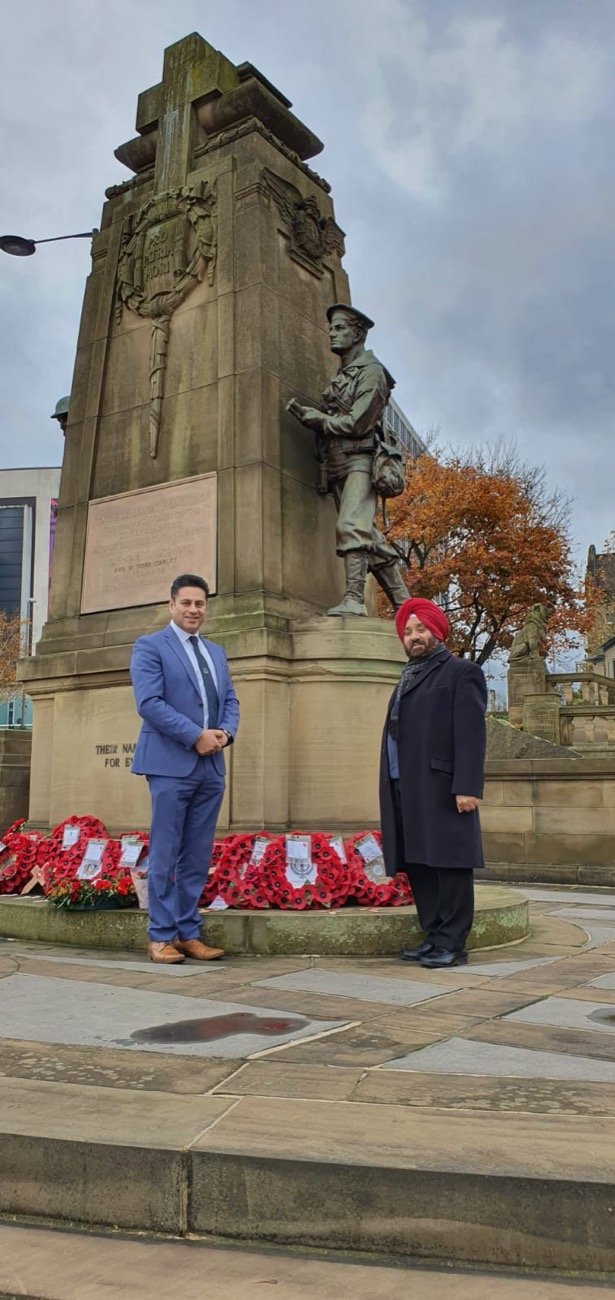 Iqbal Singh Sekhon, a local solicitor and legal advisor to the Yorkshire Sikh Forum together with its Chairman, Mr Nirmal Singh MBE
As generations pass, are we likely to move further from the emotional resonance our generation has over the history and memories of our fallen heroes? Those who fought for our freedom and way of life cannot be forgotten, we owe everything we are today to those heroes who died fighting.
On the 11th of November 2020, in remembrance of our fallen soldiers, Iqbal Singh Sekhon, a local solicitor and legal advisor to the Yorkshire Sikh Forum together with its Chairman, Mr Nirmal Singh MBE, and Dr Manoj Joshi DL, a leading figure of the Hindu community attended at Bradford War Memorial to remember those who fell.
They were greeted by members of the British Legion who assisted in honouring and remembering in association with the Sikh and Hindu communities of Yorkshire. Mr Singh stated: "It is our duty to unite in remembrance of those who died for the freedoms that we enjoy in the world today as a result of the sacrifices which our fallen soldiers made.
"We remember the 168,000 Sikh soldiers who were injured and or lost their lives in the first and second world wars.These young Sikh men may have fought in Europe or in some other theatre of war for the freedom of the world.
"When they left their families to join the war effort, they had no idea that they would not return. Many lost their partners, fathers and brothers who never returned to be reunited with their families.
"We cannot ever forget them."