Kingsgate jobs warning as Palace Theatre flats conversion is approved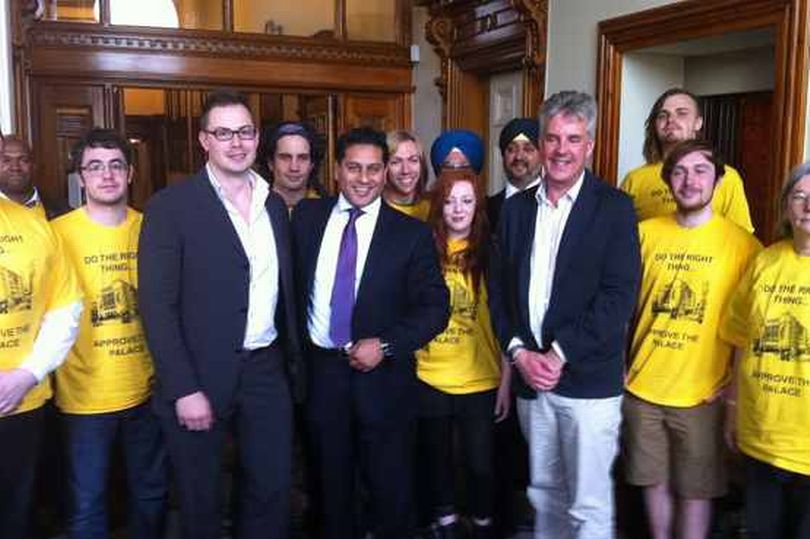 Simmy Sekhon (centre) celebrates Palace Theatre planning permission
JOBS are at risk after councillors backed a development near the Kingsgate Centre, a leading Huddersfield businessman warned last night.
Shopping centre boss Peter Everest was speaking moments after planners approved the proposal to convert the Palace Theatre into student flats.
But developer Simmy Sekhon, welcomed Kirklees Council's decision after months of delays.
Kingsgate owners W D Huddersfield already have planning permission to demolish the Palace Theatre – except the historic facade – to help make way for an expanded shopping centre.
The £40m plan known as Kingsgate 2 would increase the size of the shopping centre by 50%, creating 23 new stores and up to 900 jobs.
But the council's Huddersfield Planning Sub-committee voted yesterday to allow Mr Sekhon, who bought the Venn Street building last year, to convert it into 87 student flats.
There will also be a gym and laundry for students in the basement of the building and a bar and restaurant open to the public.
Mr Everest warned councillors at yesterday's meeting that a redeveloped Palace Theatre could disrupt trade at the Kingsgate Centre.
The W D Huddersfield chief executive said that traffic would back-up on to the ring road if a vehicle spent five minutes unloading outside the theatre.
"I ask you to refuse this application as it is clear from this evidence that, as currently configured, it will produce unacceptable problems on the highways network and put at risk the jobs of many Huddersfield residents," he said.
"This is not the time to be putting jobs at risk."
Kingsgate manager Jonathan Hardy, warned councillors that students moving their belongings in and out of the Palace Theatre would disrupt parking.
"The lack of arrangements for the beginning and end of terms will result in a parking free-for-all on at least eight Saturdays a year," he said.
But Jeremy Child, agent for the Palace Theatre plan, told councillors that Kingsgate 2 would generate far more parking and traffic problems.
"I find it rather churlish that the objector is going on about traffic issues when, should the shopping centre expand, it would have a much greater traffic impact," he said.
Ian French also spoke in favour of the Palace Theatre plan at yesterday's meeting at Huddersfield Town Hall.
He criticised the sub-committee for twice delaying a decision on the proposal.
"We, as taxpayers, see no reason why you can't make a decision," he said.
"If this application is not granted it will be successful on appeal – costing tens of thousands of pounds of Kirklees taxpayers' money."
Sub-committee member Clr Ken Smith, said Kingsgate's objections were invalid.
"Some of the arguments against the plan are not in line with planning law," said the Ashbrow Labour man.
Sub-committee chairman Clr Cliff Preest said he was concerned about the traffic impact of the Palace Theatre plan. The Dalton Labour man added he was "surprised" that Metro hadn't objected.
Eleven sub-committee members voted in favour of the development and none against.
Clr Preest and his Labour colleague Clr Eric Firth of Dewsbury East abstained.
Speaking just after the decision, Mr Everest said: "This is not about Kingsgate 2, this is about concern about loss of jobs at the existing Kingsgate."
Mr Sekhon welcomed the decision to allow the development.
Speaking surrounded by supporters in yellow T-shirts, he said: "This is excellent news for Huddersfield.
"I would like to invest more in Huddersfield now that I know my investment is welcome."
A RIGHT ROYAL MESS: Story of the Palace Theatre and Kingsgate
December 2008: W D Huddersfield won planning permission to extend the Kingsgate Centre. The expansion proposal involved demolishing Oldgate House, Wildcats nightclub and most of the Palace Theatre.
November 2011: With the original planning permission about to expire, Kirklees planners gave W D Huddersfield another three years to start work on Kingsgate 2.
Also that month, Leeds-based developer Simmy Sekhon bought the Palace Theatre for £350,000. The venue had been vacant since Society nightclub closed the year before.
December 2011: Mr Sekhon submitted a planning application to convert the Palace Theatre into student flats, a restaurant and a bar.
April 2012: The council's Huddersfield Planning Sub-committee voted to delay a decision on the Palace Theatre student flats plan to give time for a transport assessment – even after council officers insisted this was unnecessary.
May 2012: Council officers reported that the Palace Theatre flats plan wouldn't disrupt traffic in the town centre. However, a decision is delayed again after an objector made a late submission on a corrupted computer disc.