Home Secretary visits Bradford haulage company as part of last minute campaigning push
HOME Secretary Priti Patel visited a Bradford company yesterday as the main political parties take part in one last electoral push.
Mrs Patel made an early morning visit to Shipley Transport – based in Low Moor.
The business is in the Bradford South constituency – one of the Conservative's key targets in West Yorkshire.
She had been invited by Bradford South Conservative Candidate Narinder Singh Sekhon and the owner of the company David Clarke.
Labour's Judith Cummins has been MP of Bradford South since 2015, and in the 2017 election achieved a relatively healthy majority of 6,700 after gaining 54 per cent of the vote.
However, 63.5 per cent of the Bradford South constituency voted to leave in the EU referendum. Pro Brexit parties have focused on the Constituency as an area where they believe strong feelings over Brexit may lead to people voting against their usual party loyalties.
Shipley Transport, which was set up in 1980, employs 75 people, and Mr Clarke said the hauliers had experienced one of their worst years since the 2016 recession, blaming uncertainty over Brexit for the recent downturn.
He believes more clarity on Brexit will help turn around the ailing transport industry – a sector that many predicted would suffer after the Brexit vote.
Mr Clarke said: "We employ 75 people, have 50 trucks and 100 trailers. One of the things we have been concerned about is uncertainty over Brexit. We have had the worst year we've had since 2008/09.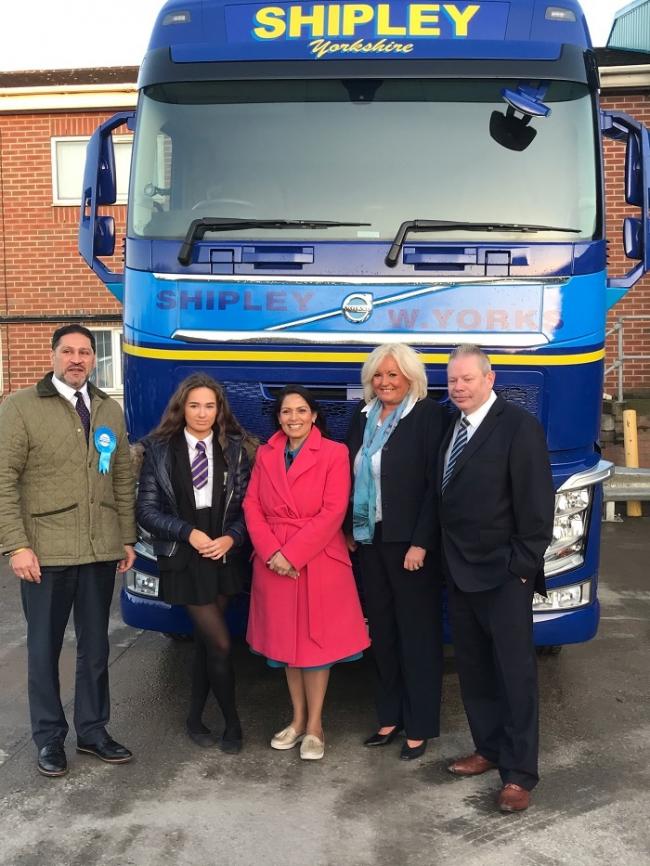 "People don't know whether to stock up or order, and we've seen a downturn in business.
"Even now in the Christmas period when we should be really busy it is not what it should be. We've seen so many transport businesses going out of business – it is very hard at the moment.
"We need to get it sorted."
He believes more investment is needed in Bradford South, comparing the relative lack of investment to the boom seen in Leeds.
Mrs Patel spent an hour at the Low Moor company before visiting other businesses based in West Yorkshire.
She said: "The leave vote in constituency's like Bradford South needs to be respected and politicians that's are not respecting the leave vote are not respecting the voter"
The Telegraph & Argus had not been informed of the ministerial visit until after it had taken place.
The candidates standing in Bradford South are;
CUMMINS, Judith Mary – Labour Party
EDWARDS, Matthew Clive – Green Party
GRIFFITHS, Alun Owen – Liberal Democrats
MANIK, Kulvinder Singh – Brexit Party
SEKHON, Narinder Singh – Conservative Party
With just days left until Thursday's election all parties are stepping up their campaigning, with big names appearing in constituencies across the country.
One of these visit s hit the headlines yesterday when Prime Minister Boris Johnson visited Grimsby. An ITN journalist attempted to show Mr Johnson a photo on his phone of a four-year-old boy sleeping on the floor of Leeds General Infirmary. The PM refused to look at the photo – a move that has since been heavily criticised.