From start-up to Sekhon-backed success – Carpets Paid Weekly
Carpets Paid Weekly was set up by Stephen "Steve" Sherry with the assistance of his wife Tracy Sherry and Mr Iqbal Singh Sekhon (also known as Simmy Sekhon). The business was started as a result of introducing funds into the new venture carpet business alongside the expertise of Stephen Sherry who is a carpet salesman with a talent for sourcing quality products.
The business is a pay-weekly carpet purchasing business which assists low income families to upgrade and update their carpets and floor coverings in their homes. This means they can enjoy a more pleasant and modern home environment without having to pay large upfront costs alongside installation fees.
The business started in 2017 and now has 12 representatives selling carpets, and four vans on the road. Steve says that "had it not been for the Sekhon group, he still may have been a sales selling carpets for another paid weekly carpet company and making money for someone else."
Steve Sherry says that "the slowdown during the Covid pandemic has affected the business but we have slowly but surely managed to bounce back."
How the business operates is simple. They source carpets from Belgium, Germany and Turkey and then cut the carpets made to measure depending upon the customer requirements. Once the carpet is fitted, the agreed price is paid at the rate of £10 per week, which seems to be affordable for most families and customers who need this service. No credit checks are required making it accessible to all who want to renew their home decor. There are many benefits to enjoy alongside the fantastic credit options, including 40 colours of carpet to choose from and free 10mm underlay, door trims and grippers – it truly is the complete package.
Originally, the business began in Cater Street, in a building which has been used in many famous film and television productions including Peaky Blinders, ABC Murders, Gentlemen Jacks, Bollywood (gold), Downton Abbey and Emmerdale. The building, four Cater Street, is owned by one of the Sekhon Group companies: Iqbal Singh Sekhon, also known as Simmy Sekhon, says that it was always intended that the warehousing space would be used temporarily by Carpets Paid Weekly until the business could acquire larger premises.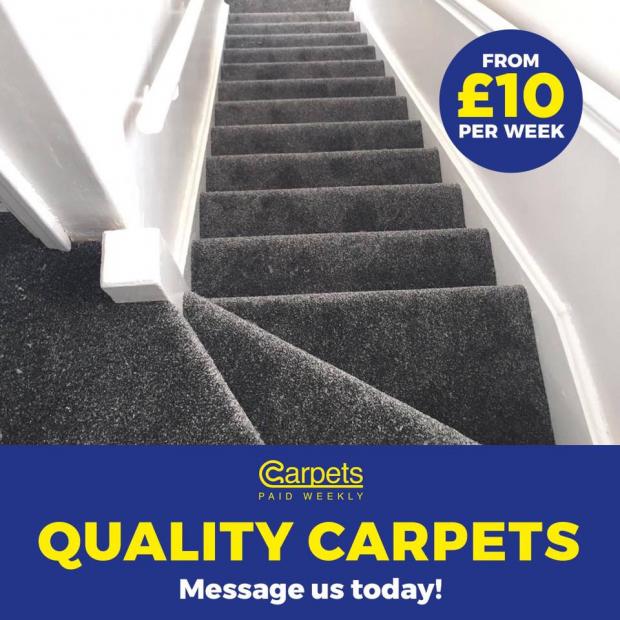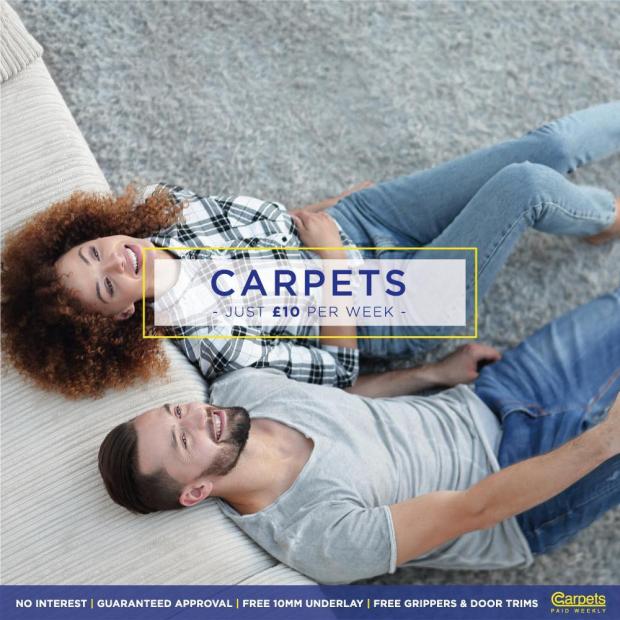 It has always been quite tricky to put the carpet cutting and warehousing aside whilst the filming companies have taken over the building. However, through creative share of space, both operations have managed to work around each other.
Stephen Sherry says "it is one of the best things that I have ever done, to set up my own business and become a master of my own destiny."
"I always knew that one day I would work for myself because I am ambitious, and I have the drive to achieve things for myself and for my family. However, I could not have done it without my beautiful wife who has been the backbone of our business."
"I am grateful to Simmy Sekhon for introducing me to the concept of working for himself and I know that he has been involved in other joint-venture programs and investments in new start-up businesses like mine."
"It is important that established businesses look to other smaller businesses to mentor and guide them through initiation, start-up, which can often be very difficult, and then assisting them to establish a successful business of their own. Sometimes this can be difficult, especially when the established business owners are very busy but I am sure it is equally rewarding and has some financial benefits."
The business has grown from strength to strength. Steve says that it is very difficult to find carpet fitters who is skilled in the present market due to the supply and demand of skilled labour and workforce.
This is a limiting factor for the growth of the business and we invite any readers who either want to become a sales representative or skilled carpet fitter to make contact with Carpets Paid Weekly as there are plenty of vacancies for these positions. The business hopes to double in size over the next two years.
Find out more about Carpets Paid Weekly on their website at: www.carpetspaidweekly.co.uk