Bradford Means Business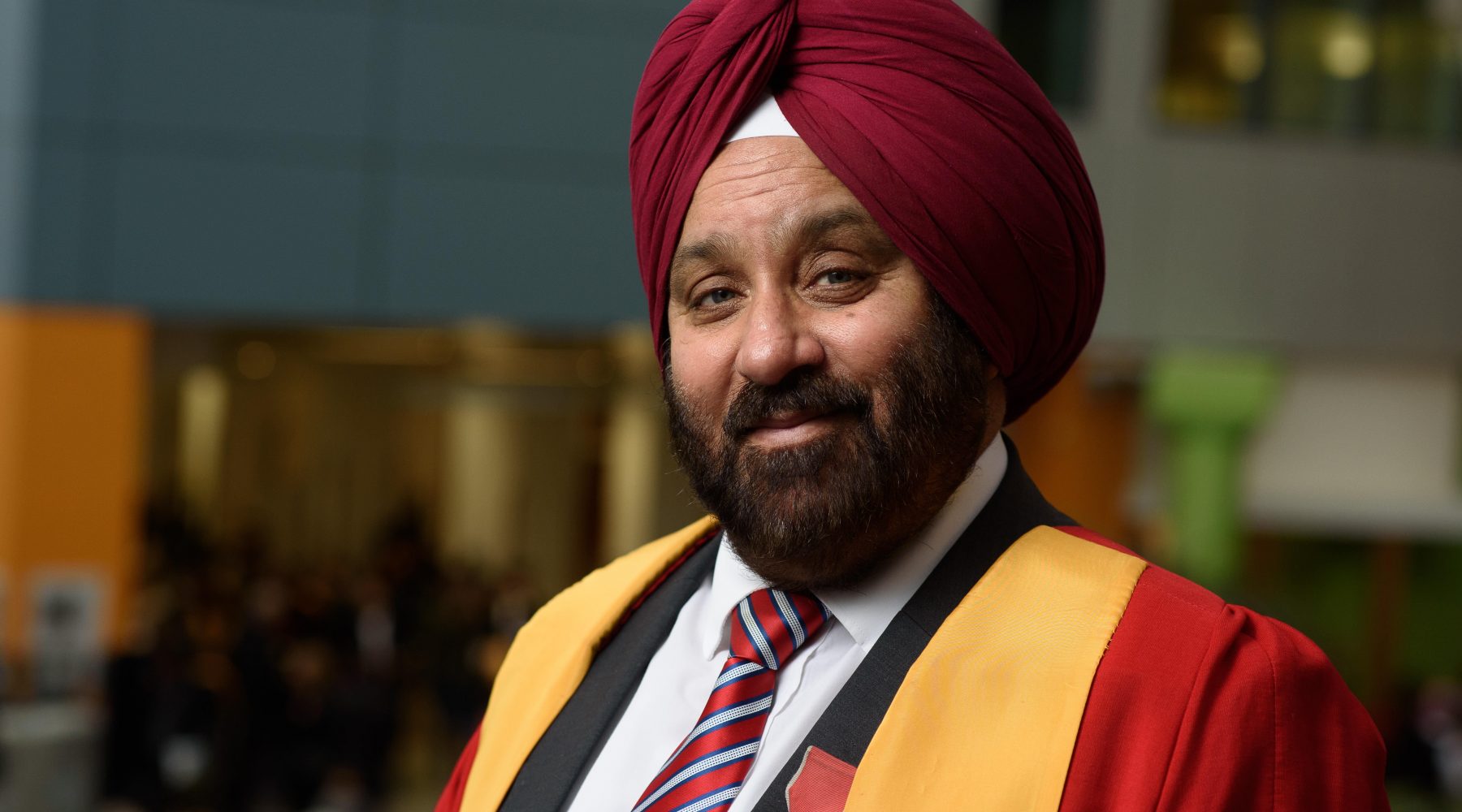 Now he is one of the community's best known figures and tells Bradford Means Business what the city means to him.
NIRMAL Singh has just added an old school building on Manningham Lane, Bradford, to his extensive property portfolio.
"That's the hot-off-the-press news," he says. "We haven't decided what to do with it yet."
Mr Singh has hundreds of properties across Bradford, Dewsbury, Huddersfield, Halifax and Leicester. His head office- Nirmal Sekhon Group of Companies- is in Little Germany where he owns 40per cent of the buildings.
"We moved there two years ago from Manningham Lane because we wanted to be more in the city centre. We liked the look of this area because Little Germany has a big history," he says.
At the age of 68 he is showing no signs of slowing down. He works six days a week except for Sundays when he attends the Sikh temple and visits friends and family.
"I came to England when I was 15 and I have been working ever since and that is why I am successful now. Just hard work and giving time to the business."
He has also splashed out on a series of 13 ads around Leeds Bradford airport to encourage people from around the world to invest in the district.
"People from all over fly into Leeds Bradford airport and they will see our name and want to invest here.
"It's a good way of promoting our name and also helps Bradford."
Father and Son team Simmy Sekhon and his father Nirmal Singh Sekhon with Councillor Zafar Iqbal of property company the Sekhon Group.
He has spoken many times about how much he loves the city.
"I married my lovely wife Harmesh in Bradford and my two sons were born and educated here."
He arrived here at the age of 15.
"I came to England with my parents from a village in India and we settled in Bradford. I had just £3 and it was a very strange experience coming into the cold from a very hot country."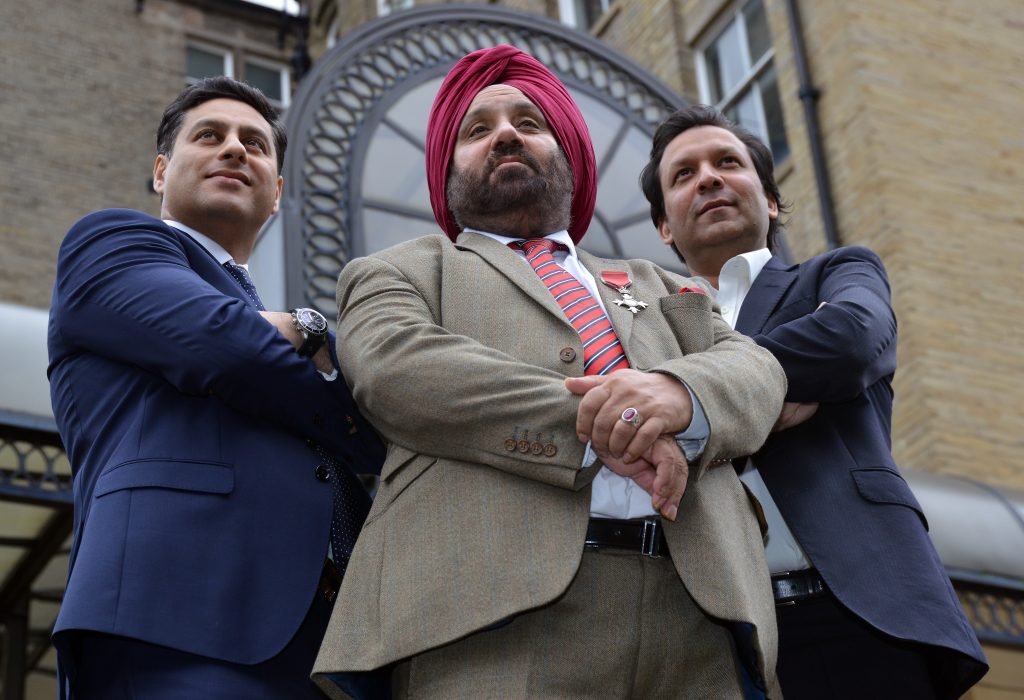 He began looking for work straightaway and went to a factory on Thornton Road but was turned away for wearing a turban.
He didn't want to compromise his faith but at the same time he needed a job so reluctantly removed his turban and had his hair cut. But when he went back to the mill his passport was checked and it turned out he was too young to work there anyway.
"I was very upset about this as I had had my hair cut for no reason," he says.
Pakistan Association Dinner, Mercure Bradford, Bingley. Picture shows Iftikhar Ahmed, Nirmal Singh and H Sajjad.
His first job was at a bedding firm in Bradford where he worked for three years.
"I felt I had learned everything about bedding so when I was 22 I set up my own business making duvets."
In 1972 he married Harmesh Kaur whom he counts as a major reason for his success.
"My wife was instrumental in helping me achieving all this, she worked very hard and always supported me.
"I started in a very small way, borrowing money from the bank and investing in a small property in Peel Square, Lumb Lane. I had a machine in the basement, a shop on the ground floor and I would store materials in the bedroom.
"We were working up to 16 hours a day but we were together and that made us strong."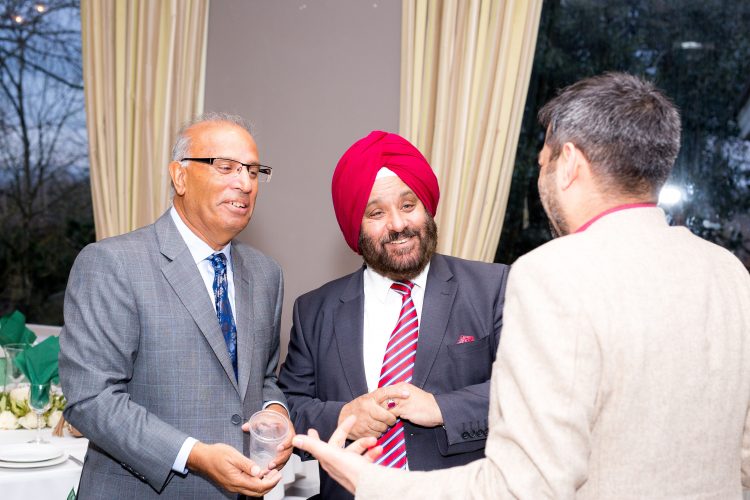 His plan was to make just enough money to carve out a living for his family but the bedding began selling like hot cakes and Nirmal Razai Mart became a well-known shop in the community.
"I was planning to make around seven or eight duvets a week but my duvets became very popular and soon I was making around 700 a week. I had to employ a lot of people to cope with demand and move to larger premises."
People were buying the duvets to take to India and Pakistan and soon he was a household name in Bradford.
He also expanded his business by investing in machinery that could print patterns onto material and started selling sofa bed, settee and duvet covers.
"I had seen the machinery in Leicester so I brought it to Bradford. I was a good copycat."
Meanwhile his wife set up the Saree Mandir fashion shop on Legrams Lane and ran that business herself.
"There were not that many fashion places at the time so this business became very successful too."
Mr Singh, who had two sons by now, also started investing in property buying one or two premises every year.
In 1994 he bought one very special building- the mill on Thornton Road that had made him cut his hair for no reason.
Mr Singh says: "I felt very bad for a long time about that incident so when an opportunity came up to buy that mill I took it and it did help to redress some of that hurt I felt before."
His property business has gone from strength to strength.
He had bought land near Peel Park in Bradford and built a grand home with a swimming pool for his family but, with the children attending Woodhouse Grove in Apperley Bridge, he decided to move there.
"I'm very lucky, I have received an MBE from Prince Charles, had tea with the Queen and met other members of the Royal Family.
"I have been to India and met Indira Gandhi as well as other world leaders like Tony Blair and David Cameron."
He has also splashed out on a fleet of luxury cars, two Bentleys, a Porsche, a Rolls Royce and two Mercedes.
"I worked hard to be able to afford these things so I feel I deserve them," he says.
He also works hard at maintaining community relations.
He is chairman of the Yorkshire Sikh Forum and holds positions on a wide variety of committees and charities. He is a familiar face at inter-faith and community events.
"I get on well with people from all different communities, cultures, races and religions."
He is immensely proud of his sons: Narinder is a barrister, while Simmy, a solicitor, works with him full-time at the Sekhon Group.
And he is a huge champion of Bradford the city that has given him the world.
"Bradford is beautiful in so many ways. It has really delicious food which is more reasonably priced than at restaurants in other cities. There are so many people moving here from down south because it is better value for money.
"The people here are so warm and friendly. Really, this city has given me everything. I am very grateful for that."