Barrister and councillor to go head-to-head to woo Tory members for West Yorkshire mayoral pick
One of the candidates bidding to be the Conservative pick for the West Yorkshire mayoral race has said he was not concerned by the rapidly approaching election after turning around a General Election campaign "within weeks" in 2019.
Bradford-born barrister Narinder Sekhon, who is currently fighting coronavirus, was revealed yesterday as one of the two people on the Tory shortlist due to be put to members on Saturday.
He joins Matthew Robinson, a Leeds councillor who was the Conservative's Police and Crime Commissioner candidate until the role was amalgamated with the new mayoral job.
The region's party members are set to finally pick their candidate for the May 6 vote on Saturday, after Labour announced they would put forward Batley and Spen MP Tracy Brabin three months ago.
But Mr Sekhon said he did not feel the race was particularly party political.
Speaking to The Yorkshire Post yesterday he said: "This is not just a Labour/Conservative thing, it's really the individual who puts together packages, presents them to the party effectively, and winning thaose arguments, be it Labour, be it Conservative, be it Liberal Democrat, an independent – what is needed must be provided.
"And that's only going to be provided with people who can go to central Government, convince, and argue the merits of their case and the merits of funding to be invested here in West Yorkshire."
He said: "I think this mayor or West Yorkshire is more of an individual feat as opposed to party politics, that's my personal view. I don't think this is just an open and shut case.


He added: "I hope I don't become subjected to my own party's inner bred politics, where friends are being voted for, not the right man for the job."
Mr Robinson, meanwhile, was first elected to Leeds City Council in May 2010 for the Harewood ward.
He is currently the Shadow Resources Lead for the Conservatives and his intention to stand had been rumoured for some time after it was announced the new mayor would also take on the police and crime commissioner powers.
He said: "It is for the members to decide on Saturday and I'm looking forward to the meeting.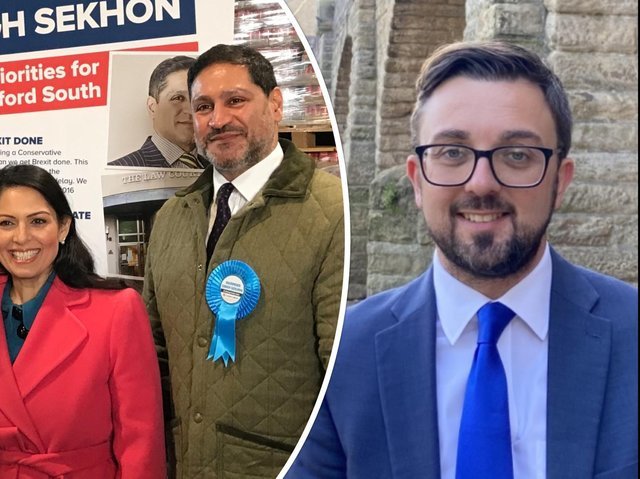 "I want to put my vision for West Yorkshire forward to the members, and hope to be selected and fight the election in May."
Mr Robinson said no one was a shoo-in for the seat, after the political landscape had changed across the North so dramatically.
"Until we get to polling day, until all those votes are counted, we won't know," he said. "And there's a lot to discuss, a lot to debate, between now and then.
"This is a big change for West Yorkshire, and it's something that's really exciting, and I don't think there's a shoo-in in this."
Both candidates are well known within Conservative circles.
Mr Sekhon stood against Labour's Judith Cummins in Bradford South in the December 2019 General Election and hosted Home Secretary Priti Patel as part of his campaign.
According to the website of the family business, Mr Sekhon's parents – who are party donors – were the "the first young Conservatives in the Bradford district from within the Asian community".
Mr Sekhon himself then became chairman of the group aged 16.
He said during the December 2019 campaign he faced "systematic, vitriolic hostility from seasoned left-wing voters, because Bradford South hasn't returned a Conservative MP for over 101 years".
But he said because he was not selected in that race until November 19, 2019, ahead of the election on December 13 – and he was midway through a trial until November 27 – he was ready to make a quick turnaround happen again if selected on Saturday.
"We managed to reduce the Labour majority [in Bradford South] by eight points, achieving the most successful combined result in 101 years," he said.
And he said that if the Brexit Party – which received 2,819 votes in the constituency – had withdrawn, the seat would have gone blue.
"It wasn't easy but we did it, and we gave the ball a really good kicking. We really did, we made so many gains," he said.
Mr Robinson added: "I think it's an exciting time, [the devolution deal] offers a huge possibility for doing great things for West Yorkshire and the North of England, so I think getting people engaged in this process is key too.
"I think there are quite a few people out there who might not know this election is going to take place, they've had a lot on with Covid and their own lives over the last year, so the job of the candidates is going to be about putting forward that this election is happening, it's a change for West Yorkshire, and it's something we're keen to get people involved with."